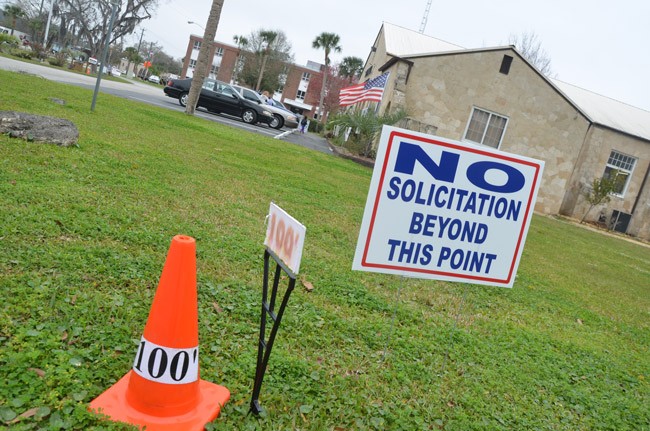 The municipal elections for Bunnell, Flagler Beach and Beverly Beach will be held in conjunction with the county-wide Presidential Preference Primary election scheduled for March 15, 2016, Flagler County Supervisor of Elections Kaiti Lenhart said today.
The Presidential Preference Primary is a closed primary, which means that only Democrats get to vote in the Democratioc primary and only Republicans vote in the Republican primary. Independents have no vote. But all voters registered within each of the three cities will get to vote in their particular city's municipal election regardless of party affiliation, independents included.
"This combined election should help increase city election turnout," Lenhart said in a statement. "Another advantage for the city is the cost savings. A municipality is responsible for all costs involved with a standalone election, while the combined city/county election cost for a municipality is much less."
Three seats are up in Bunnell: that of Mayor Catherine Robinson, Bill Baxley and Elbert Tucker. All three are expected to run again. In Flagler Beach, Jane Mealy and Steve Settle are up for reelection. One non-incumbent has filed to run so far: Rick Belhumeur. Qualifying by petition ends Dec. 18. Qualifying through fee-payment ends Jan. 22 at 5 p.m.
The deadline to register to vote or change your party affiliation is February 16, 2016. More information is available here. http://www.flaglerelections.com/2016-Elections
Early voting is scheduled for March 5 through March 12 from 10 a.m. to 6 p.m. at the Flagler County Public Library (at Belle Terre Parkway and Palm Coast Parkway), the Palm Coast Community Center on Palm Coast Parkway and the Supervisor of Elections' office at the Government Services Building. Registered voters in any of the three cities holding municipal elections may vote early in those elections at any of the three locations.
Polls on election day will open from 7 a.m to 7 p.m. But on that day, voters must vote in their assigned precinct on. Have you moved? Update your address today by calling (386) 313-4170 or update your address online.:
Any registered and eligible voter in the county may request to vote by mail. Call the Elections Office at (386) 313-4170 or make your request online.