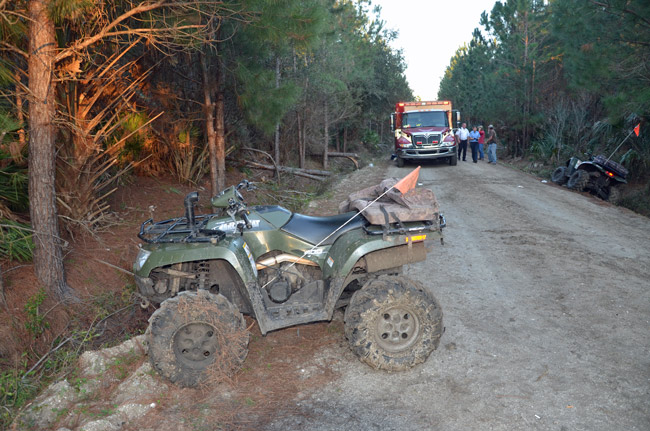 Mud Muckers, Bunnell's enormous off-road park, is holding its monthly all-trails-open weekends today through Sunday, and trails across the park's 11,000 acres were busy with riders.
In later afternoon Friday, a frequent visitor to Mud Muckers, riding an all-terrain vehicle at no more than 20 miles an hour, according to authorities at the scene, somehow lost control and was thrown from the vehicle, precipitating a trauma alert.
The accident took place on an unpaved trail deep inside woods, some two miles west of State Road 11, well north of Cody's Corner. (See below.) Flagler County Fire Rescue units responded, as did Fire Flight, the county's helicopter. It took both ground and air responders a while to locate the site. Two women proved key guides: Amanda Hutto and Jessica White, of Bunnell, who had an ATV of their own, and who stood by the obscure entrance to the grounds by Route 11, catching responders' attention.
Fire Flight was guided in and landed on a very small, uneven landing zone (too small for even the rescue units to use to turn around to get back out later). It was there a matter of minutes before the victim, a man believed to be in his early 50s but whose identity is unknown, was on board and flying toward Halifax hospital's trauma unit in Daytona Beach. The victim suffered multiple fractures, but a witness at the scene said he was awake and talking.
If anyone can contribute the man's identity and his condition, please leave the information in the comments or email the editor.

Where the ATV Accident Happened (Coordinates 29 24.66N , 81 19.81W):
View Larger Map