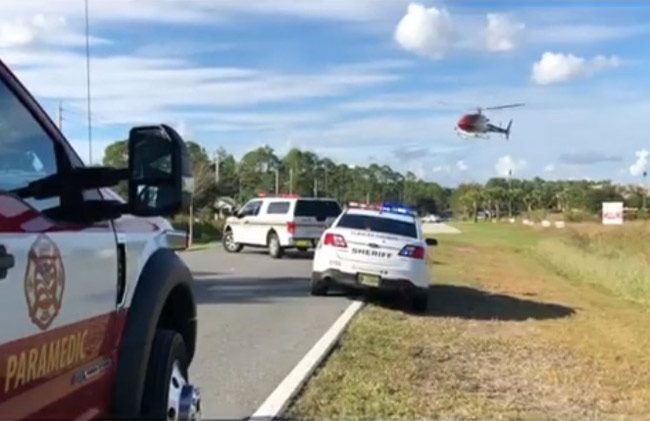 A motorcycle crash involving a 60-year-old man severely injured the man and shut down Belle Terre Parkway near Publix at Town Center in mid-afternoon Tuesday as an emergency helicopter landed on the road to pick up the patient.
The man was traveling north on Belle Terre Parkway at 2:32 p.m. when, just south of Eastwood Drive, he lost control, his bike flipped and went airborne, sending him crashing. The motorcyclist was not wearing a helmet. Witnesses at the scene reported to 911 that he had facial wounds and an injury to the chest, but that he was moving his limbs.
Northbound lanes were immediately shut down as Palm Coast firefighters from nearby Station 25 and Flagler County Fire Rescue firefighters from Station 92 at the Flagler County airport got to the scene, with the Palm Coast Fire Police rerouting traffic. Initially the patient was to be transported by ground to Halifax hospital in Daytona Beach, but Fire Flight, the county's emergency helicopter, was then called in for a trauma alert: the victim's heart rate was at 120 and was concerning responders.
Southbound lanes were shut down in the area at 3 p.m. for several minutes as Fire Flight was directed to land on the northbound lanes. By 3:22 p.m., Fire Flight had picked up the patient and delivered him to Halifax.
Flagler County Sheriff's deputies had first been on scene before turning over the investigation to the Florida Highway Patrol. Belle Terre Parkway's northbound lanes were reopened to traffic at 3:32 p.m.
The patient, whose identity has not yet been released, was in stable condition at Halifax, with lacerations to a leg and severe back pain.