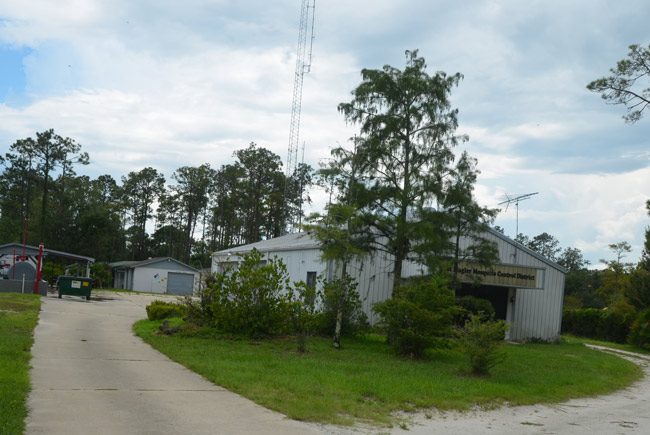 Palm Coast government and Flagler County government are contributing a large part of East Flagler Mosquito Control's plan to bail itself out of a $1.1 million hole, though neither government's elected boards have yet discussed the issue.
Palm Coast plans to buy Mosquito Control's old facility on Utility Drive in Palm Coast for $293,000. The county is offering $100,000 for a hangar at the Flagler airport that mosquito control no longer needs, now that it has its own at its new facility, at the south end of the airport facility. Both deals are being presented essentially as done deals by each government administration to elected boards—on Aug. 29 to the Palm Coast City Council, in September to the county commission.
Both deals rely each on a single, outdated appraisal done by the same company in 2014.
East Flagler Mosquito Control is a local government agency with its own taxing authority and elected board. It has $1.8 million budget, which pays for mosquito suppression throughout the year. Its jurisdiction extends through Palm Coast, Bunnell, Flagler Beach, Beverly Beach and eastern portions of unincorporated Flagler, including the Hammock. The median homeowner pays about $30 to $35 a year in taxes to the district.
Earlier this year, the district moved into a new, $2.1 million facility at the south end of the county airport, on land it leases from the airport but in a building mosquito control owns. Weeks later district officials acknowledged that they were facing a financial crisis, saying an accounting error revealed that the agency was facing a $1.1 million deficit. Four part-time employees and two full-time employees were laid off, expenses scaled back, and reserves were tapped extensively, and the two property deals were accelerated.
Mosquito control and Palm Coast had previously negotiated over the Utility Drive property, a 2-acre spread with several older, industrial-looking buildings at the end of a street paralleled by light industrial businesses. The street dead-ends at a Palm Coast sewer plant, which abuts the mosquito control property, so the city's acquisition of the property is not without geographical logic.
But the purchase is based one appraisal from 2014—an unusual shortcut when government purchases of that size are considered. For example, this week the school board discussed a potential sale of its 7-acre property on Corporate Drive off Palm Coast Parkway. It has appraisals from 2014 and 2013. But it is barred from using those, according to the board attorney, and must instead generate at least two new appraisals before entertaining a potential sale. Of all the documents mosquito control provided FlaglerLive regarding the pending transaction, only the single 2014 appraisal was provided. For the board and for county governments, the two-appraisal requirement is triggered only if the value in play exceeds $500,000.
The transaction appears to have been hurriedly put together.
"If you are interested in the Utility Drive Parcel," Joe Cash, the long-time director of mosquito control, wrote Richard Adams, Palm Coast's utility department director on Aug. 4, "please see if you can get it on your next agenda for approval. We are pushing to get our side done at the August 22 board meeting." (Actually, mosquito control's board meeting, the first since the financial crisis unraveled, is scheduled for Aug. 21 at 10 a.m.)
Title and survey work on the property had yet to be done. But Adams replied to Cash as if the transaction was all but a done deal.
"It's too late for next weeks [sic.] workshop," Adams wrote back the same day, "but I should have no problem getting it on the workshop agenda for August 29th with final Council approval September 5th. Will that work for you?"
Cash's answer: "Of course."
Palm Coast's purchase price of $293,000 is relatively close to the $270,000 just market value of the property, as calculated by the Flagler County Property Appraiser. Usually, purchase prices are considerably higher than that posted value, suggesting that the city is getting quite a deal: with three years of market improvements, no recent appraisal done, and mosquito control's desperation to get its hands on cash, the city is essentially taking advantage of a fire sale.
Asked about the deal last week, Palm Coast Mayor Milissa Holland said she was not aware of anything involving mosquito control and the city other than what she'd read in the press: previous articles had alluded to the deal, but without detail.
When mosquito control celebrated the opening of its new facility at the airport, it had no intention of selling its Utility Drive facility.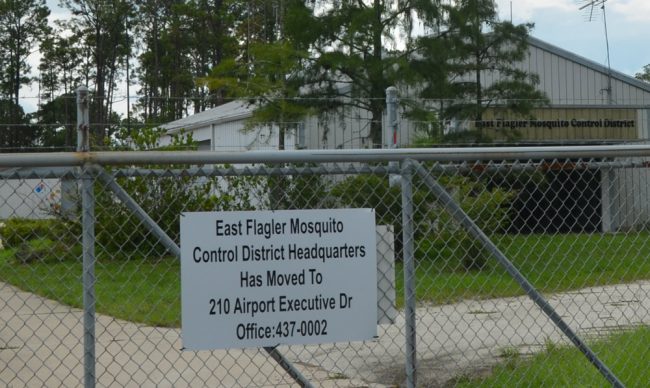 "We're still using it. It's kind of a past-is-your-future kind of thing," Mark Positano, mosquito control's operations director, said at the time, referring to two operations that were still ongoing there: the agency maintains a set of so-called "sentinel chickens" that are used like canaries in old cold mines: mosquitos bite chickens and other birds, so mosquitos that carry certain viruses will transmit them to the chickens. Chickens are positioned to roam in certain places and tested each week. Some 20 to 30 chickens are kept in reserve at the Utility Drive facility, where the agency also has a fish operation (those fish are occasionally placed in small water bodies to devour mosquito larvae as another means of suppression).
"As far as infrastructure it would be very costly to replace it," Positano said in June, "so we kind of want to hang on to it until we don't have to anymore, for cost and our future growth in the district. It's owned outright." Positano at the time was in the dark regarding the agency's financial difficulties.
Today, he said the reserve chickens may be lent to another mosquito control agency and the fish operation may be temporarily disbanded, since it can be reconstituted without much difficulty, especially since the fish "is not something we have a tremendous use for."
The deal with the county for the 3.2-acre property was less of a surprise since mosquito control had vacated its hangar and would no longer need it—and since the airport has itself run out of spaces to lease. The hicup there had more to do with the uncertainty surrounding Cash's status as the director of the agency than with the deal itself: when Roy Sieger, the airport director, sent a written proposal outlining the deal to Cash last week, he received an automatic reply: "This address is no longer active. Any Mosquito Control business should be addressed to…"
At the time, Cash had essentially quit, telling his employees that he'd had his "last day" at the agency, though he was continuing to be on the payroll. He soon changed his mind and reopened the email account.
Still, the deal also relies on a single, 2014 appraisal.
"The County would like to offer $100,000.00 for the hangar facility. This is in keeping with the suggested price in the appraisal report," Sieger wrote Cash—or Positano, or whoever would be in a position to deal with the county at the agency.
Mosquito control was paying the county a monthly lease of $3,501 based on a 2014 agreement. Even after the deal, mosquito control will still owe money for the hangar it previously occupied and built at its expense, and it still has to pay the county $897 a month for the land it now occupies at the south end of the airport. What the county is offering is a lease credit for the difference: the county will assume remaining payments on the older hangar, which it will itself own by July 2020, thus cutting mosquito control's costs by $100,000.
Both city and county transactions involve inter-governmental agreements that each government's elected officials have to approve.