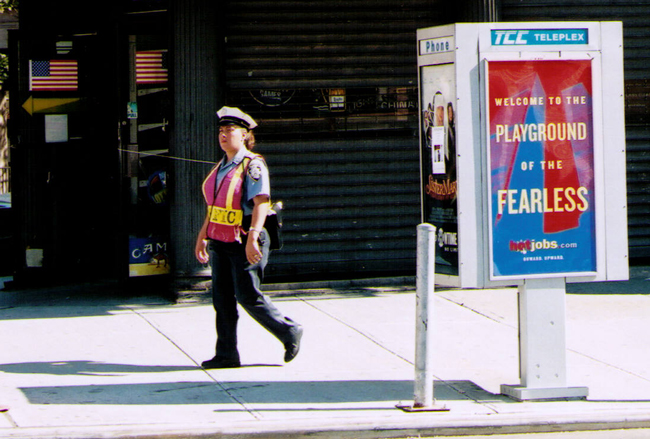 I took the picture you see above in Lower Manhattan a few days after the attacks on the Twin Towers and the Pentagon. Rescue workers were still teeming all over the carcass of the towers. So were New Yorkers, teeming all over their city pretty much as they had before the attacks. Resilience is difficult to suppress when it's in your blood. And the city's veins—its streets, its subways, its towering arteries of steel and stone—were already back to chasing the "mad dream" Jack Kerouac had once described, "the absolute madness and fantastic hooray of New York with its millions and millions hustling forever for a buck among themselves."
It's what New Yorkers did.  It's what New Yorkers were back to doing, what made New Yorkers the smash-mouthed geniuses of the American character that they are, fearlessly it seemed, and indestructibly. The legend on the phone booth summed up the city despite its obvious loss: It was the playground of the fearless. The playfulness was in mourning. It couldn't last, because New Yorkers don't have it in them to give it up. It's not that it isn't in them. It's that the city doesn't let them.
Sobriety, meekness, ordinariness, New York tells you from every gutter and every penthouse, is for other cities. It's for Omaha. It's for Floridian subdivisions. A few days after the shock of 9/11 the city was back to being New York City: A city without equal in power, in defiance, in culture, and despite its loss in Lower Manhattan, in a kind of architectural might the Parises and Londons and Pragues of the world could only dream of behind their mummified monuments. You can visit Notre Dame all you want. You can't live in it. New York City, from JFK Airport's and the New Jersey Meadowlands' grubbiest entrances to its Manhattan core is a city every square inch lived in. It's not there to be admired for its past but to be remade daily, which is why it has always been the immigrant's haven. It is where the American idea begins, an idea that puts to shame its heartland effluents that appeal to small minds and xenophobes and pathetic patriots who don't know their flag from their prejudices.
---
The Live Column
---
---
Not that New York isn't also rich in the blood and gore of bigotry. It has its fault lines, its class and race wars, its ghettoes of what makes so much of the rest of America so predictable. But New York is also and mostly without equal in tolerance, or at least understanding, in a world of diversity that transcends that stupid word. Alone in that regard among American cities, there are no minorities in New York, because everyone is a minority, whites included, whites especially (since they still cling to feeling to special wherever they can). So the word was finally meaningless there. So was its eminently correct bastard child, diversity. You don't need to remark on such things when it's the air you breathe, the skins you rub against, the languages you hear. New York is that future where nationality and religion and race are as close to the surplus conceits that they have always been.
Or maybe was.
What so ails so much of the rest of the country these days, that tearing reaction against the fabric that once distinguished the country from its old world prejudices, appears, like a virus more lethal than those planes on 9/11, to have crossed the Hudson. Hatred of Muslims, in brief, has gone viral, though it isn't Muslims who are paying the price. It's Americans who are demeaning their own value, and values. What terrorists could never have demolished for all their atrocities—that American ideal that doesn't depend on rock or dollars or even blood, in a country used to spilling it occasionally for the right reasons—American hatred is demolishing.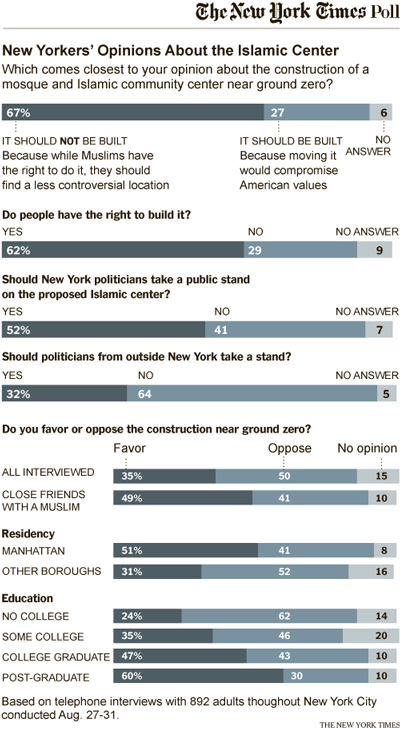 The New York Times today published a poll about New Yorkers' reactions to the Islamic community center and mosque planned for Lower Manhattan, eight blocks closer to Ground Zero than another mosque in the same neighborhood. Some 72 percent of respondents said anyone has every right to build a "house of worship" there. But not Muslims. Sixty-seven percent want the Islamic center's planners to find a "less controversial" location—because it isn't controversial for seedy, slimy, greasy businesses and their attendant call girls and gigolos to rim Ground Zero up to its cemented sphincter, but it is controversial for a house dedicated to teaching tolerance and acceptance and understanding to go up two blocks from there. So it is in America today, in New York as it is elsewhere: sleaze soars, but ideals don't belong anymore.
It isn't a coincidence that while 67 percent of New Yorkers overall want the Islamic center built elsewhere, a majority of respondents from Manhattan welcome it where it's planned. At least there's still hope there. And it's always been true that the further out you go from the heart of New York City, past the exuberantly multi-ethnic neighborhoods of Brooklyn and Queens just across the East River, the quicker you get to the suburban stink and skankiness that makes the George Babbitts and like-minded provincials feel so cozy. Staten Island, the northern reaches of The Bronx and the Hampton-hungry outer banks of Queens are full of arrivistes who equate making it to trampling others for fear of being trampled back from their little plot of wealth. Ironic, too, how the further out you go from Ground Zero, the more xenophobic (and therefore the stupider) the responses.
Myths are the stuff of distance. There's nothing more mythical than what hoards who pledge allegiance to their flag with mob-like unanimity have made of American values of acceptance and equality of beliefs, or non-beliefs. In time and place, like those concentric circles of closed minds the father you get from Manhattan, the country is moving away from those values. It may have embraced them with extraordinary force in 2008 with Barack Obama's election. But that's what that election appears to be now: extraordinary, rather than a new marker on America's reach for the Declaration's ideals.
What a long reach it is again, even if it's "only" Muslims who are victims of this latest vise. The particular group doesn't matter. That kind of bigotry speaks more ill of those who spew it than of its victims: American Muslims aren't the problem. Americans who fear and demean Muslims are. But if it can happen in New York, which has always been a prototype of American redemption, there is little hope for the rest of the country. To every terrorist's certain delight—their work now being done with no need of another bomb—New York is joining the herd.