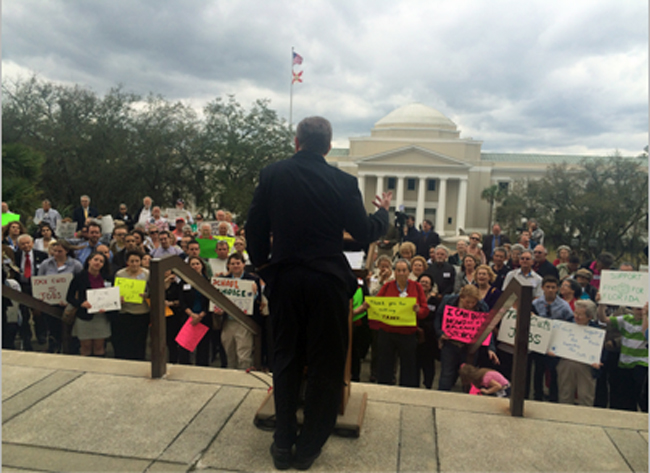 With the Legislature set to open on Tuesday, dueling rallies converged on the Capitol to pressure lawmakers to use the election-year session to advance each side's priorities.
The twin protests started Monday morning, when about 400 Floridians rallied in the Capitol courtyard for what was billed as "Moral Monday." The event included an array of left-leaning groups and individuals, from the NAACP to clergymen to organized labor.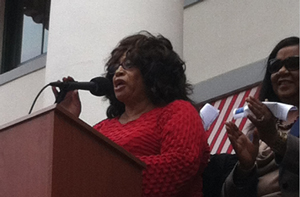 Speakers at the morning rally called for lawmakers to expand Medicaid, stop the state's voter purge and roll back the "stand your ground" self-defense law.
None of that is likely to occur during the 60-day legislative session, given the GOP's dominance in both chambers. But the protesters vowed to carry their concerns to the polls in the mid-term elections this fall.
The "Moral Monday" idea comes from voting-rights protests in North Carolina last year. Similar protests have also spread to Georgia. Florida House Minority Leader Perry Thurston, D-Fort Lauderdale, told the rally that too many voters' voices are going unheard.
"If we let leaders who represent just a portion of the state control the agenda, then you've got the wishes of so many Floridians that are going unmet," said Thurston, who also is running for attorney general this year.
On the other side of the Capitol and a few hours later, Americans for Prosperity's Florida chapter held its own event to oppose expanding Medicaid and support overhauling the state's pension system, slashing $500 million in taxes and fees and expanding programs that allow parents to choose where their children go to school.
Americans for Prosperity is one of a constellation of conservative groups that have helped fuel the tea-party movement and pushed lawmakers in Florida and elsewhere to keep up a right-leaning agenda.
About 100 to 150 people attended the rally, cheering House Speaker Will Weatherford, R-Wesley Chapel, as he defended the Legislature's decision to turn down billions of federal dollars for Medicaid expansion. He pointed to the rocky rollout of the Affordable Care Act, the health-care law signed by President Barack Obama that contained the Medicaid provisions.
"Aren't you glad that the state of Florida didn't expand Medicaid last year?" Weatherford said. "You know why we didn't do it? … No. 1, we figured out that this administration will not fulfill its promises. Everything they said they would do on the Affordable Care Act has either not happened, or it hasn't happened the way that they said it would."
The event also featured some jabs at the Moral Monday event. Slade O'Brien, Americans for Prosperity's state director for Florida, ripped into the earlier rally.
"In fact, if you were to listen to some of the speeches earlier today, I think you would have been shocked to hear so-called civic leaders actually pontificating and propagating a culture of dependency here in the state of Florida," he said. "And we all know that that's not the way to create success, that's not the way to create jobs, that's not the way to create opportunity."
–Brandon Larrabee and Margie Menzel, News Service of Florida