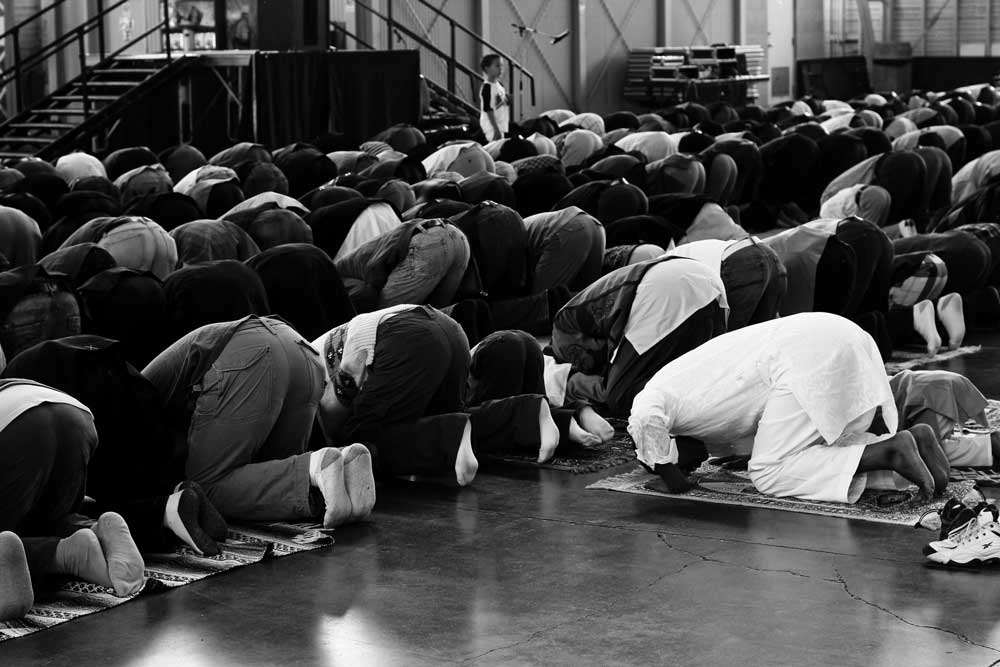 Rejecting exhortations from nearly two dozen people, there will be no overt, vocal prayer at Palm Coast City Council meetings, though room for prayer in all forms and for all creeds will continue, as it always has, for individuals who choose to pray, whether overtly before meetings or quietly during meetings or during the moment of silence.
The council itself will continue its recently instituted moment of silence, extending it to a full minute.




But when Council member Ed Danko made a motion to add a prayer at the beginning of meetings and workshops Tuesday evening, he got no second. It was the end of a two-month debate that culminated with lengthy discussions, two dozen public comments, and the re-assertion, for the council, of law.
"It's not my job when I'm here to preach. It's my job to prophesize through my actions and my words and my kindness and respect to others," Council member Theresa Pontieri, who had initiated the moment of silence, said. "The way that I keep God in our government is to abide by the golden rule, is to treat others the way that I would like to be treated. It's the way that I speak to others, the way that I show respect to others and the way that I treat others, especially those that I disagree with."
She spoke at length, describing her role as a private person of deep faith and a public servant. "I personally would much rather spend our taxpayer dollars on deputies fixing our roads and improving our parks than on worrying about constitutionally administering a policy that can inadvertently land us in an expensive lawsuit," Pontieri said. "As an attorney, I know that our council has done a great job drafting the policy but I know for certain that the moment of silence is constitutionally sound, legally defensible, inclusive. It does not force me or anyone else to betray their faith." She urged against public grandstanding.
The lawless pious didn't waste time, puncturing what was supposed to be a moment of silence after the Pledge of Allegiance at the beginning of the meeting, a group in the audience broke in with a loud prayer–the fervently Christian and patriarchal Lord's Prayer–as the council and their attorney stood facing the flag.




It was an unprecedented show of contempt for the moment of silence, at a council meeting or any meeting of a local government body, and was no different than if hooligans had interrupted with noise or gibberish. It was intended as a protest, though the council had yet to vote on whether to start its meetings with an invocation or not.
Mayor David Alfin didn't tolerate the disrespect for long. "Thank you, please take your seats," he said, after taking his time taking his, "our moment of silence has concluded." Council member Ed Danko kept standing, hands joined in prayer: the rule-breakers were his people. He had summoned them with an invocation of his own, sending out communications before the meeting that included a request that, "when you attend your place of worship, please ask the leaders of your congregation to announce and encourage all to join us at City Hall and show their support for Prayer." Places of worship are barred by law from meddling in politics, though Palm Coast now appears to be a sanctuary city for politicking pastors.
There were a few hoots in the audience, as if Alfin were the hooligan, before the mayor took up the business of the evening, moving the agenda's proclamations, like a buffer, ahead of what he must have sensed would be a calvary of a business meeting.
At two previous meetings, proponents and opponents of overt prayer had made their case to the council, with more civility and respect than Tuesday evening's proponents.
Both times, several members of the council, including its most privately pious–who include Alfin and Council member Theresa Pontieri–expressed skepticism at a prayer policy as it would have to be applied under law, because it could potentially open the door to theatrics.
The policy would apply to workshops as well as business meetings. Those delivering invocations would have to be religious leaders, but no city or county residents describing themselves as religious leaders could be excluded, no matter how obscure the religion. So the "religious leader" designation was a clause without meaningful strictures, as those would be unconstitutional. In the absence of a person willing to deliver an invocation. the council would stick to a moment of silence. And the clerk would not be required to send out invitations to houses of worship, to "help avoid any potential claims that the city was somehow contacting some congregations and not others," City Attorney Neysa Borkert said.




Current, controlling law states that "there can be no exclusion based on the nature of the belief," Borkert said, citing the case that led to that decision: a county commission's members had purposefully excluded specific types of beliefs, from Wiccans to deists to atheists. The 11th Circuit Court of Appeals, which has jurisdiction over Florida, found that to be unconstitutional. "Once you open the door to one, you have to open the door to all," Borkert said.
"It's going to be imperative that it be exercised in a manner that allows for any religious congregation to send a leader to come in and do the invocation policy, whether or not you agree with that religious belief or not," Borkert said of the proposed policy as drafted. "They will have the right under the Establishment Clause to come in and be an invocation speaker. We will not be able to prohibit them from doing so." That means if atheists, Wiccans or Wahhabists wanted to deliver an invocation, the council could not stand in the way. "The only standard is that you confirm that they're within the city of Palm Coast and Flagler County," Borkert said.
Even though the policy states that the person delivering the invocation must be a "religious leader," the policy leaves those terms undefined, leaving open the possibility, as Alfin noted, for anyone to self-ordain by way of the internet, and become a religious leader. "There hasn't been any case law that specifically stated no, this is not a religion for this purpose," Borkert said. That includes religions of one. "There is no threshold on that."
"If some moron in a rusted out double wide puts on a set of horns and wants to come up here and preach the devil, we just have to roll over and say, okay, or can we use a little bit of judgment?" Danko asked.
Not if the city doesn't want to be sued, Borkert said.




All of those elements only added to council members' reluctance to change a quarter century of practice at the beginning of city council meetings. Then there were the personal reflections of council members.
"So I'm gonna make a comment because I can't hold back," Alfin said, pointedly addressing Danko: "And vice mayor, with all due respect and differences, listen to my comment here because this one, I'm going to open up for a moment and go to a place that I rarely ever go to in public. So when I respect a moment of silence following our Pledge of Allegiance, I pray for a young man who gave his life and his partner's life to put bad people in jail," he said, referring to his own son, an FBI agent shot and killed in the line of duty while serving a warrant. Alfin said he likewise prayed for a first-responder victim of the shooting at Marjory Stoneman Douglas High School in 2018, and several others along those lines. "I use that time with great, great respect and it means everything to me now. I am only one city council member. I feel the moment of silence is incredibly important. But again, I can only speak for myself."
Contrary to repeated claims, including many made by members of the public Tuesday evening (such as the false claim that "the Bible was removed from our public schools"), prayer even in public spaces such as government meetings or public schools is alive and well for anyone who chooses to exercise it, as long as the government doesn't sponsor it or the person praying doesn't turn it into a disruptive spectacle. School students may pray on their own or in groups any time they choose outside of instructional time. People attending council or other government meetings may do likewise, even during meetings, as long as it's not disruptive: there has never been a prohibition on prayer. But the government agency itself may not be its purveyor (though governments like the Bunnell City Commission routinely violate that law).
Still, speaker after speaker made inaccurate claims, including one conflating the nation's laws with "the lord" (or another claiming that his family came to America 104 years before the first settlement at Jamestown "because of religious persecution"). More than two dozen people addressed the council, all but two in favor of public prayer, many citing the "In God We Trust" logo on currency or other forms of religious expression in public spheres as justification for prayers at meetings.
p



When one of the speakers noted that "the word 'god' does not appear anywhere in the text of the United States Constitution," a factual statement, the crowd again made noise, causing the mayor to intervene and requiring the speaker's time to be paused: "Everyone, please be respectful," the mayor told the very people whose call for prayer was framed in invocations of respect, "especially with the subject matter that you're bringing to the podium tonight. These folks listened to your comments. Please with the same respect, listen to their comments."
Council member Nick Klufas invited advocates of prayer to show up every Tuesday and devote their own three minutes of public comment time to a prayer, if they so wish. That has never happened in the council's history. But he cautioned against risking taxpayer money on needless lawsuits. "This is going to open up a bag of worms if it were to be passed," he said, supporting a moment of silence.
Danko compared a moment of silence to "a moment to silence us all" before somehow blaming the lack of prayer for Budweiser "putting transsexuals on cans of beer" (a bigoted attack on trans individuals no different than if Danko had complained about Budweiser putting the Notorious B.I.G.'s image on its cans) or "a prosecutor going after a former president and he's weaponized our judicial system," a reference to the day's arrest of former President Trump as a result of New York District Attorney Alvin Bragg's investigation. Danko did not, however, blame a lack of prayer for Trump tendering hush money to a porn star, a Playboy model and a doorman for his predatory infidelities.
Danko soon made his motion to approve the invocation proposal. It was followed by what Danko himself wryly called "another moment of silence."
"Hearing no second, the motion fails," Alfin said. There were loud grumbles and calls of "cowards" from the congregation as it exited swiftly, leaving a nearly empty room. Pontieri called for a more defined moment of silence to be "at least 30 seconds," which would make it the longest and most defined moment at local board. There was no consensus. Pontieri then specified that the moment should be a minute long. Danko disagreed. The vote was 4-1 for a full minute's silence, similar to the minimum minute's silence (and maximum of two) now in place at the beginning of instructional days in public schools. Students are free to use the moment as they choose, as long as they're silent.

see:
invocation-prayer-proposal