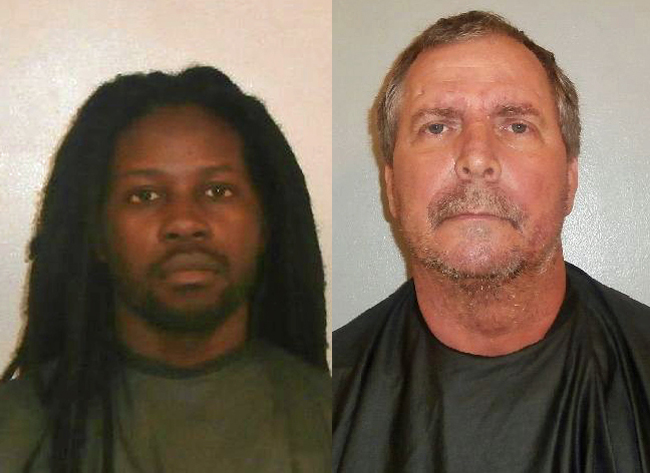 Flagler County Sheriff's deputies arrested two men in unrelated cases between Dec. 19 and 22 involving the rape of children—in one case, a girl who said she was raped when in first grade in Palm Coast, and in the other, the case of the statutory rape of a 14-year-old in Bunnell.
On Dec. 19, Circuit Court Judge J. David Walsh signed a warrant for the arrest of Gregory Selts, 58, a resident of 4 Ryecast Place in Palm Coast who was arrested at the Best Western hotel on Kingswood Drive later that day. Selts was arrested on seven counts of rape of a child of 7 or 8, and held at the Flagler County jail without bond.
According to a police report, a child protective services interview was conducted on Dec. 16 with an 11-year-old girl who said that while she was in first grade, and between the ages of 7 and 8, she was abused on five occasions when Selts allegedly would reach into her pants, touch her vagina then lick his fingers. On one occasion, the victim claimed that when Selts was in her room, he undressed and forced his penis into her mouth. On another occasion she claims he "placed his penis into her vagina and 'humped' her" to the point of climax. The victim described it as "white stuff," which she claims Selts forced her to consume.
The rape of an individual younger than 12 by an individual older than 18 is a capital felony in Florida.
In the Bunnell case, the parent of a 14-year-old girl in Bunnell called cops at 4 a.m. on Dec. 22, to report that the girl had snuck out through the kitchen window sometime during the night. She didn't know where the girl might have gone, or with whom. A short time later, 911 got a report that a girl matching the missing teen's description was seen running from 611 S. Bacher Street in Bunnell.
As cops investigated the incident, their suspicions fell on Dante Mobley, a 30-year-old resident at the Bacher Street address: a witness told police of seeing the girl and Mobley in the same van that night, though Mobley denied being in the van. He also denied seeing the girl that night. Rather, he told police, he'd been in phone contact with his wife, who was back in Georgia.
When cops spoke with the girl, she told them that she'd been communicating with Mobley by text and Facebook messages that night, and that the two of them had "made arrangements for both of them to meet up late at night," according to Mobley's arrest report, and that the pair had intercourse three or four times in the van. The girl told police that she had provided Mobley with a bag of condoms—and that she knew his age. The girl told police that the couple knew what they were doing was wrong, the report states, but that they were in love.
The girl provided a detail that would then prove key to the cops' investigation, and to their decision to arrest Mobley. She told them that he'd placed a towel on the back seat so he could climax without fear of soiling the car seat itself. When Cops asked Mobley whether they could search his car, he readily agreed and handed over his key. Searching the car, the cop's report notes, "I noticed the back seats were folded up. I then noticed the towel which was covering the carpet in the vehicle with a woman's necklace also lying on the sheet." The cop also noticed a pair of handcuffs between the driver's and passenger seats, a used condom on the passenger-side floorboard "and several more in the center console of the vehicle."
At that point the search was suspended and cops asked Mobley if he wanted to "tell the truth about what happened," the report states. Mobley remained silent. But he later provided a DNA sample voluntarily. Child services were contacted and the victim agreed to be interviewed and to have a medical examination.
Mobley was arrested on a charge of lewd and lascivious battery—in other words, statutory rape—on a child younger than 16, and aggravated child abuse. He is being held at the Flagler County jail on $35,000 bond.