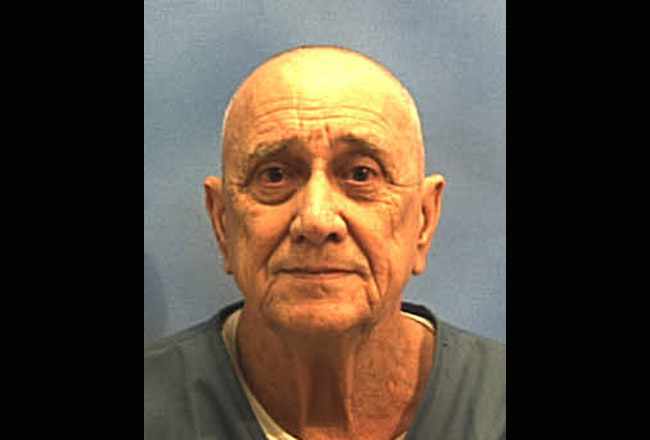 Paul Miller, formerly of Flagler Beach, has filed an appeal of his May conviction for the murder of his neighbor Dana Mulhall last year. The appeal was filed by his Daytona Beach attorneys at Williams Jarosz, who represented him through the trial phase. But it will be handled by the Public Defender's Office. The court order for a public defender was filed today (July 2).
Miller was found guilty of second degree murder at the end of a five-day trial on May 24 in Flagler County Circuit Court. Judge J. David Walsh sentenced Miller, who is 66, to life in prison without parole on June 18.
Miller owns the house on South Flagler Avenue where he'd stood, on his front lawn, to shoot Mulhall, who was in the adjacent yard, across a fence. Miller had been out on $300,000 bail before and during the trial, after spending several weeks at the Flagler County jail while his family collected money to bail him out. He was booked back into the Flagler jail shortly after the guilty verdict was pronounced. As a convicted felon serving more than 365 days, he had to be transferred out of the county jail.
Last week Miller was transferred to his first stop in the Florida prison system. He was booked into the so-called Central Florida Reception System on Kelley Road, some 10 miles east of Orlando International Airport, on State Road 528, also known as the Beachline. (An earlier version of this story incorrectly referred to the road by its previous name, the Beeline.)
The prison, known as CFRC, is a 25-year-old facility. It houses up to 1,659 inmates, all adult men, and is wheelchair and hearing impaired capable. Miller will be one of a number of inmates sentenced to life. The facility provides a 100-hour transition program and anger management.
Miller will remain at that prison several weeks, possibly a few months, before he is permanently assigned to any one of the 55 prisons (including seven private prisons) that form the sprawling Florida Department of Corrections archipelago. He will be one of 100,000 inmates in the prison system.
"The majority of Florida's state-run prisons are not air conditioned," the department writes on its quick-facts page, but private prisons are. (There is also no cable television, it notes on its myths page.) Miller suffers from various ailments, according to his wife, who described them at various stages of the court proceedings, including emphysema, Chronic Obstructive Pulmonary Disease, trouble walking, and arthritis. Miller was a long-time smoker, and a carpenter.
The prison system does not necessarily take account of a family's location when placing inmates. That CFRC is in region 3 (the prison system has a total of three regions), which includes all of Florida from its mid-section south, does not necessarily mean that Miller will end up in one of the 19 non-reception prisons in that zone. All three of Florida's "reception" center prisons are in Region 3. Tomoka prison, the nearest state prison to Flagler Beach (some 10 miles west of Daytona Beach, on Tiger Bay Road), is in Region 2.
In his prison mug shot, his sandy-white had been shaved and he appeared gaunt and perhaps puzzled. His booking information notes a tattoo of Tennessee on his left arm. Miller is originally from Tennessee. And the tattoo of a cross on his right arm.
It was only during the sentencing hearing that Miller spoke any words of regret for the few seconds in the early evening of March 14, 2012, when, as he and Mulhall argued about Miller's barking dogs, Miller pulled a gun from behind his back and shot Mulhall five times, though Mulhall was unarmed, on his side of the fence, and running away from it.