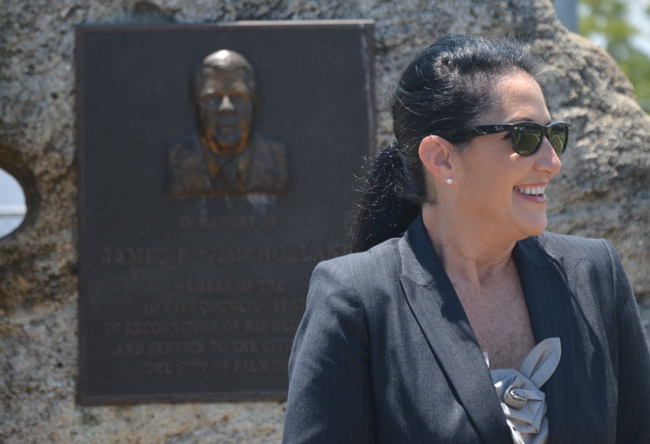 Democrat Milissa Holland lost her race for the Florida House to Republican Travis Hutson by 1,870 votes, or 2.35 percentage points, out of more than 63,000 votes cast.
Hutson did not win that race. Holland's own party in Flagler County lost it for her, revealing a severely dysfunctional, confused and dissention-riven party organization that led one of its top officials to describe it as "comatose."
Absent serious soul-searching and reorganization, it is difficult to foresee a local Democratic organization capable of producing viable new candidates for any office, especially in light of the more effective Republican organization, or of Local Democrats joining Florida's slight and belated move to the center, despite a county where political divisions by registration are among the most even in the state.
Holland herself is not without responsibility for the defeat. She started her race late. She could have been more directly involved in ensuring that the right calls for help went to the right people, assertively. She was spread too thin, continuing to serve on the county commission, the Tourist Development Council and regional boards, and launching the enormously time-consuming Feed Flagler operation she's led for the past four years just as the campaign was cresting. "At the end of the day," she says, "I was the candidate, there's no question I take full responsibility."
But interviews with members of Holland's campaign, Democratic Party officials and other Democrats leave few doubts where their party's fault lines are. It is becoming clear that Holland's small margin of defeat would likely have been overcome had Holland not faced obstacles from the very people and party structure she should have been able to depend on most. In sharp contrast with Republicans, it is indicative of the Democratic Party's indifference to its local candidates that while Hutson got a $25,000 cash infusion from his party in the waning days of the campaign, Holland got a $100 check, in October, from the Flagler County Democratic Executive Committee.
Dysfunction and Dissention
Money wasn't necessarily the issue. Holland fended off a bruising primary challenge from Doug Courtney, an old nemesis, and never got a congratulatory phone call from Dan Parham, who heads the Democratic Executive Committee, when she won. Nor has Parham called Holland since she lost (he said he hasn't gotten around to it), also an indication of loose reins at the top that help explain why Flagler's local Democratic structure failed to organize properly on Holland's behalf: It focused disproportionately on the Obama campaign, responded poorly or none at all to requests for help from the Holland campaign, did not canvass on her behalf, and failed to turn out Democrats in anywhere near the numbers that turned out four years ago. Overall turnout in Flagler was 72 percent, compared with 82 percent four years ago, a dismal result that contrasts with near-record turnouts in Florida.
Flagler County, along with Volusia, have the distinction of being the only Florida counties to have voted Obama in 2008, and Romney in 2012. Flagler switched by a far greater margin, just as its Democratic registration advantage in 2008 switched to a 1,200-voter Republican advantage by this November—all indications of a Democratic Party structure in disarray. The dysfunction was apparent even in the primary, when Parham sent a congratulatory email on Aug. 15, when the results were in: He cited the win by Melissa Moore-Stens, a candidate for county court judge and a Democrat, who, Parham wrote, "qualified for the general election run-off."
Parham never mentioned the other Democrat who'd also qualified for the run-off: Craig Atack. And he never sent a follow-up email correcting the omission. Atack lost the run-off by 984 votes.
There was another flub. When Parham sent out a congratulatory email on Wednesday ("We did it! President Obama will have a 2nd term!"), he thanked the Obama for America office first, congratulated local Democratic winners, and thanked Democrats who ran. And he neglected to mention County Commission Chairman Barbara Revels and School Board member Colleen Conklin, who'd won during the primary (Revels was unopposed), and Jules Kwiatkowski, who won a mosquito control seat (Democrats take them where they can get them).
Parham had to send an apology email this evening. "Although late," he wrote, you are not any less appreciated for having run and retained your office." It hasn't felt that way for Democrats.
"We are comatose. I'd accept that claim," says Merrill Shapiro, president of the Flagler County Democratic Club, which operates under the authority of the executive committee but has little interaction with it. "They have excited their base, and we are comatose."
Republicans' HQ
By they, Shapiro meant the Republicans, who've had their own struggles in Flagler—and who were at each other's throats for much of the year—but who, between the activism of the tea party, the Ronald Reagan club and the traditional Republican organization, powered up their ranks far more effectively and intelligently than did the Democrats. One example spoke volumes: Democrats were proud of having an Obama headquarters on Palm Coast Parkway, for the local Obama For America campaign. But the paid staffer there did not know that the Ronald Reagan club—its most potent opponent—even existed. And local Democratic candidates, Holland said, were forbidden from having their materials there.
The Republican campaign headquarters at the Staples shopping center was a different story. It caught some glare from a juvenile hissy fit between a Ronald Reagan club official and a Republican Party official's wife, but the headquarters were an otherwise welcoming bazaar of Republican campaigns, open to all. The message was clear: the Republican Party stood with its candidates.
But Democrats, beyond Obama, were on their own.
Not coincidentally, Democrats remain an endangered species in Florida, despite their few pick-ups in the Florida House and Senate. And they're in the minority on every single local government board—losing their last majority when Holland's seat on the county commission went to Frank Meeker, who's not only a Republican, but a very active Republican party operative. Parham sees Democrat Jim Manfre's defeat of Republican Don Fleming, for sheriff, as a pick-up, and among constitutional officers, it is, but overall, Democrats' fortunes fell: Holland was running for a newly House seat that for the first time in 50 years had Flagler as its core. It was another Republican pick-up.
Hutson did very well in St. Johns County, his home county, pulling 59 percent of the vote there, and did almost as well in Volusia, with 58 percent of the vote there. But those two counties accounted for exactly half the vote count. The other half was all in Flagler County, where the real battle was fought. Holland carried 54 percent of the vote to Hutson's 44 percent (with Michael Cornish, an independent, taking under 3 percent). It was not enough for Holland to overcome Hutson's advantage in the two other counties.
"We looked at the numbers and knew exactly what happened," Holland said, citing a dearth of backing from the local Democratic structure.
Dejà Vu
Barbara Revels, a Democrat who chairs the Flagler County Commission and supported Holland's campaign, knew exactly what Holland was going through, having had the same struggles in her own race for the commission four years ago. "You're basically on your own, in high contrast by the way opposing party handles that," Revels said. There wasn't a single day of early voting, she said, when Republicans weren't at the library voting location, informing voters on how to vote Republican. Democrats weren't there doing the same. Republicans, she says, got their vote out. Democrats did not, except for Obama.
Some 2,600 fewer people voted in the Holland-Hutson campaign than did in the presidential race in Flagler. Had those people—who actually went to the polls and cast a ballot—voted for Hutson and Holland in the same proportions as remaining voters did, Holland would have picked up 1,400 additional votes.
Revels has pleaded with the Democratic Executive Committee to be more active on behalf of local candidates. "Don't forget your local people," she'd tell the party structure. "I couldn't get any traction with that in '08 after the election. I'm saying it again. I doubt I'll get any attention with it again."
Ironically, Holland, who made much of her bi-partisan support in Flagler, had four fund-raisers hosted by Republican supporters. She had none hosted by Democrats.
Shapiro on Thursday held a meeting with Democratic Club members that included discussions of just such issues, he said when interviewed afterward. "It is true, we as a club do not feel that we were sufficiently well organized, and we were spread too thin," he said. "We've had internal arguments over whether to concentrate over some campaigns and let other ones go, if they didn't have a chance. That notion was voted down." And it was proven wrong in some eyes, he said, when Kathleen Trued, who challenged John Thrasher, the powerful Republican incumbent, got 47 percent of the vote in Flagler County (but only 41 percent district-wide).
On the other hand, Shapiro said, "I'm not aware of any request that came from the Holland campaign, and those of us who would have liked to be involved did not receive any request, and would have gladly been involved." Poor communication from the Holland campaign appears to have been an issue, too: emails alone are not the way to solidify backers. Nevertheless, Shapiro added, it should not have depended on phone calls from the Holland campaign. "We have not done our job," he said, "and we're going to make sure that never happens again."
Dan Parham's Exceptions
Parham takes issue with Shapiro's assessment of a "comatose" Democratic Party and vehemently disputes suggestions that the executive committee failed Holland.
"Merrill doesn't have too much contact with the party, Merrill runs the Democratic Club, but the club doesn't really interact too much with the DEC," Parham said. "We were going up to an election and I didn't want to split the party or maybe lose some support, so I let it go. But Merrill and the club didn't really do anything to help the party." He was critical of Revels, too: "Barbara didn't come over and get herself involved with the party either, so you're talking about someone who did not know what we were doing at the Democratic office."
But what was the Democratic Party doing? Parham is well aware of the tensions created, ironically, by the presence of the Obama For America office in the county: it drew the interest of most volunteers, siphoning support from other candidates. But Parham said he was not going to step on any campaign's toes. "Milissa, I spoke to her a couple of times and I said, if you need something, let me know, but unless they reach out, I don't interfere with people's campaign, they run them the way they want it to run," Parham said.
Holland said Parham, who never so much as friended her campaign page on Facebook, never once called her on the phone. The two spoke briefly, in passing, she said, at three events, including the Creekside Festival and a Grand Haven function hosted by Art Dycke, Grand Haven's Democratic leader. And, Holland said, her campaign sent numerous emails to the Democratic Executive Committee calling for volunteers, and asking the committee to fan out the email to its members (the committee does not give its list to candidates).
"We were constantly asking for volunteers. We had a pretty sizeable email list and we were regularly asking people to phone bank and go door to door," Jason DeLorenzo, a Palm Coast City Council member who worked closely on Holland's campaign, said. "The party leadership was on the mailing of all communications, so they should have been aware that we were looking for volunteers."
But Parham grew more defensive as the interview went on, and as he was pressed for details of how, beyond the offers of help, the Democratic Party functionally was willing or able to help local candidates. He said Manfre and Heather Beaven, for example, got help because they asked for it.
"But no, I will not take the responsibility for having lost the campaign in Flagler County, and it's not the party that lost it for her," Parham said. "Milissa Holland was a candidate, she had to inspire the people to come out and work for her."
Parham added: "Merrill needs to come and talk to me also, in fact he needs to come and talk to me right now. The club that was supposedly being a big force out there was not the force. They weren't doing what I was hoping they were going to do. They were not putting out the people, all those people that were coming to their meetings were not going and working for the candidates, and I have a couple of committees, I won't speak their names, who talked to me about that."
To Parham, Nov. 6 was a success despite Flagler's switch in the presidential race. The effort here, Parham said, was to minimize the margin with Mitt Romney, and that was done. It's an odd way of looking at a party's responsibility—a way that eliminates any need to explain a loss, since even a 40-60 margin against Romney could have been explained as better than a 30-70 margin, and it doesn't explain the dramatic reversal from 2008 in a state that still held for the president.
"I'm Not Going to Do Too Much Soul Searching"
But as Parham talked, it was also clear where his priorities were. "To be completely candid about it, it was president Obama who was exciting the people, and most of them wanted to go and work in his campaign," Parham said. "And the most important campaign was Obama's campaign, in spite of what the other candidates may think. But to anyone who came around, I also stressed the local campaigns."
"We have some readjustments to do, but quite frankly I'm not going to do too much soul searching," Parham said. "There are problems here, but I don't see it as a bigger problem than other counties that are not heavily Democratic counties, like some other counties in the south. For our county here, I don't see it as a bigger deficit as far as what Democrats need to do. We've got some problems, yes."
He continued: "We could have done things more comprehensively, but I won't say that would have allowed Milissa to win. I'll talk to Milissa about that. she'll know exactly what I'm talking about."
Parham did concede that the party has issues, but he blamed it on apathy that applies to both parties, while problems beyond that were not to be discussed just yet. "There are things that need to be brought up into the 21st century here, some rules need to be adjusted, there are confusing lines of authority that have to be clarified, so I'll do it," Parham said. "Before I step down as chair, I will rectify what I need to rectify. I won't go into it here, because I really don't want it out in the news media until it's done."
Only one thing unites all local Democrats, including Parham, Shapiro and Revels, regardless of their differences: they all want Holland to run again, and to do it now. As Revels put it, whether "backward to the commission or forward to the State House," the next election cycle comes up very fast, and Holland's road should be "one year of planning, one year of running."
Holland's Future
Holland won't make a decision on what's next just yet. She congratulated Hutson and wished him well in a phone call, and urged him to represent Flagler County well. But it's also clear that the county is in her blood, its issues never far from her concerns.
Asked directly what her plans were, she said: "I don't have an answer for that. I'm certainly going to focus on getting through Feed Flagler and the holidays. I've been working diligently without a break for well over six years in regard to the work on the commission. I'm going to take some time and catch up on some rest and other things I just want to do with my kids, my husband. So that's yet to be seen on what is next—my next chapter—but I always believe that things always happens for a reason, and I think it will become apparent for me when the timing is right, where I go from here."