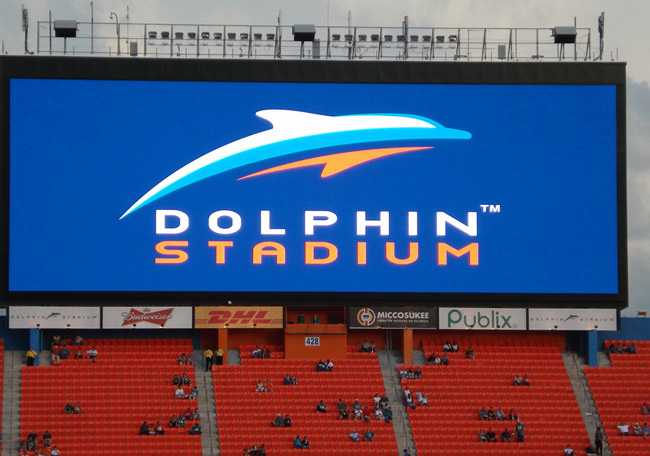 When it comes to pro teams with the largest growth of fans disguised as empty seats, the Miami Dolphins are tops in Florida.
As the Dolphins muddle through another season, the South Florida organization was the only professional team from Florida — and the only NFL entry on the whole list of North American sports franchises — to record a heart-in-the-throat plummet in fans over the past decade, according to 24/7 Wall St.
The Delaware-based online financial news outlet put the Dolphin fan exodus at 17.1 percent over the past decade, with its average attendance dropping from 73,470 in 2001-2002 — the seventh-highest in the NFL – to 60,866, the fifth-lowest in 2011-2012.
"In the last 10 full seasons, the team has gone 60-84 and has had three consecutive losing seasons in a row," 24/7 Wall St. stated. "Its worst season by far was the 2007-2008 season, when the Dolphins won just one game. The team isn't performing stellar this year, either."
Luring fannies into seats is a piece of cake if you win games, say Florida sportscasters. But the Dolphins haven't fielded a winner in a long time. Their last playoff victory came in 2000, they've gone 43-65 since the start of the 2006 season, and this year's home opener against Oakland was their first home-opening win since 2005.
The attendance at that first home game of 2012 was 54,245, smallest opening-Sunday crowd in decades. As for season ticket sales? Last year's total hit a historic rock-bottom of 42,584.

"When our kids were growing up, we had season tickets," Retired shopkeeper Eli Lopez of Hollywood told Sunshine State News. "Never missed a game in nine seasons.
"But the kids are grown now and, I don't know, the team keeps dumping good players and trying new quarterbacks who don't work out.
"I watch on television when they put the games on, which isn't often because they don't sell out," he said.
LeBron James' endorsement haul is $40 million a year; Reggie Bush — arguably the Fins' biggest star — gets a few hundred dollars for pushing gym memberships. But Bush takes it in stride.
"The city of Miami has to fall in love with us again," he told a TV reporter last month. "It's up to us on the team to make that happen."
A lack of success on the field is a hallmark for most of the teams on the 24/7 Wall St. list, with the Seattle Mariners in the top overall spot.
"The best way for teams to keep fans coming to games is to win games,"  agreed the website. "The attendance of several teams in each sport has fallen mainly because of bad play, poor management, or being based in a market with a struggling economy."
As for the Marlins, Miami's baseball team, which recorded one of the lowest attendances for a Major League club playing in a new stadium, the numbers for the past season were still a marked increase from prior years. How fans react at the turnstile to the salary dump to Toronto will have to wait until next spring.
Meanwhile, the top 13 downhill racers on the 24/7 Wall St. list of sports franchises:
1. Seattle Mariners (MLB): 51.4 percent.
2. Cleveland Indians (MLB): 38.7 percent.
3. Houston Astros (MLB): 36.1 percent.
4. Arizona Diamondbacks (MLB): 32 percent.
5. Dallas Stars (NHL): 23.2 percent.
6. Oakland Athletics (MLB): 22.6 percent.
7. Detroit Pistons (NBA): 22.3 percent.
8. New York Mets (MLB): 22 percent.
9. Baltimore Orioles (MLB): 19.7 percent.
10. Columbus Blue Jackets (NHL): 19.2 percent.
11. Washington Wizards (NBA): 19.1 percent.
12. Milwaukee Bucks (NBA): 19 percent.
13. Miami Dolphins (NLF): 17.1 percent.
–Sunshine State News