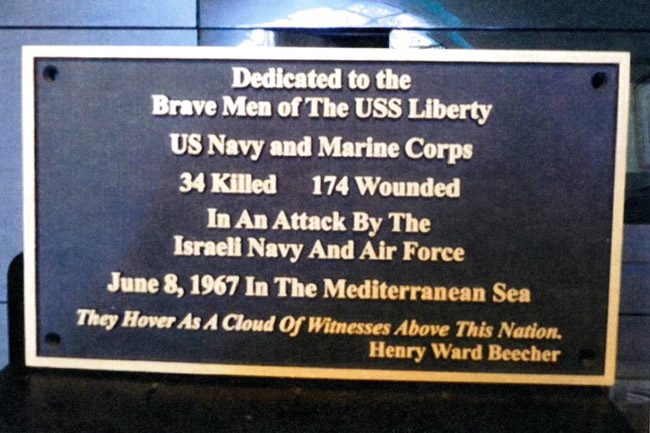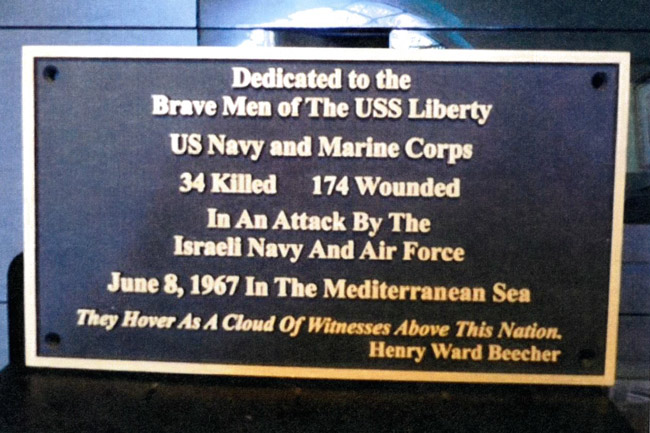 The Palm Coast City Council on Tuesday killed a proposal to install a small plaque at Heroes Park commemorating the memory of 34 U.S. Navy sailors and Marines killed in an Israeli attack on the U.S.S. Liberty during the 1967 Arab-Israeli war.
The council rejected the proposal without discussing the plaque's wording or having that wording introduced in the discussion—which led to a mischaracterization of the plaque's content—and even though the memorial had been unanimously approved by the city's own Beautification and Environmental Committee, which vets the memorials proposed for the park.
The council was not made aware of that unanimous approval by Jim Landon, the city manager. Landon rather framed the matter as "a public policy issue at heroes park that I thought would be best if decided by city council." That "public policy" issue was never in question in beautification committee discussions.
Landon then inaccurately referred to the plaque as commemorating an "event," and it was based on that mis-characterization of the plaque that the council then briefly discussed it and shot it down.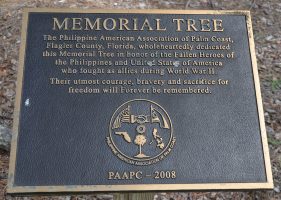 The plaque is in fact, as are other memorials or plaques at the park, dedicated to service members who lost their lives in the line of duty—in line with the concept for the park devised by the late Ralph Carter, an early city council member who never lived to see it realized. The plaque states: "Dedicated to the Brave Men of the USS Liberty." It lists the number of killed and wounded, the circumstance—"In an attack by the Israeli Navy and Air Force" and the date ("June 8, 1967, in the Mediterranean Sea"), ending with a quote by Henry Ward Beecher, the 19th century abolitionist: "They hover as a cloud of witnesses above this nation."
None of the facts stated are in dispute, either from the Israeli government or the U.S. government, though controversy continues over whether the Israeli attack was deliberate, as survivors of the Liberty have charged, or an accident, as the Israeli government and American inquiries have concluded. The controversy is not addressed on the plaque, anymore than more serious controversies surrounding 9/11 are addressed in Heroe's Park memorial to the 3,000-some individuals killed that day—a memorial that, like several others there, does not have a direct Palm Coast connection.
The U.S.S. Liberty plaque does: it was proposed by Ernest Gallo, a long-time resident of Palm Coast's C Section and a survivor of the Liberty attack.
"I'm a bit confused over what's been said," Gallo told the council after the council made its decision Tuesday. Gallo would not have been alone in his confusion, at least for those provided a broader context of the proposal, the Beautification Committee's discussions and vote, and the council's own endorsement of existing memorials at the park.
But the brief discussion was restricted by the way Landon framed it—a tactic he applies to any matter he wants directed in a specific direction.
He began by a mis-characterization of the Liberty, "which," he said, "is a U.S. ship that in the 1960s was hit by a bomb, I guess is the best term, lives and injuries occurred." Israeli jets and three gunships strafed, and torpedoed the ship, also firing rockets and napalm. (The ship was on an intelligence mission in the Mediterranean's international waters.)
Gallo, Landon said, "would like to recognize that event," never mentioning the plaque's memorial to those killed.
He blunted any discussion of the plaque's wording: "No reason to talk about the wording if we're not going to do it."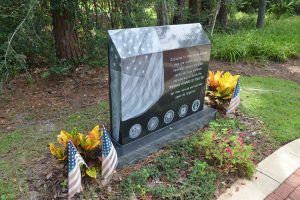 "Historically," Landon went on, "we have never recognized specific events. This is a—to tell you the truth it causes some concerns, because how many events there are out there. If you really think about it, there are a lot of tragedies at war. Historically you go back as far as Vietnam War and even further than that, and so every event we start recognizing and how we recognize those is not what the park has been about in the past. So if we're going to start this, that would be a change, that would be a public policy you would have to decide."
That, too, was not accurate: several memorials or plaques have no direct connection to Palm Coast or its first responders, but only generally so, if that. Heroes Park includes a memorial plaque from the Philippine American Association of Palm Coast dedicating a tree "in honor of the Fallen Heroes of the Philippines and the United States of America who fought as allies during World War II." It includes a plaque to prisoners or war or those listed as missing in action. Palm Coast has known neither. A plaque dedicates a tree to the founding fathers, none of whom, it is certain, had a connection to Palm Coast. A large memorial is dedicated to Purple Heart recipients: many Palm Coast residents have Purple Hearts. And the newest memorial, dedicated to victims of Post Traumatic Stress Disorder, was proposed by someone who doesn't even live in Palm Coast. It, too, was approved by the Beautification Committee and never went before the council.
None of that information was presented to the council, either, before it made its decision. Nor did Landon discuss his office's exchange of emails with U.S. Rep. Ron DeSantis's office, whose Randall Stapleford, in charge of veterans affairs in the Palm Coast office, drew on one document from 1967, a Navy inquiry into the USS Liberty attack, to give the city what he described as "enough information to formulate a decision by the city manager." The information is far from the settled facts, however, as continuing revelations indicate. (Stapleford last made headlines locally when he unleashed a blunt and rude attack on the Chief Judge of the Seventh Judicial Circuit.) The documents were included as an attachment in the council's background materials. They suggest that DeSantis's office had a hand in the decision to kill the memorial proposal.
Landon acknowledged that 9/11 is memorialized at the park, but said that "event" stands alone and no one would object to its being recognized.
"My thought on heroes Park was that it was for local heroes, for local responders and local military families that were in the county, especially Palm Coast, and that the memorial, that park itself was a memorial to all military and first responders," Council member Steven Nobile said. "Just the park itself, it is that memorial for all men, women who have given their lives or given some flesh for our country. But as far as names and plaques and things, my opinion was it was really just for our close to home people." It was not clear how a long-time resident of the city was not "close to home."
"I don't recommend we go in a different direction and start recognizing certain events," Mayor Milissa Holland said, because "hundreds" of events could then be proposed.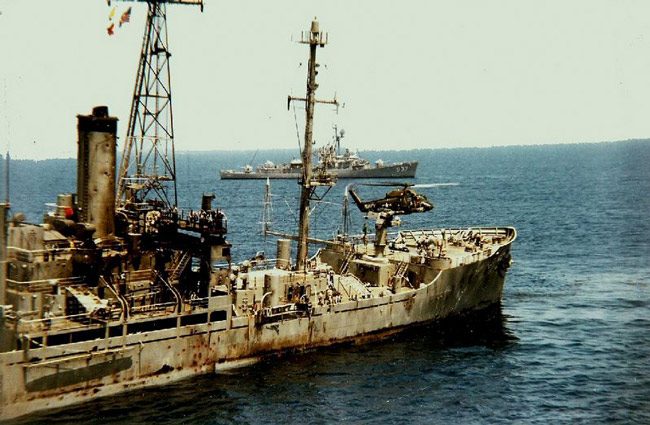 Council member Bob Cuff, also seizing on the plaque as merely memorializing an "event," said he grew up in a southern corner of Massachusetts, where it was difficult not to swing in any direction without hitting on a memorial. But going down the path of memorializing events, he said, "we're just going to be in an endless situation." He then noted that the 50th anniversary of the Apollo landing on the moon is ahead. "I don't see any point in having an Apollo 11 50th anniversary commemorative plaque in Heroes Park, that isn't the purpose of that public space."
Though no one had discussed the content of the plaque, Bill Reischmann, the city attorney, cautioned council members on that very account: "How in the world do you get in the business of regulating what these plaques are going to say," he said, "because you're going to be stepping into content, and I could foresee that there could be additional controversy that could become adversarial which could diminish the objective and the purpose of Heroes Park in the first place."
But there has been no controversy—not about the content of the plaque, which is not in dispute, nor about its type, which echoes that of several others at the park.
By then, the council appeared unanimously opposed to the plaque on the ground that it was commemorating a mere "event" (Council member Nick Klufas suggested placing it elsewhere, but the mayor said that would be the subject of another discussion). Only then was Gallo allowed to speak.
Referring to the book he'd written ("Liberty Injustices: A Survivor's Account of American Bigotry") he intimated that the council was itself being bigoted: he said the truth about the attack on the Liberty has long been covered up. "Because I realize what's going on here, and let's not mince any words if we want to get right what to what the clock says. I don't know what else to say," Gallo said, noting that he has a list of cities that have put up similar plaques.
"I understand your passion about this issue," Holland told him. "We're here to discuss as a policy decision if we're moving forward with this. The council decided we're not moving forward with this. I don't think it's appropriate for you to insinuate that we are a bigoted council, if you are, I take offense to that." There was some crosstalk, with Gallo saying something about "bullying," when Holland added: "I'm not going to allow this to occur."
The council moved on to a presentation on attracting start-ups to Palm Coast.