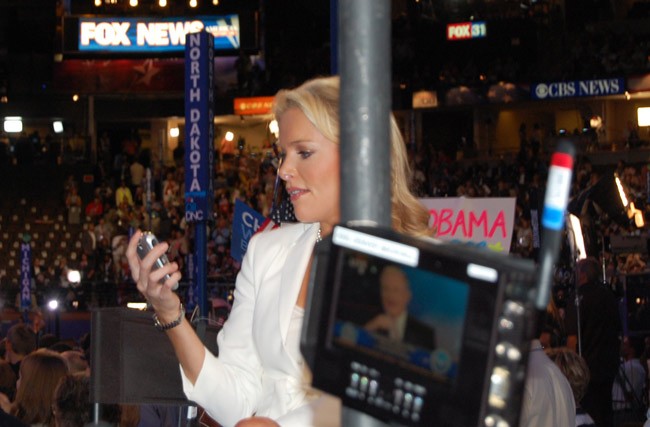 By Nancy Smith
Megyn Kelly, the only female moderator in Thursday night's Fox presidential debate, is still getting hammered for leveling tough — even "mean" and "disgusting" — questions at candidate Donald Trump. Personally, I don't get it. But that's what is happening. CNN reports there has been so much invective directed at the host of Fox News' "The Kelly File" on the Internet that it's created security concerns for the network. Twitter is alight with calls for America to switch her off and Fox to fire her. This is ridiculous.
Kelly deserves more support from the right. She deserves conservatives' admiration, not their disdain, and if you'll bear with me, I'd like to give you three reasons why.
1. She was doing her job and then some
As an employee of right-leaning Fox, Kelly — or for that matter, fellow moderators Bret Baier and Chris Wallace — could have spent two hours Thursday night lobbing feel-good softballs to the GOP top 10. That's what some Democrats expected from a network that wears its Republican heart on its sleeve. But none of them did. Kelly in particular proved she was a legitimate journalist, asking the questions that Democrats would ask if Trump were the Republican nominee — or if  any of the candidates on the stage were headed to the top of the ticket. That's what a good journalist does.
If MSNBC were hosting a debate for Democratic candidates, I wonder, would Rachel Maddow fire as many Megyn Kelly-style broadsides at Hillary Clinton for her email scandal? Or for Clinton's failures as secretary of state, which many say helped bring war to Europe, an arms race to Asia, and inferno to the Middle East?
Maybe we'll get to see Maddow in action. But we've seen Kelly, she passed the fluff-begone test and I'm eternally grateful she's on Fox.
2. She asked tough questions of all the candidates, not just Trump
Kelly, like her colleagues, looked for every candidate's Achille's heel. Nobody on the stage Thursday night got a pass. Everybody had at least one tough question from one of the moderators and most had more than one. It just so happens Trump has more to explain — more fodder for questions — based on his record of very public remarks and his penchant for celebrity built on larger-than-life controversy.

Yes, Kelly asked Trump about women,  and why wouldn't she? The GOP hasn't captured the women's vote in a presidential election since 1988. Based on Trump's history of making disparaging remarks against women — calling them, among other things, "fat pigs," "dogs," "slobs," and "disgusting animals" — the question is more than legitimate.
And the fact that he would disparage Rosie O'Donnell on the GOP stage for a laugh — or any woman by name who wasn't there to defend herself — shows what a good question and telling response it was.
Never mind Trump for a moment. Look at the questions she asked other candidates:
— She asked former Florida Gov. Jeb Bush about saying that his brother's decision to go into Iraq was a mistake: "To the families of those who died in that war… How do you look at them now and say your brother's war was a mistake?"
— She pressed Wisconsin Gov. Scott Walker on his strict abortion stance: "Would you really let a mother die, rather than having an abortion?"
— She questioned Ohio Gov. John Kasich, who justified expanding Medicaid in Ohio by arguing that he would be able to talk to St. Peter at the pearly gates about it. "Why should Republican voters, who generally want to shrink government, believe you won't use your Saint Peter analogy to expand all government?" she asked. She also asked him, "If you had a son or daughter who was gay or lesbian, how would you explain to them your opposition to same-sex marriage?"
— She reminded neurosurgeon Dr. Ben Carson that his critics say his inexperience shows. "You've suggested that the Baltic States are not a part of NATO, just months ago you were unfamiliar with the major political parties and government in Israel, and domestically, you thought Alan Greenspan had been treasury secretary instead of federal reserve chair. Aren't these basic mistakes, and don't they raise legitimate questions about whether you are ready to be president?"
— She questioned New Jersey Gov. Chris Christie on the NSA's collection of phone records and Kentucky Sen. Rand Paul's opposition to that. "Do you really believe you can assign blame to Senator Paul just for opposing the bulk collection of people's phone records in the event of a terrorist attack?" The question set off a flurry of back-and-forths between Christie and Paul.
— She asked Florida Sen. Marco Rubio about his favoring a rape and incest exception to abortion bans, even though Cardinal Timothy Dolan of New York called those exceptions preposterous. "If you believe that life begins at conception, as you say you do, how do you justify ending a life just because it begins violently, through no fault of the baby?"
As I said, every candidate had tough questions, they just weren't all asked by Megyn Kelly. Chris Wallace, for example, was fairly relentless questioning Trump on his four business bankruptcies — as he should have been. Fact is, ruthless as it is, resorting to bankruptcy as a strategy works in BusinessWorld, but the American people might want to know how he would employ that strategy in the Oval Office.
3. Donald Trump is a big boy
Trump climbed in the polls by playing the establishment critic, even as he served the establishment's interests by sucking up the media oxygen from true conservatives like Sens. Ted Cruz, Paul and Rubio. He plays the tough guy. But he couldn't handle it when Kelly asked him a straight and fair question.
Certainly, his outspoken and bombastic style are very appealing to people who feel like they lack power or a voice. People get a vicarious thrill out of seeing somebody speak truth to power and they get this in spades with Donald Trump. I understand that. But now he is, or was, the front-runner to win the GOP nomination for president of the United States. He, above all, is fair game for tough questions. And what Megyn Kelly has shown us with her question and Trump by his response is anything but presidential.
You've heard his "blood" quote by now. But Trump also retweeted a string of negative comments including one that accused Kelly of an "attempted hatchet job" against him, and another that called her a "bimbo."
Bottom line: Fox News staged an awesome debate. There are many more debates planned to cover policy issues. But the questions asked at this first presidential debate got each candidate on the record with the issues that, for better or worse, define them. And make no mistake, Megyn Kelly did conservatives a huge favor. We have a much better insight today into Donald Trump than we did a week ago.


Nancy Smith is the editor of Sunshine State News. She started her career at the Daily Mirror and The Observer in London before spending 28 years at The Stuart News/Port St. Lucie News as managing editor and associate editor. She was president of the Florida Society of Newspaper Editors in the mid-1990s. Reach her by email here, or follow her on twitter at @NancyLBSmith.