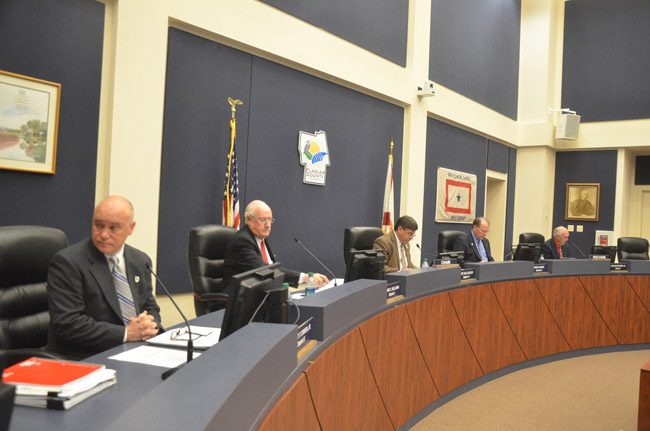 Last year every local government–the county, Palm Coast, Flagler Beach, Bunnell–passed moratoriums intended to prevent medical-pot dispensaries from opening. The idea was to give state government time to come up with rules that comply with a constitutional amendment making medical pot legal, that voters approved overwhelmingly last November. Local governments feared that if they went ahead with their own rules, they could be pre-empted by state regulations on land use and zoning, for example.
Other local governments didn't see the need to wait. Dispensaries have now opened in Orlando and Gainesville, for example. Zoning has not been an issue, because neither of those local governments made it an issue, and neither the Legislature nor the state Department of Health, which have been trying to craft laws and rules, are much concerned with zoning. They're more focused on the number of farms and dispensaries that may be licensed across the state.
In essence, those governments with self-imposed moratoriums may have simply put themselves out of contention for what's expected to be a lucrative medical pot landscape, at a crucial time when businesses are establishing themselves on the ground floor. Palm Coast City Council member Nick Klufas had briefly made that argument last December in an attempt to counter Palm Coast's moratorium before being out-voted b y his colleagues.
On Monday, county commissioners signaled that the time for moratoriums is over.
"I'm not in favor of continuing to kick the can down the road on this. I think we need to get going," Commissioner Don O'Brien said. "I'm not comfortable in thwarting the will of the people, so to speak. The constitutional amendment was passed by over 70 percent of the citizens of Florida. We've got to get this thing going forward. If I do vote for the extension, that's the only time I'm going to vote for it, going forward, just to be clear about it."
The county's planning director was updating the commission on the latest developments regarding medical marijuana regulations. There haven;t been many. The Legislature failed to reach an agreement in the last session. It is expected to take up the issue at a special session this week, even though medical pot was not part of the special session call. Even if it does, zoning issues are not likely to be on the agenda. "
"If there's dispensaries in Orlando, there's no reason that our citizens can't go to Orlando where they can't even deliver to our county right now, so that's happening, and it's going to continue to happen," O'Brien said. "All I'm saying is we need to get this thing moving forward."
The Knox Cannabis Dispensary on Orlando's North Orange Avenue in Ivanhoe Village on Friday was the first medical marijuana dispensary to open in central Florida, with marijuana grown and processed at a Knox farm in Winter Garden, on a state license. The business sells 600-milligram vials of medical pot for $90, according to the Orlando Sentinel.
"Why is it the city of Orlando is so far down the road?" Commissioner Charlie Ericksen asked.
"They've gone out on their own, others have done the same," Mengel said, "and I think our caution is justified because we don't want to run contrary to state law. We know that pre-emption does happen. We've had that happen with other items, and I think we're trying to be pro-active but also not be retrospective too much."
"Should Orlando be sued, their resources are much greater than ours," Nate McLaughlin, the county commission chairman, said. But Gainesville, too, has seen a Knox dispensary open as well, in mid-May, on Southwest 34th Street.
"The problem I see is that if Orlando does it and another neighboring county approves this, the fact fact is that people are going to be getting marijuana, it's just the way it's going to happen," Commissioner Dave Sullivan said. "It'd be nice if we had a nice, solid set of rules on which to base our decisions." He suggested caution.
The Health Department's proposed rule-making is responsible for licensing issues, but not land use, necessarily: the amendment did not include that component in the Health Department's purview. That could have been a legislative purview, but so far the Legislature has not made zoning and land use part of its debates. It's been focused on licensing. What rules the Health Department did put out "is very thin on what we do on the land-use side of it," Mengel said. "Much of the burden falls on us."
In fact, the rule-making does not address zoning and land use, though Craig Coffey, the county administrator, said he expects local governments to be "pre-empted on all this stuff" eventually.
The commission approved Mengel's update on the issue, but he'll be submitting a three-month extension to the moratorium on June 19. The moratorium would then be in effect through September 15, to give the county time to incorporate what rules the Legislature comes up with, along with those of the Health Department. The Health Department by law is to have rules in place by early July.