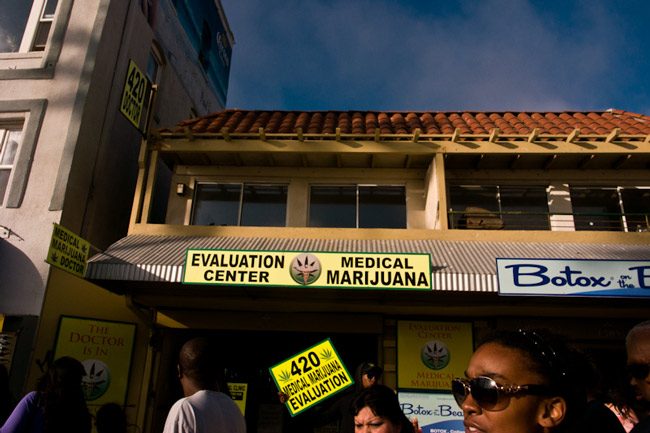 In contrast with Flagler Beach's contortions, Palm Coast's less tortuous but still delayed approach, and Bunnell's opposition, Flagler County appears ready to become the first local government to welcome medical marijuana dispensaries: the County Commission is set to approve an ordinance Monday evening that will open the way to the dispensaries in all zones except residential and agricultural.
The county in December approved a six-month moratorium, the shortest of the local moratoriums, to give its administration time to work up the right ordinance in line with legislative developments. Those developments were not settled until mid-spring. But the county, unlike Palm Coast and Flagler Beach, unhesitatingly went ahead and crafted a measure that essentially treats medical marijuana dispensaries the way it does pharmacies. That's what the law requires, if a local government is to permit medical pot dispensaries. The only other option is to ban them.
"It looks about right, it leaves it pretty well open other than the standard stay away from schools and things like that," County Commission Chairman Nate McLaughlin said about the proposed ordinance today. "I don't see any problem. The board has been very clear over this whole thing, this is considered medicine and it's a treatment doctors can have an option to treat their patients. I don't foresee going off what the board has previously talked about on this issue."
Commissioner Donald O'Brien, who was reluctant even to approve the moratorium, said last week that he considered the ordinance a simple matter of adding medical dispensaries alongside pharmacies. O'Brien didn't like delaying implementation of Amendment 2, the constitutional amendment voters approved with a larger-than 70 percent margin last November to legalize medical marijuana, and from a business perspective he did not want Flagler County to be behind in attracting potential dispensaries.
Should the approval go through Monday, the county will have clearly won that race.
Palm Coast is a close second, but even Palm Coast earlier this week approved an extension of a moratorium, for another two months, because its ordinance is not yet ready.
Flagler Beach several weeks ago approved, on first reading, an ordinance that would have banned all dispensaries in town. But the blowback was such that commissioners looked for a way out, and found one. Last week the three who had voted for the ban reversed themselves and approved an approach that would legalize dispensaries on the mainland portions of Flagler Beach, but keep them out of the barrier island.
That leaves Bunnell as the only outlier in the county. Bunnell will remain so: the commission appears uninterested in allowing medical pot dispensaries. The city is "way off" that trend, Commissioner Elbert Tucker said in an interview today. "I don't think the commissioners are in favor of having dispensaries in the city limit of Bunnell."
They discussed it very briefly about a month ago, Tucker said. The city's police chief, Tom Foster, is an ardent opponent of all things pot.
"I just don't want it. There's room for abuse and we don't need that. I'd just rather some other city take care of that," Tucker said. "I used to go to Palm Coast to get my medication so people can go to Palm Coast to get their medical marijuana and we won't have to worry about regulating it."
Dan Davis, the city manager, went into more detail on the issue today. Based on Palm Coast's approach–of eventually allowing them– that makes me more inclined to recommend that we do not allow them," he said.
He cited two reasons: "They will be all over the county, meaning Bunnell residents will be able to drive two-three miles in any direction and get what they need. Considering we have no control and can't tax these type businesses I'd rather not have good business space taken up by them," Davis said. And second, "considering it's a cash business because banks won't loan money since it is still a federal crime, there are many burglaries going on in California and Colorado. Safe's are left overnight with large sums of cash and product for the taking. We have enough crime in Bunnell, I don't need a reason for more."
Davis said those were his and the police chief's thoughts. which generally carry heavy weight with the rest of the commissioners. He says he will recommend something in September or October.
"We haven't taken a vote but I think we're headed in that direction," Tucker said.
In the county, medical pot dispensaries will be allowed in general office, neighborhood commercial, and general commercial and shopping center zones, and, with special exceptions, in residential/limited commercial use zoning districts. Like pharmacies, they may operate drive-thrus, but they may not exceed 2,500 square feet or a single lane for the drive-thru.
The second reading of the ordinance is scheduled for Sept. 6, when it will go into effect. But given its momentum in the county, Monday's action means that the moratorium is over, and that the county will be accepting permit applications from dispensaries, should any be submitted.
"Certainly Flagler is a very forward-thinking community," McLaughlin said, reflecting on the county opening the way first. "I don't think that's our intent but it seems to happen that way."