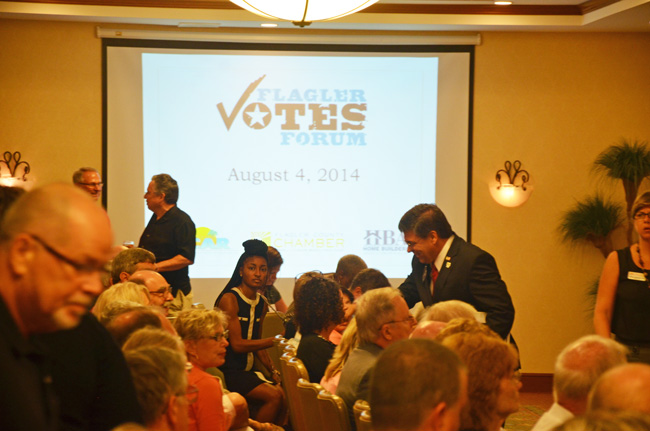 From a turnout standpoint, Monday evening's candidate forum at Palm Coast's Hilton Garden Inn was very successful: some 200 people turned out, some of whom couldn't find seats.
But between the first and second segment—during the switch-over between county commission and school board candidates—an incident took place between County Commissioner Nate McLaughlin and challenger Mark Richter's 27-year-old son, Kevin Richter, that resulted in a deputy being called in to "escort" McLaughlin and his wife to their car, because McLaughlin and his wife felt threatened.
Kevin Richter said the only threat he levied was of legal action against McLaughlin after McLaughlin, according to Richter, shook his hand so hard as to harm him. Mark Richter was not involved in the incident.
Bitter Context
Mark Richter and McLaughlin are both Republicans. They're facing each other in the Aug. 26 primary. There is little love between the two: they don't shake hands before public encounters such as Monday's forum, nor did they the following evening at a forum in the Hammock. The tenor of their race can be as bitter as that between incumbent Frank Meeker and Dennis McDonald, two Republicans in another county commission race. McDonald, however, whose history in Flagler County is much more extensive than Richter's, can also be genuinely cordial and often humorous even as he antagonizes his opponents. Both McDonald and Richter represent the local Ronald Reagan Republican Assemblies group, which establishment Republicans like Meeker and McLaughlin revile—and fear, to some extent, because of the perceived clout of the group in primaries, when more polarized voters go to the polls. That larger context is part of the atmosphere surrounding the incident Monday evening.
Mark Richter and his son spoke about the incident at length in phone interviews this morning.   Neither initiated the calls. Nor did McLaughlin.
McLaughlin declined to address the matter in detail. "Anything I say is construed as political, so I can't say anything," McLaughlin said, "and you struggle with that dilemma. Do I say something, does the public have a right to know? Yes they do." But McLaughlin said he is not the one to describe the matter. "It's a very serious issue, but it can be made political," he said. In a second interview, after hearing a summary of the way Kevin Richter described the incident, McLaughlin again declined to get into a "he-said-she-said" debate, but said: "At the end of the day, people around me saw the threat to me and took appropriate action."
He also said that Wes Priest, the vice president of the Flagler County Republican Club, was with him for most of that part of the evening and could describe the events.
What Witnesses Saw, and Didn't See
Priest, a supporter of McLaughlin's campaign, said he did not witness the original encounter—the handshake—but that during the commissioner's segment, he noticed Richter's sons, Kevin and Mark Jr., "being kind of loud and cheering for their dad." After the segment ended, he noticed McLaughlin walking out of the room, and the two brothers "followed him out there and saying things to him and his wife that were designed to intimidate them."
"Nat said they were harassing him and his wife, so I came back in with him," Priest said. By then the next segment of the forum had started, featuring school board members. The two brothers, Priest said, "kept opening the door and trying to get Nate to come out there." He added: "My opinion, these two guys were trying to start something by the way they were acting because they kept going after Nate, and Nate was just standing at the back of the room. I can't tell you about the handshake, I can tell you that the whole time I saw these two guys they were trying to confront Nate and intimidate his wife."
Jason DeLorenzo, the Palm Coast City Council member, was at the forum in his capacity as the Flagler Home Builders Association's political affairs director. The association was one of the three organizations, along with the Flagler chamber and the Realtors association, sponsoring the event. It was DeLorenzo who called Mark Carman, the Palm Coast precinct commander for the Sheriff's Office, to request a police escort for McLaughlin.
Interviewed Tuesday evening, DeLorenzo initially did not want to address the matter, saying McLaughlin himself did not want to address it out of concern for his family. DeLorenzo then provided the following statement later Tuesday evening: "Midway through the event, one of our forum participants expressed he was uncomfortable by some action by at least one guest. He expressed he may like an escort to his vehicle. I offered to escort him myself, but through further discussion, I decided to call for a deputy to assist us. When the deputy arrived, I escorted the participant to the hallway, and handed him off to the deputy. Ensuring the safe environment for our participants to speak freely is important for the process. I made the decision to be cautious and make sure an uncomfortable situation did not escalate."
Calling For an Escort
DeLorenzo spoke in more details after delivering his statement. He said he did not witness the initial encounter between Richter and McLaughlin. DeLorenzo was letting people know that seats had opened up along the wall at the back of the room when he got to the far corner of the room an ran into McLaughlin. "The person he was concerned about was in the doorway, between him and the doorway, at the doorway," DeLorenzo said, referring to Kevin Richter, with no mention of Kevin's older brother. Of McLaughlin, he said: "All he said is he was uncomfortable, and he felt he needed someone to escort him to his vehicle."
Rebecca DeLorenzo, the president of the chamber (she is married to Jason) was in the room, helping the chamber's Gretchen Smith run the forum. DeLorenzo became concerned only by the perceived disruption of Kevin Richter coming in and out of the room as the school board members' segment was getting under way. She also did not mention Kevin's brother. "He was just coming in the door and out the door," DeLorenzo said, "I could not understand what he was saying at all, it was just kind of a whisper but not really a whisper. Nate was in back of the room with his wife, so I don't know what he was saying, just that it wasn't pleasant, but I don't know to what extent." She added: "There was no confrontation or any kind of conflict. I think Jason just called to make sure it didn't escalate."
The sheriff's dispatch center, according to its records, got a call at 7:18 p.m. (The forum started at 6 p.m.) A dispatcher noted: "Councilman called to notify that a commissioner was threatened." A few seconds later: "Requesting escort to his vehicle." The dispatch was received by a deputy at 7:27 p.m. At 7:35, the dispatch notes indicate, a deputy "escorted Mr McLaughlin and his wife to their vehicles without further incident."
Bob weber, the sheriff's spokesman, said no further reports were filed on the incident. No investigation was being conducted—though McLaughlin was under the impression that it was. There was no talk of charges by anyone.
Kevin Richter's Version
Kevin Richter, who says he's consulting with an attorney, does not dispute the sequence of events, nor much of the way they are described: he was in and out of the room some, but only because he was getting calls and text messages he sought to answer, and his actions were misinterpreted or mis-characterized: "The threat was of legal action," Richter said, "it was of no harm or ill will toward anyone, other than, hey buddy you can't go around just doing that, you're not Attila the Hun, and I'm not your serf. Basically."
He described his initial contact with McLaughlin in detail.
"I went and shook his hand, you know, congratulated him, wished him luck for the race, I said hello, I'm Kevin Richter, if you have a moment I'd like to show you a picture of my dog."
The dog issue is a whole other story, but it is also part of the context of Monday's incident. A rumor has been flying around the county that Mark Richter beat up a dog he owned. Kevin said he was tired of the rumor and wanted to dispel it by showing McLaughlin a picture of his healthy Labrador, Duke. (The rumor is focused on a different dog, Misty, now at Second Chance Rescue in Bunnell, which Mark Richter says he never owned and doesn't "remember anyone ever rescuing a dog from my property.") The dog rumor, in other words, was the catalyst of the encounter.
Kevin never got the chance to produce the picture. "When I tried to pull my hand away from shaking his hand after he realized who I was, that I was Mark Richter's son," Kevin Richter said, "he continued to squeeze like a vise around my knuckles, in some form of intimidation."
"I felt violated," Richter continued, "The only thing I can see that to be misconstrued was to let him know that if he put any more injury against my body or my person, I would press charges. There was no threat of physical violence or any form of retribution."
Richter said he is a musician and a carpenter, and works with his hands. McLaughlin, too, is a musician, and the member of a local band. "I respect a firm handshake, that's how I was taught by my grandfather," Richter said, "but this was an entire different thing, this was a like a power play to intimidate me."
"I have no response to that, I'm not going to get back and forth with this character," McLaughlin said. "Obviously I'm a much smaller person than he is, I don't know how he can perceive something like that. I have a much smaller hand."
Interpretations and Misperceptions
At the time of the handshake Mark Richter was in the hallway, speaking with other candidates. Kevin initially walked out there to tell him what happened. Mark Richter's recollection: "I was in the other room, after speaking with a couple of other candidates, and from what I was told Nate tried to injure his hand by squeezing as hard as he could. My son had just met him, he asked him to release his hand, and Nate wouldn't let him go, and he kept on squeezing and squeezing and squeezing until my son had to pull it out of his hand."
It was after that that Kevin Richter says he approached McLaughlin again, apparently in the encounters that Rebecca DeLorenzo and Priest witnessed but could not make out clearly, other than through demeanor and tone. "That's when I approached him," Kevin Richter said, "I said I don't appreciate the physical harm on my body, if it happens again I will press charges, that's illegal what you did."
Priest, a pastor who worked eight years in the Michigan prison system as a chaplain, said he's "seen a lot of stuff and I usually know who's starting it." He said, always referring to both Richter brothers, that "They had this kind of funny, laughing smirk on them, both of them, like this was a big joke," that they kept poking their head into the room, which is what got Rebecca DeLorenzo to intervene. "My opinion, these two guys were wanting to start something by the way they were acting because they kept going after Nate, and Nate was just standing at the back of the room," Priest said, though by then it was after the troublesome handshake, and to Kevin it was McLaughlin who had started something. But both DeLorenzos and Priest concur on where everyone was. "They wouldn't let him out of the room there unless he confronted them," Priest said, "unless they faced him, that's why he felt he needed an escort out of the room."
Kevin Richter said there never was any such posturing. Within minutes, the deputy arrived and spoke with both parties. There is no record of those conversations. Kevin Richter said he explained what happened with the handshake, thanked the deputy and was allowed to go on his way. "He realized he had made the mistake by trying to crush my hand, and whenever I mentioned charges, I think at that point he called his people," Richter said.
In fact, McLaughlin never called police, nor asked that DeLorenzo call for a deputy, though he did ask for an escort, which DeLorenzo provided out of the room. "Once I handed him off to the deputy I watched the three of them, they walked to the end of the hallway, they had a discussion," then they walked out, DeLorenzo said.
Political Circuitry
There has been no contact between Mark Richter and McLaughlin. Asked if he'd called his opponent after the incident to talk or perhaps work things out, Richter said he wouldn't. "I've got an election and there's issues that are at hand, and these aren't part of the issues. If he has an anger-management problem, that's his problem."
Richter claimed McLaughlin has a record of confrontations, citing one with McDonald—the other Republican candidate—and one with John Rogers, a Bunnell City Commissioner, though he witnessed neither, suggesting that those stories, like the dog story, are making the round of the electoral circuit's amplifiers.
McDonald said that on Nov. 19, at a tea party meeting, he was taking the audio equipment out of McLaughlin's car when McLaughlin allegedly "threatened to break my knees," because he was upset about something McDonald had told the county commission that week. Though he claims McLaughlin was "totally serious," even McDonald didn't take the comment seriously: "I laughed, I looked at him and told him to go home and look in the mirror and went on my way." Now McDonald says he did not take the alleged comment as a joke, but acknowledges he "just dismissed it."
Rogers says a confrontation did take place at Captain's BBQ at Bings Landing, during an event attended by several local government officials. The two commissioners argued about the old county courthouse, which the county donated to Bunnell only for Bunnell to reject it. The issue soured relations between the two sides.
"We had a disagreement, you know what I mean?" Rogers said today. "That was about it, it might have gotten a little bit loud. He was talking about the courthouse and I was talking about the courthouse. It was nothing—we were both kind of emotional about the situation. I was of the opinion that we couldn't afford it. This is when it first started, what was it, the fall of last year maybe? It was in the corner, we were professional about it. I'm not denying to didn't happen. We're friends, we just had a disagreement about the issue for a brief period of time until he realized the real financial condition of the city of Bunnell."
Tuesday evening, the Hammock Conservation Coalition hosted a candidate forum for county commission candidates. The coalition's forums are usually intimate events attended by a few dozen people at the community center off Malacompra Road. "Security" is never an issue.
That evening, two deputies were posted there.