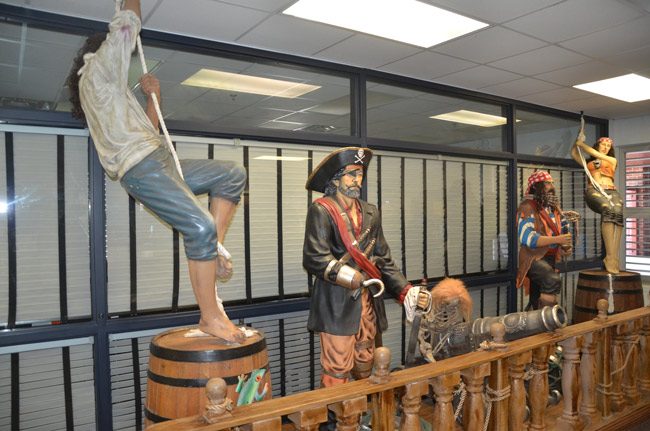 At just about the same time that Superintendent Jim Tager was updating the Flagler County School Board on the district's security measures Tuesday afternoon, yet another student–the third in eight days–was arrested and slapped with a felony charge for making threats to shoot up a school, this time on Snapchat. As in a previous incident in the past eight days, the girl said she'd been bullied by others.
The 16-year-old girl attends Matanzas High School. Judging from past cases, she is likely to be expelled but will be able to continue her schooling through home instruction.
A student who told authorities he or she wished to remain anonymous brought the Snapchat message to the attention of Bob Sawyer, one of three deans at Matanzas, who referred the case to Flagler Sheriff's deputy Nicholas Champion, one of two school resource deputies at Matanzas. (Each high school has two). The other is John Landi.
"The post was shown to me and it's a 'selfie' of a student," Champion reported in the student's arrest report, naming the student, ""with a common filter used on
Snapchat used to alter minor facial images. There was a caption attached to the picture under her face stating 'Stupid ass bitches know I'll shot them in the fucking head with a 12 gauge shot gun.'"
What followed has become painfully routine: the student was pulled out of class, her mother was contacted, her mother gave authorities permission to interview the girl, who denied posting the image. She said she'd posted a similar picture but with a different caption. Using her phone she showed the deputy the item she'd posted but later appears to have said or conceded to something more incriminating. That part of the report is censored, as self-incriminating statements usually are in sheriff's reports.
The girl went on to say that "she has been having problems with two girls who have  been messing with her for the past three years." She spoke of a group of some two dozen people who have access to what she referred to as the "private story." She admitted to having guns at her house but did not know what kind of guns and said the weapons are locked in a safe registered to her father.
She was then taken to the Flagler County jail for booking, but not to stay there. Students are typically returned to the custody of their parents based on decisions by the Department of Juvenile Justice.  But the students then enter the juvenile justice system, with court appearances on one hand and disciplinary hearings on the other, at the school district.
Again, district and sheriff's authorities stressed the importance of parents speaking with their children about being more careful about what they say and do involving threats and social media.
Since December, at least 10 students in Flagler's elementary, middle and high schools have faced arrests, most of them on felony charges, over allegations of threats or weapon possession. Since January, students age 11, 13 and 14 at Rymfire Elementary, Buddy Taylor Middle and Indian Trails Middle have been arrested.
The Flagler Tiger Bay Club is hosting a free and open-to-the-public school safety panel at 7 p.m. Thursday at the Palm Coast Community Center. The panel features Flagler County Sheriff Rick Staly, Superintendent Jim Tager, Earl Johnson, Executive Director Leadership Development for Flagler County Schools, and Randy Stroud, Director, Domestic and Homeland Security for the Flagler County Sheriff's Office.