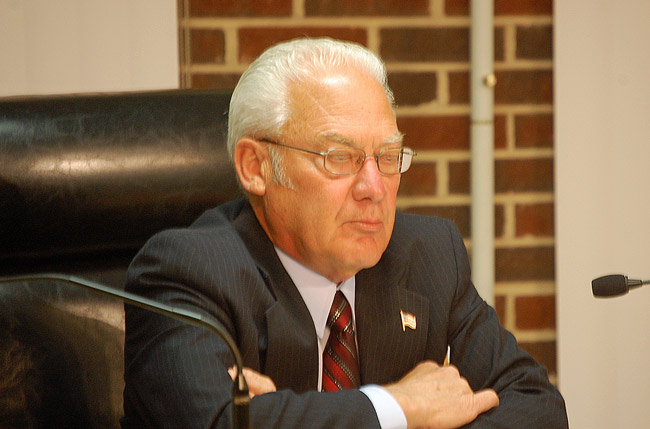 Flagler Beach City Manager Bruce Campbell reported that the city is on pace to end the year with at least $200,000 more in its coffers than it had planned, thanks to various cost-saving measures and better, unexpected revenue. It was the manager's quarterly financial review.
But it dovetailed cleverly with one of the city commissioners' proposals. Marshall Shupe wanted to give employees a modest mid-year raise, or a $500 bonus. "I'm really convinced that the moneys that we were able to return back in 2011, which is several hundred thousand dollars, returned back into the general fund, that it behooves us that the people that helped save that money, share a little bit of that," Shupe said.
It was an odd proposal, not just because of its mid-year surprise: Flagler Beach has just gone hat in hand to the county's tourism council for $50,000, and to Palm Coast and Bunnell for $22,000 from each (and $11,000 each from Marineland and Beverly Beach), to help with beach projects that Flagler Beach claims it could ill afford on its own. How could it afford raises or bonuses?
Shupe had prepared an extensive argument, backed up by paperwork and some research into the amounts of money "saved" by employees by various means, to support his point, though the commissioners did not get the paperwork until tonight. He added up "a couple of hundred thousand dollars" in such savings.
"I know that for some people the timing is incorrect," Shupe continued, alluding to—for example—the employees' Christmas party, scheduled for the end of this week. Nevertheless, he said, when employees are helping bring more money in, "it's time to share."
Commissioner Joy McCrew was immediately receptive, even though in the past she'd opposed such moves. She gave her support to Shupe. But she was alone doing so.
Commissioners Jane Mealy, Steve Settle and Kim Carney rejected the proposal, so it failed.
A $500 bonus per employee would have cost the city $40,000—not much, in the scheme of things, but symbolically more than three commissioners were willing to pay just now. The commission did just that two years ago, in the form of a 2 percent bonus. But it did so as part of its budget process. And last year, city employees got a 3 percent raise (the first actual raise in four years). That $40,000 is awfully close to the $50,000 contribution Flagler Beach got from the Tourist Development Council to underwrite a controversial beach-protection study. Handing out bonuses that add up to a similar amount could have looked as if the city was channeling money from the TDC to its employees, especially since, had the TDC not agreed to the sum, the city would have dipped into its reserve to cover the expense.
"Obviously Mr. Shupe is very eloquent," Settle said. "As a coincidence I got a couple of phone calls today from people saying what's wrong with you guys, you're going to debate a salary increase two weeks before Christmas and the night before your employee Christmas party. How can anyone adequately debate that? Because you're going to wind up looking like the Grinch at Christmas time." But that's exactly what Settle was prepared to be, Settle himself said, "because in my mind the question is certainly not whether the employees of Flagler Beach deserve a raise. It's not whether they've been working hard and whether they've done an admirable job. The question is, can we afford it, and what are the consequences if we approve a pay raise at this juncture? What are the long-term consequences, what are the short-term consequences?"
Settle said what Carney and Mealy would also eventually say: there may be a place for a salary increase or a bonus, but not mid-year, outside the budget process. He also spoke of the reserve fund as "a hedge for what's coming." Settle predicts a more budget year in 2013 than in previous years, because of continued property value declines.
"The budget process has a function, and the budget process has already been lived out," Carney said. "I would rather take time and energy getting people evaluated."
Reserves, too, are on commissioners' minds.
"Sandy blew through here, we were lucky, nothing much happened," Mealy, the commission chairman, said. (Actually, the pier was damaged, and Flagler Beach just asked Palm Coast to help defray the cost of repairs, only to be told to go take a dive in the ocean. The money Flagler Beach was asking for is about half the cost of the raises Shupe was requesting.)
"To now start giving money here or taking money out there, we would be violating that section of our ordinances, and we just let some employees go," Mealy said. "It's very hard for me to say it. You all know I was a union president for a long time. This just goes so counter to my whole past life." But taxpayers weren't happy with the higher taxes the commission had to approve, making this the wrong time to approve such an initiative, rather than keep the money in reserves.
The city's finances are stable, if not improving—though apparently not improving so much that the city could stop short of laying off employees.
Revenues have been exceeding expenses by $756,000, a 10 percent "betterment of where we thought we would be" when budgeting for the year, Campbell said. Some $600,000 of that is in the general fund, but that's absent accounts from September, the last month of the fiscal year, when Campbell expects additional bills to be due, whether because of litigation or other expenses. "Having taken all that in the mixing port for the general fund, we believe still we're going to be returning some $210,000, up to $250,000 back to the general fund before the official close of 2011-12." The budget had projected only a $76,000 surplus. Campbell credited the staff for the improved numbers.
On the other hand, expenses are outpacing revenue by $380,000 in the first two months of the new fiscal year, but that's not unusual, as expenses and revenues don't usually track closely for much of the year, especially with lags in cash deposits from the tax collection. Almost 50 percent of the revenue is driven by property taxes, and the first batch of such revenue didn't come in until Nov. 30.
On the negative side, the city has a $22,000 deficit in the building code inspection fund. "That deficit is not because we have spent like drunken sailors in the building department," Campbell said, but because revenues did not come in as anticipated: fewer inspections are being conducted. He expects a $15,000 deficit by year's end. The community redevelopment fund is also in deficit, with a $30,000 shortfall, which ostensibly caused the elimination of CRA director Susanne Wilde's position.