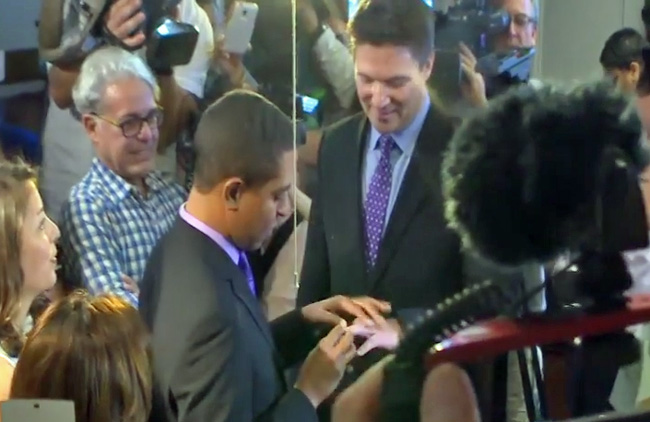 With same-sex marriages ready to start Tuesday across the state, a circuit judge allowed gay couples to go ahead and begin getting married Monday in Miami-Dade County.
Circuit Judge Sarah Zabel lifted a stay of an earlier ruling that found the state's ban on same-sex marriage unconstitutional. Zabel made the move as court clerks throughout Florida prepare to issue marriage licenses to same-sex couples Tuesday because of a separate ruling by a federal judge.
The Miami Herald reported that weddings began about 1:30 p.m. Monday, with Zabel performing the ceremonies for the first two couples. With the marriages, Florida became one of three-dozen states that allow gay couples to wed.
"Today, Miami-Dade County celebrates marriage equality," said Howard Simon, executive director of the American Civil Liberties Union of Florida, which has helped lead efforts to end the same-sex marriage ban. "Tomorrow, the whole state of Florida will."
But John Stemberger, president of the Florida Family Policy Council, which spearheaded efforts to pass a 2008 constitutional amendment banning same-sex marriage, said the issue is not resolved legally. He said the U.S. Supreme Court could uphold state gay-marriage bans. An appeal about Florida's ban remains pending at the 11th U.S. Circuit Court of Appeals in Atlanta.
"Tomorrow is not the end of this," Stemberger said during a news conference in Tallahassee. "The Supreme Court still has the final say-so. Should the Supreme Court rule for state's rights, I think you are going to see the Florida marriage amendment immediately reinvigorated, in terms of its authority. Then, we are going to have a confused patchwork of couples who are legitimately married, same-sex couples who now have marriages that are presumptively unconstitutional somehow and same-sex couples who perhaps want to be married but can't be because of the authority of the Florida marriage amendment."
The start of same-sex marriages follows a chain of legal events, with the centerpiece an August ruling by U.S. District Judge Robert Hinkle that the ban is unconstitutional. Hinkle placed a stay on his ruling that will expire at end of the day Monday. Amid questions about the scope of his ruling, Hinkle issued an order last week that set the stage for marriages to start Tuesday throughout Florida.
In a separate case filed in Miami-Dade County, Zabel ruled in July that the ban was unconstitutional. But she placed a stay on the ruling amid appeals. In light of Hinkle's order last week clearing the way for marriages statewide, Zabel decided to lift the stay Monday, the ACLU said.
Zabel's decision and the prospect of same-sex couples getting married across the state drew mixed reactions Monday. State House Minority Leader Mark Pafford, D-West Palm Beach, praised Hinkle's ruling.
"I happily look forward to a new day dawning for civil rights in Florida," Pafford said in a prepared statement. "I'm so glad we'll have reason to celebrate Jan. 6, 2015, as the day full marriage equality came to the Sunshine State."
But the Florida Conference of Catholic Bishops issued a statement saying bishops were "deeply disappointed" in Hinkle's ruling.
"Marriage based on the complementarity of the sexes is the lifeblood of family, and family is the foundation of our society," the bishops said in the statement. "The crisis that sadly the family is experiencing today will only be aggravated by imposing this redefinition of marriage. Society must rediscover the irreplaceable roles of both mother and father who bring unique gifts to the education and rearing of children. "
–Jim Saunders, News Service of Florida