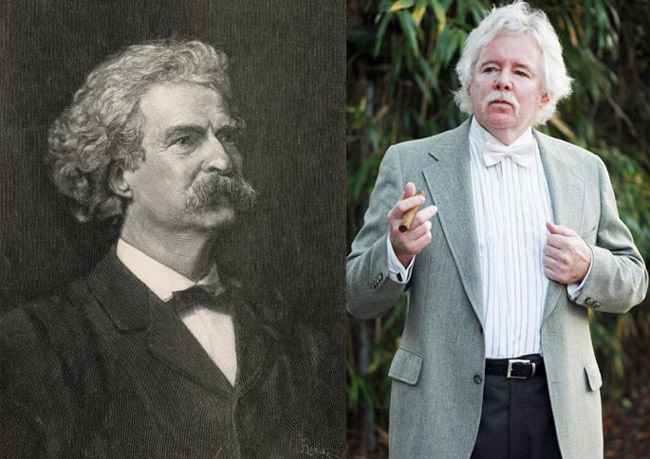 It wasn't until Robert Gill, one of Florida's premier Shakespearean actors, began his one-man Mark Twain show 12 years ago that he realized he had a few things in common with the man Hemingway and Faulkner considered the godfather of American literature. There's Gill's billowy white hair and mustache, Twain hallmarks. There's Gill's blooming—late, like Twain's, who didn't realize his true calling until well into his maturity. And there's the Gill irreverence, audible in his intonations, visible in his looks, and of course in the roles he chooses to play.
City Repertory Theatre will stage "Scapino!" at 7:30 p.m. Friday and Saturday March 17-18 and March 24-25, and at 3 p.m. Sunday March 19 and 26. Performances will be in CRT's black box theater at City Marketplace, 160 Cypress Point Parkway, Suite B207, Palm Coast. Tickets are $20 adults and $15 students, available online at crtpalmcoast.com or by calling 386-585-9415. Tickets also will be available at the venue just before curtain time.
Click On:
---
Gill began his incarnation as Mark Twain 12 years ago this month. He takes his act to John Sbordone's City Repertory Theater at Hollingsworth Gallery this Friday and Saturday (Nov. 30 and Dec. 1). It so happens that Friday is Twain's 177th birthday. He was born Nov. 30, 1835, in Florida, Missouri. (This story originally stated that he was born in Hannibal, where he moved when he was 4, as we were kindly reminded by kaitimae below. Thank you for the correction.) That's why the show is themed, "Happy Birthday Mark Twain," as opposed to "Happy Holidays from Mark Twain" (who was an atheist) or "Happy New Year from Mark Twain," all of which Gill also performs at the appropriate yearly intervals. A wine tasting will follow each 7:30 p.m. performance. Gill has taken Mark Twain all over Florida, performing in Jacksonville, Orlando, Avon Park, and St. Augustine, but this will be the Palm Coast debut.
"Well, first we get the Thanksgiving day rant out of the way by putting down the old pilgrims for exterminating the Indians," Gill says by way of preview. "Then I'll describe what it was like being born into the world, the center of attention, no hair, no teeth."
Back in November 2000, Gill's name was passed to a Mark Twain scholar at Stetson University for no other reason than his particular facial stylings, he thinks. When he was picked, it was originally for a performance exhibit on the Las Vegas gold rush. Twain had a thing for schemes, and prospecting in Nevada was one of them. Gill didn't think he could pull it off at the time, and "never dreamed that I'd take it down this road." That too is a little something he has in common with Twain: roads often took him rather than the other way around.
Twain, born Samuel Langhorne Clemens before taking his pen name from his early occupation as a master riverboat captain— "mark twain" was the cry for the measured river depth of two fathoms—was a born failure before his celebrity as a novelist and lecturer. He couldn't mine gold. He squandered his fortune on terrible investments like the Paige Type-Setting Machine. Most of his best literary work was accomplished well into the second half of his 75 years.
Like Twain, things didn't begin to take off for Gill, now 61, until he was over 50, which is how old he really looks, according to his wife. He didn't discover acting until he was 27. He'd been more into music before that. He also didn't get married until he was 49. "A lot of things that other people achieve in their 20s and 30s didn't come to us until we were in our 50s, but that's ok, because you accomplish other things," Gill says.
Gill's one-man shows also include Oscar Wilde and Henry Flagler, juggling all three from stage to stage and sometimes making it a challenge to stay in character. "It's hard to keep a full head of bushy hair and a walrus mustache in real life but this is my real life," he says. "Some people just put on wigs and other props, but I can't do that. I need to feel the part." Inhabit, embody, and immerse are the three verbs he likes to use to describe his process. The biggest challenge is the physical attributes, the accent, the posture, the idiosyncrasies that make the character.
When Gill was first getting started with the show, he had only read what he calls the great commercial successes like The Adventures of Tom Sawyer and Huckleberry Finn, from which material was often used by actor Hal Holbrook, the most famous Twain impersonator and the originator of the Mark Twain one-man show. Holbrook is 85 and still going, Gill says, which makes him hopeful. (Holbrook can be seen in the acclaimed Steven Spielberg movie Lincoln currently in theatres.)
Gill hasn't watched more than two minutes of Holbrook's performances. "I wasn't interested in doing material that'd been performed before. I was interested in more of the arcane material, the great stuff that no one knows about, that most people haven't read but is just as entertaining as Huck and Tom," he says. "What I tried to do was put together what fascinates me. I don't want to bore the audience to death with wordy stuff. So I went with topics we can all identify with like whiskey and alcohol."
In Gill's opinion, we should be grateful in Palm Coast that the city has reached a place where a Mark Twain exhibition is even permissible. He's called the city a "cultural wasteland" before.  He reflects on the controversy over the staging of To Kill a Mockingbird by the Flagler Palm Coast High School Drama Club two years ago—cancelled when the school district worried about the use of the word nigger on stage. "It just left me shaking my head, asking, Do I really live in this county?," Gill says. The cancellation triggered an uproar, and the district retreated, letting the play be staged by the same actors four months later, to great acclaim.
Huck Finn is still controversial today because nigger is used over 200 times. "What those critics don't understand is that this was the norm back when Twain was growing up," Gill says. "It was used not out of racism, but because of the mindset and culture of the time. Today, people still call each other that in rap and Hip Hop. The question is, where do you draw the line? If it's used out of racism, yeah, that's still unacceptable, but in Twain's work it's not."
Twain himself was not exactly politically correct, whatever the context, and George Orwell accurately termed him an outright bigot. Twain's racism toward Indians ("that vile, uncomplaining impoliteness which is so truly Indian, and which makes a white man so nervous and uncomfortable and savage that he wants to exterminate the whole tribe") was equaled only by his vileness about Arabs, whom he managed to confuse with Jews ("She was the only Syrian female we have seen yet," he wrote of one encounter during his Innocents Abroad trip, "who was not so sinfully ugly that she couldn't smile after ten o'clock Saturday night without breaking the Sabbath."
He wasn't that much kinder to Europeans. His version of being what he termed "eminently Portuguese" was to be "slow, poor, shiftless, sleepy and lazy." But Twain's bigotry, like his world view, was a work in progress. He'd stereotyped Jews in the standard ugly terms of the times until  in his early writings, only to become an occasional opponent of anti-Semitism, though never with the verve, of, say, a Zola decrying the Dreyfuss Affair. Mark Twain, Orwell wrote, "except perhaps in one short essay, 'What is Man?,' never attacks established beliefs in a way that is likely to get him in trouble. Nor could he ever wean himself from the notion, which is perhaps an especially American notion, that success and virtue are the same thing."
It's nevertheless fitting then that City Repertory's mission is dedicated to plays that provoke the mind and spirit. "Twain perfectly sums that up," Gil says. "His insights on government, the world, love, hate, and prejudice cut to the bone today as well as they ever did."
Gill gives much of the credit for Palm Coast stepping up to the cultural and artistic plate to John Sbordone, City Repertory's artistic director and, with Diane Ellertsen, founder. "I first started doing community theater here in 1979," Gill says, "and it hasn't changed much since then. That's why I'm throwing my hat in with John's project, because it is the best thing to come around. I know because I've been around that long.  John is willing to do things that others won't attempt. He doesn't settle for the family friendly stuff like Neil Simon because everyone else's doing that, not that there's anything wrong with that. They know it'll sell out for the whole run. John's gritty and bold enough to do stuff that everyone else is too afraid no one will want to see, that they'll only sell tickets for half the house and only break even or take a loss. But he doesn't care. He goes for work that underachieves."
Just over a week ago, Sbordone staged a reading of a work by another controversial genius—George Bernard Shaw's Pygmalion—a play about preconceived notions about class based on use of language. In that show, Gill played Henry Higgins, an arrogant speech professor who takes up a bet that he can take a poor flower girl and pass her off as a Duchess.
City Repertory's first show, in which Gill also had multiple parts, was the The Laramie Project, the story of Matthew Shepard, the University of Wyoming student who was murdered in 1998 because he was gay. With Anna Deavere Smith's Twilight, Sbordone will also be commemorating the 20th anniversary of the Los Angeles riots that followed the acquittal of the four LAPD cops who beat Rodney King. Gill lived through the rights. "No one else will try this type of material and that's why we're together," Gill says of Sbordone. "Onward and upward."