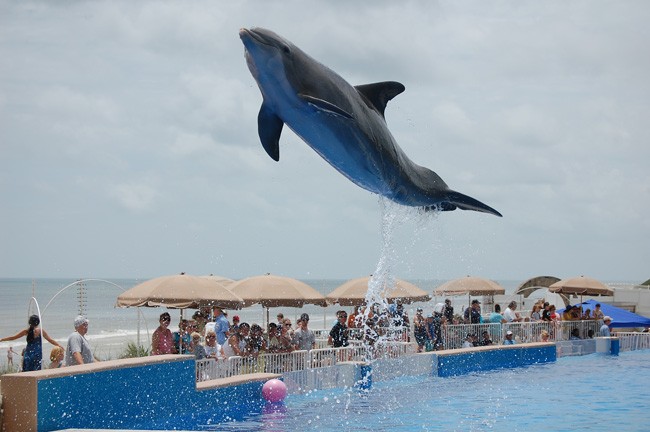 No doubt the Creature from the Black Lagoon would receive a more genial and eco-friendly welcome if he were to show up in Marineland when the town celebrates its 75th anniversary Nov. 13-15.
Fans of vintage monster B-movies will recall that the "Gill-man" encountered big-time trouble from humans in "Revenge of the Creature," which was filmed at Marineland in 1955.
Marineland was founded in June 1938 as Marine Studios, a facility designed for Hollywood film crews to craft underwater scenes for movies. Marineland the town officially was founded two years later (it had 26 voters and a post office in 1941), although the first time The New York Times referred to "Marineland, Fla.," as a town, was actually in its Nov. 23, 1937 issue, in a five-paragraph story at the bottom of page 25, where it reported that Cornelius Vanderbilt (Sonny) Whitney, the industrialist and film producer who'd just sold racing stables in Maryland for $11,600, was announcing that the following year he'd open "two of the largest individual aquaria ever built and the world's only specially designed underwater motion picture studio." It would be an investment of $500,000, the equivalent of $8.3 million today, but that was to include Marine Village, a little cluster of cottages, a yacht basin, restaurant and a "gasoline facility."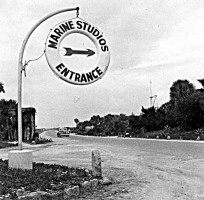 Whitney, who died in 1992, got his wish, with 50,000 fish representing some 3,500 species in the tanks, and Count Ilya Tolstoy, the explorer and grandson of the Tolstoy of Anna Karenina, as director of the aquarium, which immediately became a major tourist draw.
Along with its movie-making, the facility also shape-shifted into a home for trained, trick-performing dolphins and quickly became "the most popular tourist attraction in Florida before Disney," said Al Hadeed, attorney for Flagler County and something of a Marineland historian — and champion.
"In the old days, a dolphin would have a surf board it'd be dragging along and there would be a trained puppy dog on the surfboard," Hadeed recalled.
Over the years the town has transformed itself from a B-movie facility and a dog-and-pony . . . er, dog-and-dolphin show into an eco haven.
That transformation will be highlighted as the town of Marineland celebrates its 75th anniversary with a free, three-day event starting Friday and running through Sunday (Nov. 13-15). The celebration will include movie screenings, live music, a seafood fest, nature hikes, the Squawk the Parrot Show and numerous other activities centered at 9507 N. Oceanshore Blvd. (For anyone using Google maps, that address technically is considered to be in St. Augustine.)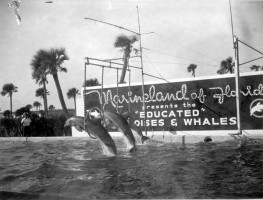 Marineland is much smaller than it was in its heydays. It has perhaps five residents and not many more buildings than that. The gas station and post office are gone, as are the movie studio and the "small ocean" of fish Whitney had created. But what Marineland loses in political significance it more than makes up with its disproportionate significance as the hub of Flagler County's most important ecological system. If the nation had the equivalent of a national historical registry for environmentally significant areas (national parks and monuments aside), Marineland could make its claim to be on it.
These days the one-time film facility is known as Marineland Dolphin Adventure and "is still a public attraction but of a totally different kind," Hadeed said. "People can watch the dolphins and interact and swim with them, but in a much more educational focus. It teaches you about dolphins and what makes them such unique and valuable animals in our marine ecosystem."
Along with Marineland Dolphin Adventure, the town of Marineland has become an eco-haven that also is home to the University of Florida's Whitney Laboratory for Marine Bioscience (founded in 1974), the vast and sprawling Guana Tolomato Matanzas National Estuarine Research Reserve (designated in 1999) and the county-owned River to Sea Preserve that runs from the beach of the Atlantic Ocean west to the Matanzas River.
Even one of Marineland's few private businesses, Ripple Effect Ecotours, is just what its name implies. Ripple Effect offers kayaking, fishing, boat and ecotours in "40,000 contiguous, unfragmented acres of wilderness and conservation land that's right behind this little sandbar of a town called Marineland, said owner and naturalist Chris Kelley.
"The area itself always exceeds people's expectations," he said. "They'll say, 'Oh cool, you have eco tours. We'll go out there and learn about fish habitat and maybe see some wildlife.' Then we get out there in Pellicer Flats and the only manmade structure you see is a hunting lodge built back in the 1880s. People are just blown away. It's like being a thousand miles from nowhere and yet you just left the beach."
---
A small town with a disproportionate imprint on the region's ecology and culture.
---
Along with dolphins and manatees, the area is home to a "staggering" number of bald eagles — "one of the highest concentrations in the lower 48 states in the wintertime," Kelley said.
The River to Sea Preserve is 90 acres of land that form "a continuous public corridor from ocean to river," Hadeed said. "Those are fairly rare in Florida but not so rare in Flagler County. This was the fourth one in the county. It's a very important one because it connects the ocean to the Matanzas estuary."
As Flagler County attorney, Hadeed was closely involved with the purchase of the land in 1999 with a $8.3 million state grant. That grant required no matching funds from the county or Marineland, which now jointly own the corridor.
"As part of the River to Sea purchase, we actually bought land in St. Johns County just north of the town," Hadeed said. "So it's a Flagler County park located in St. Johns County."
The town of Marineland itself doesn't leave much of a carbon footprint. After all, its official population is five permanent residents.
Leslie Babonis, one of those five, is a biologist and researcher at the Whitney lab as well as the town's mayor — a post she was elected to in May 2013 when Jim Netherton retired after 17 years.
Marineland's economic impact is not insignificant. Babonis, who earned a doctorate in biology from the University of Florida in 2011, estimates Marineland "has 100 to 150 people here on a daily basis earning their living." That includes workers at the Whitney lab, Dolphin Adventure, Ripple Effect, the town's marina and the estuarine research reserve.
The town's few residential facilities include the caretaker's home at the River to Sea Preserve, a few mobile homes and some apartments at the Whitney lab.
The town was home to a trailer park in the 1980s, and it allowed live-aboards on boats at the marina. But the trailer park is gone and Marineland no longer allows live-aboards. The sum total of Marineland's taxable property values this year? $3.7 million.
The nearest grocery store is a Publix in the Hammock about five miles south.
"Our future plans involve a little bit of development in the town so we can support tourists and visitors and the small number of residents we do have," Babonis said. "We're hoping to move forward in the next few months to finish the second half of our marina, and get a nice restaurant and a few other amenities to support the community."
However, Babonis added, "There are a lot of issues to sort out" before proceeding with plans for a restaurant.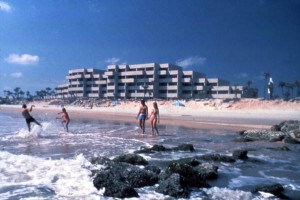 Marineland's 75th anniversary celebration will be a party with a purpose, she noted: "The town is much more than the Marineland Dolphin Adventure. The three-day event has a past-present-future theme. Our goal is to engage our community and get everybody here to celebrate who we were as a town, who we are now and who we're going to be."
And Babonis is ready for the Gill-man's star turn in "Revenge of the Creature" (also variously titled "Return of the Creature from the Black Lagoon").
"I'm embarrassed to say that I haven't seen it," Babonis said. "It's a movie that my dad has made references to my whole life, so I'm really looking forward to seeing in on Friday night."
Anniversary activities are too many to list (see them all below). But in brief, on Friday Nov. 13 activities will be held from 5 p.m. to midnight and will highlight the town's past. That day's activities will include outdoor screenings of "Revenge of the Creature" and "Tarzan" (filmed at Marineland in 1938), a bonfire and late night live music. Patrons are encouraged to bring blankets and lawn chairs. (If you're in the neighborhood, you might as well also enjoy the performance of "Born Yesterday" at the Lohman Auditorium, in the Center for Marine Studies Building at the UF Whitney Laboratory, a $75-a-ticket fund-raiser for the Palm Coast Arts Foundation).
Activities on Saturday Nov. 14 will be 10 a.m. to midnight and will highlight the present. Activities will include a seafood and music festival, river-to-sea nature walks, volleyball and corn hole tournaments, fireworks and a lot more.
Activities on Sunday Nov. 15 will be 10 a.m. to 5 p.m. and will feature a "looking to the future" and green themes. Activities will include a time capsule ceremony, surf exhibition, beach cleanup, Salt Air Farmer's Market, native plant sale, a renewable energy show and more.
The Squawk the Parrot Show will be featured all three days. For more information call 770-310-9123 or see the lineup below.