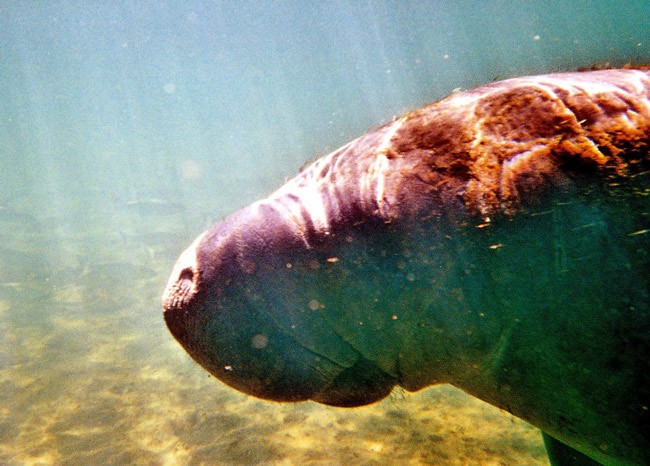 Almost a decade after first hearing from state and federal officials that Flagler County needs to develop a manatee protection plan, the county has still not approved one: on Monday, the county administration submitted a draft plan to commissioners for the first time, even though the plan has already been forwarded to federal officials.
The administration is now in a hurry to get the plan approved and an additional 0.5 miles of manatee-protection speed zones added to the existing 5.27 miles along Flagler's portion of the Intracoastal Waterway. The absence of regulation has suspended the permitting of all but single-family boat slips (that is, all boat dock applications for five or more docks at a time.)
"They've suspended every single permit in Flagler County right now," County Administrator Craig Coffey said, referring to the federal government, which permits the docks through the U.S. Army Corps of Engineers and the U.S. Fish and Wildlife Service, pending the additional half-mile speed zone. That zone would be added to the area  around the mouth of the Lehigh Canal.
Commissioners expressed a bit of frustration with the delays and the manner in which the issue is again arising. "I just got to see this this morning," Revels said of the proposed plan. She had not had time to read it through: it's 120 pages long.
"I thought we were done with this two or three years ago, and yet here we are," Commissioner Nate McLaughlin said.
He stressed that manatee deaths from boats have not been an issue locally, at least not in the last few years. "We've created the zones two or three years ago and there's been nothing reported to Flagler County as far as manatee deaths," from boats, McLaughlin said.
Coffey also wanted the commission to approve a letter to federal officials to show the county's "good faith" that it intends to complete the work and create the additional speed zone. Commissioners were set to approve that letter in a special meeting immediately following the 1 p.m. workshop.
"Let's just do what they want and get it on," Commissioner George Hanns said.
The matter chafed for commissioners because of its history, and their impression that it had been resolved, particularly through the creation of a commission-appointed advisory committee five years ago to recommend what, if any, manatee-protection rules were necessary.
In 2006—when Flagler was the fastest-growing county in the nation—state and federal officials notified Flagler that because of the increasing population of the county and increasing manatee deaths, permits for boat slips on the Intracoastal Waterway were put on hold. The Florida Fish and Wildlife Conservation Commission pushed the county to develop a manatee protection plan and speed zones along 5.4 miles of the Intracoastal Waterway. In 2011, the permits were issued, but another project was started on the Lehigh Canal that the U.S. Army Corps of Engineers stopped for lack of proper protection there. That suspension affected all boat-slip applications of five docks or more.
The manatee protection plan itself has yet to be finished and approved by federal officials, beyond some "positive feedback" the county received, Tim Telfer, the county's chief environmental planner, said. That draft plan went to federal officials without county commission approval: the commission got its first look at that draft today. ("I apologize for the late delivery of the management protection plan to the board of county commissioners," Telfer said.)
Palm Coast and Flagler Beach can decline to be part of the protection plan, but they would then have to have their own plan—and each boat slip permit request would have to go through its own rigorous analysis.
Is there a point in time where we can come back and talk about this, since we haven't read it?" Revels asked of the draft report. Coffey said the matter could be placed on a September workshop agenda. "A lot of it, state law requires what's in a manatee protection plan, so we follow that," he said, along with other box-checking. The more unique part of the plan deals with boat slips.
"For our own education and the public's ability to speak on it, we should have this on again," Revels insisted.
"Sure," Coffey said.
Jim Cullis, the Palm Coast developer who owns a property along the Intracoastal where a boat-slip permit was revoked, spoke of four "major projects that are ready to go forward," with jobs and opportunities for boaters for more docking spots, but that the matter with federal officials must be resolved swiftly.