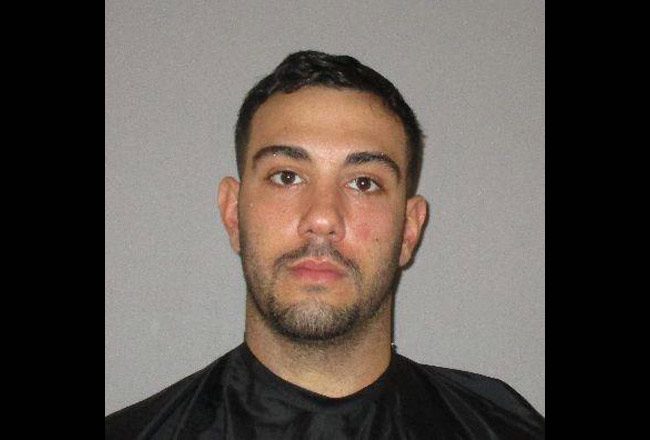 Brandin Michael Deoliveira, 27, a resident of 35 Roxland Lane in Palm Coast, was arrested and booked at the Flagler County jail this afternoon on five counts of unlawful sexual activity with a minor girl.
According to his arrest report, Deoliveira took the girl when she was 16 and 17 to beach areas in Marineland and the Hammock's Malacompra area "on several occasions to engage in sexual intercourse with the juvenile." The girl disclosed to investigators that Deoliveira allegedly became "increasingly more aggressive with her and at one point slapped her in the face and choked her to the point where she could not breathe."
The arrest report alleges that Deoliveira threatened the girl that he would kill her and her family if she disclosed the sexual relationship to anyone, "and at one point made her hold his handgun, which caused her to fear for her life," the arrest report states. The alleged victim said the incidents took place from October to the beginning of December, and provided "additional specific details" of the incidents as they occurred.
A firearm was located in Deoliveira's vehicle subsequent to a search warrant being served. Detectives obtained telephone records that showed some 600 text messages and 20 calls, including instances of Deoliveira sending images and videos of his genitals.
"A man's value is only defined by the value and happiness he brings to his family," Deoliveira once wrote on his Facebook page. His arrest is the latest blow to his employer, Captain's BBQ at Bing's Landing, the restaurant in the popular public park in the Hammock that's been at the center of a controversy over a planned expansion at the park opposed by many. Deoliveira has been a manager at Captain's since July 2014.
"As one of the owners of Captains BBQ, we DO NOT CONDONE Mr. Deoliveira's conduct," Chris Herrera wrote on FlaglerLive's Facebook page late this evening. "We spoke directly to Sheriff [Staly] after we learned of his arrest and will cooperate in anyway we can with the FCSO's investigation."
Deoliveira so far faces five counts of illegal sexual activity with a minor, a second-degree felony that in Florida, when ignorance of the alleged victim's age–if proffered–or the victim's alleged consensual participation is not a defense.
The charge applies when the perpetrator is 24 or older, and the victim 16 or 17. A person found guilty of a second-degree felony faces up to 15 years in prison, though absent a prior record the penalty is usually less severe, but still carries a mandatory minimum of five and a half years in prison on conviction, a multi-year term of sex-offender probation, and a designation of the assailant as a sexual offender, which carries its own set of restrictions.
The investigation is ongoing, with further search warrants yet to be served, the Flagler County Sheriff's Office says.
"I commend the victim for her bravery in coming forward," Sheriff Rick Staly was quoted as saying in a release issued this evening. "This guy took advantage of a child and thought he could scare her into hiding the truth." No bond has yet been set for Deoliveira.