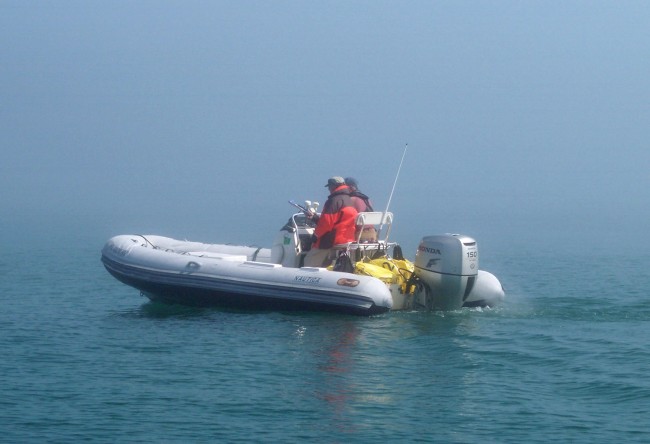 In an effort to help readers understand what it is like to be a "citizen scientist" in an important conservation program, I am sharing two days when I worked off the shore of St. Johns County as part of a whale research project. These two days allowed me to contribute to the project while learning from several of the top experts in cetacean science.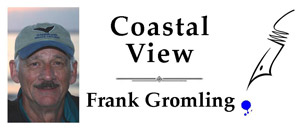 Since 2001, I have worked on land and research vessels off the coasts of Canada and Florida with Dr. Jim Hain, founder and lead investigator of the Marineland Right Whale Project. Each experience has been amazing for me. As a lifelong lover of the oceans and their remarkable creatures, I cherish time at sea. Working on whale research is especially fun because whales captivate me with their intelligence, personality and immense size.
I spent two full days offshore on a 24-foot rigid inflatable boat (RIB) in the pursuit of science. As the "grunt" on the RIB, captained by Steve McCulloch of Florida Atlantic University's Harbor Branch Oceanographic Institute, I assisted Dr. Edmund Gerstein, also from Florida Atlantic, with the underwater sound testing procedures to verify accuracy of recordings of right whale communications he had previously obtained during the whale season. This essential work can be fairly routine and tiring, but it is critical to the scientific process.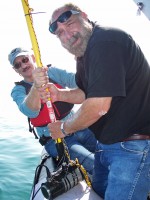 Both days started with dense ocean fog, followed later by bright sunshine and mild winds. We worked several locations off St. Augustine where right whale sightings had occurred during the season. While no right whales were spotted on either day we were out, on Saturday an inquisitive 40-foot humpback surfaced right near our boat and its blow startled us from our work. It dived and re-surfaced 150-feet away, perhaps making its way from its winter home off the Dominican Republic to a summer off New England or Canada.
Sunday's activities were interrupted twice by pods of bottlenose dolphins just east of Vilano Beach. Each time Steve grabbed his camera and various lenses to document the dolphins photographically. Steve's marine mammal work at Harbor Branch mainly focuses on dolphins in the Indian River Lagoon, but it also includes opportunistic encounters offshore, such as this one. While Steve photographed the roaming bands of graceful critters, my duties happily shifted from "grunt" to helmsman in order to keep the boat in the right position to afford Steve great shots while not scaring the dolphins. Truly one of the highlights of the weekend.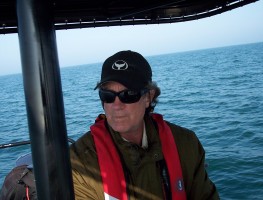 When I wasn't behind the wheel, most of my time was spent leaning over the side, manhandling the hydrophone equipment Gerstein used in his underwater recording tests. Lower it down by hand; bring it up hand over hand, all the while making sure it remained facing the target buoy Jim had set out some distance away. Grunt work, for sure, but great fun as well.
Sunday ended late as we waited by the sea buoy east of the St. Augustine Channel for our sister boat with Jim Hain and its captain Jim Moir (like me, a volunteer, but who brought his own 22-foot RIB up from Stuart) to join up with us for our re-entry to St. Augustine harbor. Our final hour of the day was made more enjoyable by a gorgeous sunset over the water.
For me, as a non-scientist participating in important scientific activities about endangered whales, this was an incredible opportunity to learn and to connect with dedicated and knowledgeable scientists. I encourage all readers to find a conservation program and get involved to whatever level works for you. Who knows, maybe you'll spend glorious days offshore following your dream, whether it's on the ocean or in the middle of the country.

Frank Gromling is the owner of Ocean Publishing in Flagler Beach. Reach him by email here.