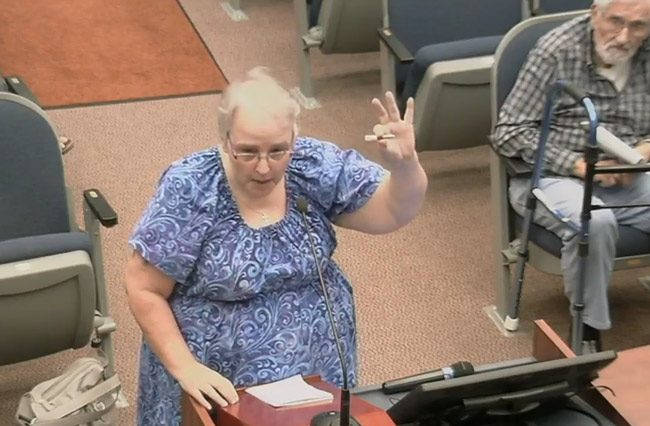 Setting aside pleadings from people who asked them not to override the will of voters and an overwhelming vote to legalize medical marijuana last November, the Flagler County Commission this evening voted 3-1 to ban dispensaries in the unincorporated portions of the county, saying that Palm Coast and Flagler Beach will allow them, and therefore make medical pot accessible.
Nate McLaughlin, the lone dissenter in the vote, then used that reasoning against his fellow-commissioners when he said, immediately after voting: "I do want to thank Palm Coast and Flagler Beach for recognizing the will of the people and showing true leadership in this area."
"We are providing enough ability for those who actually need the marijuana for medical reason," Sullivan said, "and the ban is the way to go." At least for now: Sullivan's use of the phrase "at this point" suggested he did not see the ban necessarily as final.
The vote this evening was the first of two readings of the prohibition ordinance, with another reading expected after Christmas. But it nears the end of a year-long process that has seen the commission slalom between permitting and prohibiting dispensaries, and two commissioners. Two commissioners—Charlie Ericksen and Greg Hansen—switched votes along the way, and a third, Dave Sullivan, was willing to go with permitting dispensaries if only county regulation increased the "buffer" between dispensary properties and residential areas.
But the county administration said that would be a form of discriminatory land regulation that would make the county vulnerable to lawsuits. So the administration recommended banning the dispensaries outright as a legally safer way to go, ironic though the approach may prove to be in light of Amendment 2 in 2016, the constitutional provision legalizing medical marijuana that 71 percent of voters across Florida approved. (Several people at this evening's meeting, including at least one commissioner, claimed 75 percent of Flagler County residents voted Yes on Amendment 2: that's not correct. The proportion in Flagler was 71.2 percent, according to Supervisor of Elections documents.)
Palm Coast and Flagler Beach approved ordinances that narrowly limit dispensaries to the same commercial zones where pharmacies operate. Flagler Beach won't allow them beach-side, restricting them to State Road 100 on the west side of the bridge. Palm Coast will allow them on Palm Coast Parkway, State Road 100 and Old Kings Road.
But many of the people who addressed the commission this evening said access was important even if it was a matter of shaving off a few miles. For opponents of dispensaries, at least dispensaries nearer to their homes, the matter of access was not an issue if dispensaries were to open in Palm Coast or Flagler Beach. As it is, unincorporated Flagler County has not a single pharmacy, forcing all unincorporated residents to get their medicines either by mail or by traveling to nearby towns that have pharmacies.
Fifteen people addressed county commissioners tonight—six to implore commissioners to impose the ban, and nine to ask them not to. Patricia Freytag had driven in from New Port Richey, another from Gainesville, to add voices to supporters of dispensaries.
"This is what I'm doing now," Freytag said. "I was kind of thrust into it. Two years ago I was taking 33 pills a day, including 45 milligrams of methadone. I'm now a medical marijuana patient and I take one pill a day. The quality of my life has gone up 500 percent. I have done more in the last six months than I've done in the last 15 years." She said she represented the half of Florida residents who are over 50 and to whom access is important. "If I was living in this county I would have to pay $40 every time I wanted a delivery from a dispensary, unless I ordered more than $100 worth of product. I'm on disability. I can't do that." She then held up a small vial to show commissioners what medical marijuana looks like, and to make the point that it's not "pot" or plants but an extract grown and processed under controlled and secure conditions, where crime levels are lower than around liquor stores and pharmacies. She told commissioners that they'd been "misinformed" and had a "lack of education" on marijuana issues.
She had been preceded by Alan Sanaford, who read from an often-cited but severely misleading 2014 CNBC news article that purports to show a spike in marijuana-business-related crime in Denver, based on an analysis conducted for the news organization rather than on independent numbers. Denver police disputed the findings, which are contradicted by other and more recent sources.
But so went the hearing before commissioners, with people who have experienced medical marijuana on one side and others who—despite voting for the amendment in many cases—spoke more speculatively of anxieties based on presumed crime or other problems they claim dispensaries will bring. One resident of Plantation Bay—where opposition to dispensaries was concentrated and made a strong effect on Hansen and Sullivan—asked a question and answered it, but without evidence: "Where are those people who need medical marijuana? Very few in unincorporated areas." The resident was followed by a woman from St. Johns Park in western Flagler who was a medical marijuana user and who's caring for a terminally ill friend, also a patient on medical marijuana—but who has to travel to Edgewater to get supplies.
Another resident of Plantation Bay who said he'd voted for legalization of medical marijuana said it was "unacceptable" that marijuana dispensaries could be located within 50 feet of residences. He was followed by a woman from Gainesville, which has its own dispensary, who asked commissioner whether they'd ever seen one, and noted they look just like medical offices—and close in early evening. On it went, including the man who spoke of his son serving 14 tours of duty in Iraq and now having to deal with Post Traumatic Stress Disorder, or PTSD. "Dad, I killed women and children, I killed kids younger than my son, how am I supposed to live with that for the rest of my life?" the man's son had asked him recently. He's coping with medical marijuana.
Ericksen before his vote said that if he were confronted with "firm facts" he might change his mind, but for now he saw no reason to vote to legalize dispensaries in the county. It was a prepared statement, prepared before the parade of firm facts and not-so firm facts that had just been spoken to the commission.
Commissioner Donald O'Brien, a supporter of dispensaries, was absent, but his vote would not have made a difference.