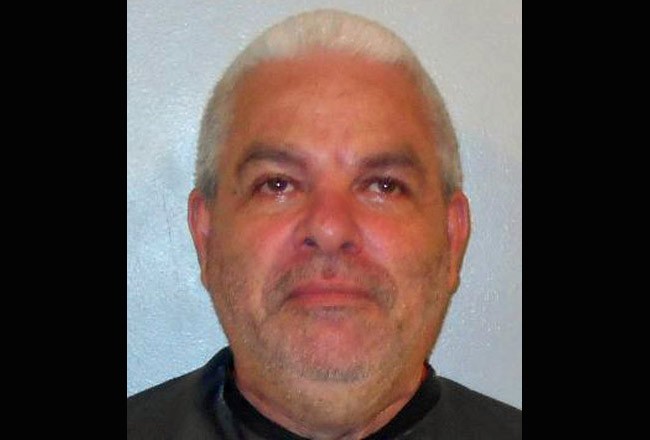 Before his arrest Monday on two felony aggravated battery charges for allegedly cutting a man with a machete, Mayko Rodriguez, 58, has had a checkered past with the law, going back at least 13 years in Flagler County.
In 2002, he was charged with drunk driving, fleeing police and corruption by threat (that is, bribery) against a public servant. That last charge was dropped, the others transferred to county court, where he pleaded to a reduced charge of obstructing an officer and served probation. After violating probation he was found guilty of drunk driving (third offense). Two years later he was found guilty on three charges, including a third degree charge of felony drunk driving. He was sentenced to a month in jail and three years' probation.
And then Monday. Flagler County Sheriff's deputies were called to Rodriguez's 8 Pine Circle Drive address in palm Coast a little after 8:30 p.m. Deputies were told that he'd been seen wielding machetes. So as soon as he was spotted in a neighbor's driveway, a deputy detained him, then patted him down, locating a box cutter and a bottle cap.
The machetes were on the grass next to the neighbor's driveway, not far from where Rodriguez was standing.
According to Rodriguez's arrest report, Delia Diaz, 65, and her daughter, Lisa Bueti, 34, live in the same house as Rodriguez. On Monday, Rafael Rodriguez, whose address in the report is listed as Reading, Pennsylvania, was visiting Bueti, his girlfriend. Everyone was sitting down for dinner when according to Bueti, the two Rodriguez men, who are not related, started arguing.
The Mayko Rodriguez allegedly went to the garage, retrieved the two machetes, and returned to the house, swinging the machetes and yelling, "I'll kill you," along with some obscenities. "While Mayko was swinging the machetes around yelling," the arrest report states, "Rafael attempted to block one of the swings and was struck on his left arms by one of the machetes." He was treated at the scene by paramedics but declined to be transported to the hospital by ambulance, saying he'd find his own way.
A motorist who was driving by stopped and told police that he'd seen a man standing in the driveway, swinging the machetes around in the air and "touching them together."
Mayko Rodrigues, the arrest report states, appeared intoxicated and had been drinking much of the day. He was charged with a count of aggravated battery with a deadly weapon, a second-degree felony, and a count of aggravated assault with a deadly weapon, a third degree felony, and taken to the Flagler County jail, where he remained Tuesday evening on $15,000 bond.