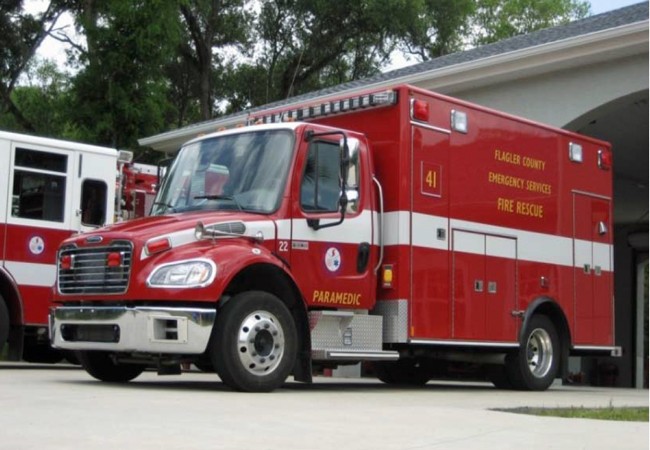 Today: high in the low 70s, lows in the lower 50s. Details here.
Today's fire danger is moderate. Flagler County's Drought Index is at 361.
Today's tides: at the beaches, at the Intracoastal Waterway.
Today's document from the National Archives.
The OED's Word of the Day: quillet, n.2.
The Live Community Calendar
Today's jail bookings.
Today's Briefing: Quick Links

Note: all government meetings noticed below are free and open to the public unless otherwise indicated. Many can be heard or seen live through each agency's website.

The Flagler County Commission meets for a business meeting at 9 a.m. in board chambers at the Government Services Building in Bunnell and an extensive workshop at 1 p.m. at the Emergency Operations Center in Bunnell. In the 9 a.m. meeting, commissioners will consider approving a $25,000 subsidy for the Spartan Reebock race, the controversial race once slated for Princess Place, but now shifted to land owned by the Florida Cracker Ranch at the southern end of the county. Commissioners will consider writing off $2.9 million in uncollected debt from ambulance and helicopter transports of patients, a debt accumulated between 2010 and 2013. The commission is expected to approve a $1.9 million purchase of 115 acres adjacent to the Flagler County Airport to enable the extension of a runway there. The 1 p.m. workshop includes a discussion of a possible $25,000 contribution to the school board for senior activities at the Belle Terre Swim and Racquet Club, but the heart of the agenda will be discussions on the county's 800 mhz emergency communications system, its ambulance system–as a follow-up to Palm Coast's desire to change the way ambulance services are delivered in the city–and the sheriff's county-run computer-assisted dispatching system.
The Bunnell City Commission meets in special session at 6 p.m. to discuss its interviews of three internal candidates for city manager interviewed last week.
The St. Johns River Water Management District Governing Board is scheduled to hold a workshop that will include discussion of a resolution about the Central Florida Water Initiative.(3 p.m., district headquarters, 4049 Reid St., Palatka.)
Is Flagler is headed in the right direction? The Chamber of Commerce wants to hear from you: "Please take the Chamber's Economic Development survey and share the link with family, friends and colleagues. It's important for everyone who lives and works here to weigh in on this important topic," the Chamber says. "You might even win a prize for your effort. We are trying to get 1,000 responses before the end of the year. Click here to access the survey.

Transgenders in Flagler Schools: District Takes It Case By Case as State Scrutinizes More Than Nurtures: An examination of the state of transgender understanding and accommodations, including a state policy on transgenders and some local attitudes about the policy, strongly suggests that the state and, to some extent, Flagler County, have a long way to go to ensure that transgender students are treated not only fairly and equitably, but that the environment they face is more nurturing than questioning, more welcoming than inhibiting.
Ericksen Will Run for Commission Re-Election After All; Medley Files for Elections Supervisor: Ericksen's announcement follows the decision by Mark Richter to withdraw from that race, where he would have been a challenger of Ericksen's in the Republican primary. But Ericksen had never taken Richter seriously. His health was his primary concern.
Proposal Would Allow Students to Sub Computer Coding for Foreign Language Classes: Bill sponsor Jeremy Ring, a Margate Democrat who is a former Yahoo executive, said the proposal would give Florida students a "true leg up" in the increasingly tech-driven world.
At Salvo Art Project, Lofty Growth and New Engagements at Year One in Lush Digs: While they've amped up the business side of their artistic pursuits, artists JJ Graham and Petra Iston–who got engaged earlier this year–still have time to paint and create and channel their muses at Salvo, which is nestled in the flora, fauna (cockatiels, goats) and statuary of the Nature Scapes Landscape and Garden Center just off State Road 100.
Stillbirth: FPC Art Student May Show His Class Work at a Gallery, But Not At His Own School: Patrick Conklin, a 17-year-old senior at Flagler Palm Coast High School, was banned from showing a provocative work of art at his school even though his teacher and the principal found it accomplished, and had no issue with it being shown at a local gallery. The painting triggered a broad discussion of art and the limits of tolerance after his mother, school board member Colleen Conklin, posted an image of it on her Facebook page.
Flagler Beach's Christmas parade was dampened by rain and clouds, and Santa opted to ride in on a fire engine rather than parachute, the Observer reports.

Note: Most proceedings below can be followed live on the Florida Channel.

The Florida Office of Insurance Regulation will hold a public hearing about Aetna Inc.'s proposed acquisition of CarePlus Health Plans, Inc., Humana Health Insurance Company of Florida, Inc., Humana Medical Plan, Inc., and CompBenefits Company. (10 a.m.)
Kidcare: The Social Services Estimating Conference will analyze caseloads in the KidCare health-insurance program. (1:30 p.m.)
Agriculture Commissioner Adam Putnam and House Majority Leader Dana Young, R-Tampa, will discuss legislation aimed at protecting consumers from "skimmers," which are placed on gas pumps to steal people's financial information. (2 p.m., Sunoco gas station, 3002 North Highway 301, Tampa.)
–Compiled by the News Service of Florida and FlaglerLive

In Coming Days in Palm Coast and Flagler:
Click on the links for more details:

Click on the link for more details.
Worldwide Candle Lighting at the BeachHouse Beanery Flagler Beach at at 1112 South Oceanshore Blvd., 6:30 p.m.
Bank of America Donates $5,000 to Family Life Center
Kumon Math & Reading Center of Palm Coast Donates 443 Children's books to Kiwanis Book Program
Worldwide Candle Lighting Scheduled for Sunday, December 13th in Flagler Beach: Donna Lunsford, founder of Parents in Mourning, is pleased to announce that the Worldwide Candle Lighting event to remember young loved ones that have passed too soon, is scheduled for December 13th, 2015 at 6:30pm at 1112 South Oceanshore Blvd., Flagler Beach. "I have organized this event locally for the past 13 years," said Donna. "This year we are excited to be hosting the event, and partnering with, BeachHouse Beanery once again in Flagler Beach," she added. Someone suggested that Donna contact Carol and Jeff Fisher, owners of the BeachHouse Beanery about having the service there since the Fisher's and Donna have the commonality the loss of a child. The Compassionate Friends Worldwide Candle Lighting unites family and friends around the globe in lighting candles for one hour to honor the memories of the sons, daughters, brothers, sisters, and grandchildren who left too soon. As candles are lit at 7:00 p.m. local time, hundreds of thousands of persons commemorate and honor the memory of all children gone too soon. Now believed to be the largest mass candle lighting on the globe, the 19th annual Worldwide Candle Lighting, a gift to the bereavement community from The Compassionate Friends, creates a virtual 24-hour wave of light as it moves from time zone to time zone. TCF's WWCL started in the United States in 1997 as a small internet observance, but has since swelled in numbers as word has spread throughout the world of the remembrance. Hundreds of formal candle lighting events are held and thousands of informal candle lightings are conducted in homes as families gather in quiet remembrance of children who have died, but will never be forgotten. The Compassionate Friends and allied organizations are joined by local bereavement groups, churches, funeral homes, hospitals, hospices, children's gardens, schools, cemeteries, and community centers. Services have ranged in size from just a few people to nearly a thousand around the world. The Worldwide Candle Lighting gives bereaved families everywhere the opportunity to remember their child(ren) so that their lights may always shine. Donna launched "Parents in Mourning" after her son Jonathan and his cousin Eric were tragically killed by a drunk driver. Jonathan is laid to rest in the mosque at Craig Flagler Palms Funeral Home & Memorial Gardens in Flagler Beach. It started as a support group meeting with bereaved parents in the community. Donna is a certified grief counselor and psychiatric registered nurse and offers workshops from time to time. After losing her son, Jonny, she knows what depression/anxiety feels like and she likes to help and give people hope. "Giving people hope after their child has died is how I found my way to cope with my loss," said Donna. "I have been contacted by many parents as time goes by to thank me for helping them and that's very satisfying." People are welcome to join the event on Facebook at https://www.facebook.com/events/328426320660921/.
Bank of America Donates $5,000 to Family Life Center: The Family Life Center is pleased to announce that Bank of America has donated a $5,000 grant to the Family Life Center. The check was presented at the Family Life Center's Board Facilitated Staff Appreciation Luncheon this past Tuesday. "We are so grateful to Bank of America for their support of the Family Life Center," said Executive Director of the Family Life Center. "These type of donations from the business community allow us to keep providing services to victims of domestic violence and sexual assault in Flagler County." The Family Life Center provides services such as 24-Hour Crisis Hotline, emergency shelter, individual crisis counseling, support groups, information and referrals, community awareness, legal advocacy accompaniment, youth services, service coordination, emotional support and more to women in need in Flagler County. The Family Life Center has been providing services to victims of domestic violence and sexual assault in Flagler County for over 25 years. Their 24-hour hotline is 386-437-3505, the Rape hotline is 888-956-RAPE (7273), and the domestic violence hotline is 800-500-1119. They can be reached online at www.FamilyLifeCenterFlagler.org or https://www.facebook.com/FLCFlagler. The mailing address is PO Box 2058, Bunnell, Fl. 32110.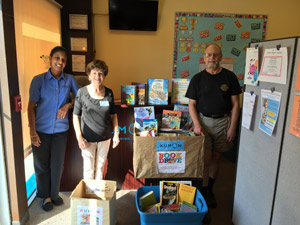 Kumon Math & Reading Center of Palm Coast Donates 443 Children's books to Kiwanis Book Program: In honor of National Book Month, Kumon Math and Reading Center of Palm Coast held a children's book drive and collected 443 to donate to the Kiwanis Club of Flagler County's Just 1 Book program. The impressive number of books came from many of the students at Kumon. This is the sixth year Mita Tomerlin, Center Director of Kumon, has encouraged her students to participate in a charitable Book Drive. The first year, 150 were collected, and the generous students and families of Kumon have since tripled that number. The book drive not only teaches students the importance of reading and the enrichment of life through books, but also encourages students to understand the reality that there are less fortunate children in our community who need their help. "Our book drive this year was a huge success," said Mita. "I am very thankful to our families and the community for supporting our book drive and contributing to its success," Tomerlin proudly stated. The students did have an incentive to donate the books – a $20 Amazon gift card to the person that donated the most books. Ryan Sammelman was the winner with 125 donated books. Flagler County Kiwanis members Mary Drescher and Oral Groves, Treasurer, gratefully collected the books from Kumon and added them to the other donations they have received from the community. The books are later distributed to local organizations throughout Flagler County including, but not limited to, Family Life Center, Early Learning Coalition, Flagler County Department of Social Services, Family Promise Day Care and more. These organizations depend on the Kiwanis Club to provide reading materials for the children in their realm. The Kiwanis Club brought the Just 1 Book program to the area in 2012. This program was created by a young girl, Sarah DeWitz of Orlando, Florida in 2010 with the mentality that "Just 1 Book Would Make the Difference in the Life of a Child." It is now a statewide organization, helping put books in the hands of children with help from the likes of Kumon. Kumon is an after-school math and reading enrichment program that unlocks the potential of children so they can achieve more on their own.

A front-page editorial in Saturday's Times calls for an end to America's gun epidemic: https://t.co/YFuoh6UqmZ pic.twitter.com/AipLKTC8Uk

— NYT Opinion (@nytopinion) December 5, 2015
Tesla and Panasonic have built a $5bn factory in Nevada to make better car batteries https://t.co/8sdQuFglHt pic.twitter.com/bEBTOzAHT7

— The Economist (@TheEconomist) December 7, 2015
How Many Inmates Have Died in Sheriff Joe Arpaio's Jails? Who Knows, But it's a Big Number. https://t.co/W8Spb3BUa5 pic.twitter.com/oOYPkK77ey

— AlterNet (@AlterNet) December 7, 2015
Falwell Calls on Students to Carry Concealed Guns to Help "End Those Muslims" https://t.co/SnpI3HE1tz pic.twitter.com/kEg6SHP8H5

— Slate (@Slate) December 6, 2015
The GOP's mass shooting hypocrisy is fueling its cancerous rage https://t.co/WLiDiLPtpd pic.twitter.com/MX778bWOdl

— Salon.com (@Salon) December 7, 2015
President Obama's tough, calming talk on terrorism: https://t.co/CoGfngm6WO pic.twitter.com/piQyBGIdrL

— NYT Opinion (@nytopinion) December 7, 2015
Why do trolls go after feminists? https://t.co/UoM86F5IRB pic.twitter.com/7yznWctNvd

— BBC Radio 4 (@BBCRadio4) December 7, 2015


Palm Coast Construction and Development Progress Reports
The following is an update of ongoing construction and development projects in Palm Coast, through Dec. 4:
Christ the King Evangelical Lutheran Church and School, 1 percent done: Located at 5625 North US Highway 1, the school received a Development Order for a new 13,794 sq. ft. early learning center to be located on the south side of their 8.6-acre site. The architecture of the new one-story building will be very similar to the existing church and school facilities that are located just north of the proposed new building.
Holland Park, 38 percent done: The new 8″ water main was flushed and pressure tested. Installation of fiber inner duct. Conversion was made from well irrigation to reuse irrigation. Irrigation installation continues. Surveying for roadway, sidewalks, and basketball court continues.
County's I-95 Interchange Matanzas Woods Reclaim Water, 76 percent done: Retention ponds are being excavated and fill continues for the ramps. (Not in the Dec. 4 update.)
Palm Harbor Parkway Roadway Extension, 32 percent done: The City Fiber Optic cable was removed to allow the demucking to continue north on Forest Grove. The Fiber Optic cable will be replaced when the new force main is installed. Installation of stormwater pipe continues. (Not in the Dec. 4 update.)
Colechester Bridge, 92 percent done: The new 6″ water main is now in service and the old water main on the bridge is being removed.
North Old Kings Road Extension to Matanzas Woods Parkway, 19 percent done: Asphalt was installed on the new section of roadway adjacent to the old roadway at the intersection of Old Kings Road and Forest Grove. (Not in the Dec. 4 update.)
Island Walk Shopping Center Phase 1, 93 percent done: Water mains behind the Island Doctor and Bealls have been chlorinated for 2nd day bacteriological samples. (Not in the Dec. 4 update.)
Old Kings Road Force Main 83 percent done:: Contractor has completed the Force main up to the pig launch points and restored the site and trail. The area for the pig flush was completed and flushing has started.

Road and Interstate Construction:

John Williams and Julian Bream: Granados Danza Espanola no. 1