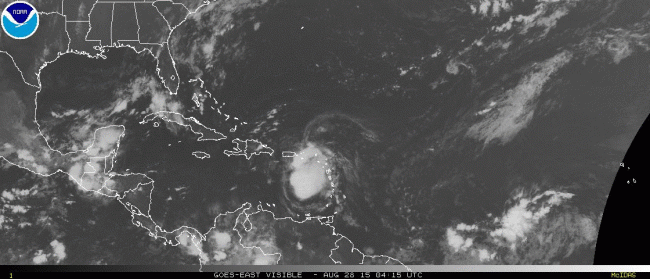 Today: It's a cold wave! high in upper-80s, low in mid to upper 70s, Chance of rain above 50 percent all weekend. Details here.
Today's fire danger is low. Flagler County's Drought Index is at 249 (-38).
The weather in Invecargill, New Zealand: high 54, low 41. Details.
Today's document from the National Archives.
The OED's Word of the Day: Georgium Sidus, n..
The Live Community Calendar
Today's jail bookings.
Today's Briefing: Quick Links

Note: all government meetings noticed below are free and open to the public unless otherwise indicated. Many can be heard or seen live through each agency's website.
Friday: Kevin Guthrie, director of Flagler County Emergency Management, talks Tropical Storm Erika with David Ayres on Free For All Friday, WNZF, 9 a.m.
Friday: The Scenic A1A Pride committee meets at 9 a.m. at the Hammock Community Center. It will discuss a special exception requested by A1A Fisheries at 5959 North Oceanshore Boulevard and a sign for the Hammock Dunes south entrance.
Saturday: Flagler Palm Coast High School 5K fund-raiser, for scholarships, at Town Center in Palm Coast, 7:45 a.m.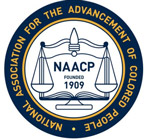 Friday: the Flagler Chapter of the NAACP hosts its Annual Freedom Fund Banquet, 6 p.m. at the Ocean Ballroom of the Hammock Beach Resort, 200 Ocean Crest Drive, Palm Coast. The branch boasts of fine dining, dancing, and music provided by Darnel Butler & Xpression.
Saturday-Sunday: A Night at the Ag Museum: Come spend the night at the museum. Enjoy the thrill of outdoor camping. Arrive at the museum at 4 pm to begin your adventure. Set up your tent then dinner is served. After dinner the evening's event will begin. Talk a walk; step back in time at the 1890s homestead and country store; do some stargazing; enjoy a bonfire with s'mores. Sunday morning we'll have breakfast with the farm animals then take down our tents and your day with us is done. You must bring your own camping equipment; we don't have any to rent. Coolers with drinks and snacks are permitted, but please do not bring any alcohol as this is a family friendly event. Snacks, sodas, water, and souvenirs will be available for purchase. Dinner and breakfast are included in your admission fee of $40 per person. (Florida Agricultural Museum, 7900 Old Kings Road North, Palm Coast. Contact : Debbie Milner 386/446-7630 or [email protected].)
Sunday: "I Remember Better When I Paint," a documentary film narrated by actress Olivia de Havilland that demonstrates that the creative arts can bypass the limitations of dementia. Film provided courtesy of the Hilgos Foundation. (3:30 p.m., Florida Hospital Flagler, 60 Memorial Medical Parkway, south entrance, classrooms A&B).

Sheriff Plans DUI Checkpoint Saturday at SR100 East of Old Kings Road Saturday Night: The Flagler County Sheriff's Office will establish a police checkpoint in the westbound lanes of State Road 100, east of Old Kings Road, Saturday evening starting at 8 p.m. and running through 4 a.m. Sunday. The checkpoint authorizes deputies to pull over any driver–with or without probable cause–ask questions and, if necessary, take the proceedings further.
Tropical Storm Erika Shows Signs of Muddle, But Flagler Officials Aren't Taking Chances: Tropical Storm Erika weakened today and shows signs of disorganization and a possibility that it may not withstand the landmasses of the Leeward Islands as an organized storm. At 2 p.m., it had weakened back top 45 mph as it moved toward the Virgin Islands.
Disaster Economics 101: Flagler Businesses Are Made Part of County's Recovery Plans: Flagler County Emergency Services Director Kevin Guthrie spoke to about 80 business leaders Thursday about the role they can play in helping Flagler mend after a disaster, preventing businesses from moving out of the area and speeding up the recovery.
Flagler Beach bans food trucks from farmers markets: "Flagler Beach originally restricted mobile vendors in the city in February 2014. That ordinance exempted farmers markets because its scope was broader than a ban on food trucks and would have affected some regular market vendors," the News-Journal reports. "In August 2014, eight vendors received letters from the city to notify them of a mobile vendor ban being considered specifically for farmers markets. An ordinance to that effect was drawn up for the commission's consideration." (Story paywall-protected.)
Man accused of killing wife and a family friend caught in traffic stop: "The suspect, James Colley, was taken into custody Thursday after a traffic stop outside St. Johns County Sheriff's Office's jurisdiction," the St. Augustine Record reports. "When deputies arrived at the home on South Bellagio Drive, they found Amanda Colley, 36, and Lindy Dobbins, 39, dead, the release said. Both died from "apparent gunshot wounds." About four or five other people were in the house when Colley "burst on the scene," but no one else was injured, Shoar said. Court documents show James Colley is Amanda Colley's estranged husband." (Story paywall-protected.)

A scaled-down schedule for judges today. Circuit Judge J. David Walsh holds a pair of hearings at 10 a.m. in Courtroom 401. Circuit Judge Michael Orfinger and County Judge Melissa Moore Stens have a few hearings in Courtrooms 301 and 404.

Note: Most proceedings below can be followed live on the Florida Channel.

The Central Florida Water Initiative Steering Committee meets in Kissimmee. The committee includes representatives of the St. Johns River Water Management District, the South Florida Water Management District, the Southwest Florida Water Management District, the Florida Department of Environmental Protection, the Florida Department of Agriculture and Consumer Services and the Tohopekaliga Water Authority. (9:30 a.m., TOHO Water Authority, 951 Martin Luther King Blvd., Kissimmee.)
The Florida Communities Trust Governing Board will meet and discuss the program that helps local communities protect natural resources and preserve working waterfronts. (2 p.m., Marjory Stoneman Douglas Building, 3900 Commonwealth Blvd., Tallahassee.)
–Compiled by the News Service of Florida and FlaglerLive

Police, Fire and Emergency Notes: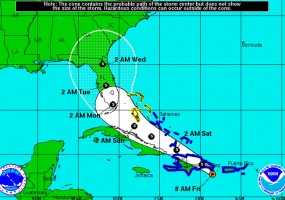 Flagler County Emergency Management continues to monitor the progress of Tropical Storm Erika located about 1,400 miles away from Flagler County. There is still a great amount of uncertainty on the eventual path and strength of Erika. The information line at 586-5111 is open from 9:00 AM to 5:00 PM. The National Weather Service indicates that surf and rip current risks will likely increase over the weekend and into next week. Tropical Storm Conditions may be possible on Monday and Tuesday (30% chance). There are no planned closures at this time. All interests in Flagler County should continue to monitor the progress of Erika and it is always a good time to review your personal emergency plans. Be sure to click on the links below for preparedness advice and the latest on Erika. Keep up with the latest on the storm here.
Code Red: Flagler County officials are encouraging residents to sign up for the CodeRED weather warning notifications and for those requiring additional assistance to apply for the special needs evacuation shelter registry.            "There is a lot of uncertainty about Tropical Storm Erika but whether we suffer any effects of this storm or not, now would be a good time to sign up for these services," said Kevin Guthrie, Flagler County Public Safety Emergency Manager. "We especially want to make sure we have everyone with special needs registered."            More specifically, individuals who should register are people who require assistance with daily living or who have medical conditions that prevent or hinder their ability to care for themselves.            Residents with computer access can register for either or both online at www.flagleremergency.com. The direct link for CodeRED is https://public.coderedweb.com/CNE/7B3E2CD592C0. The link to the special needs application is http://flagleremergency.com/doc/psn_form.pdf. Additional information about Tropical Storm Erika, including its current track, is available atwww.flagleremergency.com.

In Coming Days in Palm Coast and Flagler:
Click on the links for more details:
Sept. 4: Michell Palmmucci is the featured artist at Ocean Art Gallery for September. Her show, "Paradise – Lost and Found," opens Friday, September 4 with a 6 p.m. reception at 200 S. Oceanshore Blvd., Flagler Beach. The artist will be on hand to meet guests and demonstrate her painting style.
Friday, Sept. 11: The Palm Coast Arts Foundation Presents Big Band Night (and more) with The Chris Thomas Band of Jacksonville, in the Ballroom of Halifax Plantation, 4000 Old Dixie Highway, Ormond Beach. Dinner and dancing is all part of the ticket price ($50 PCAF members; $60 general public).  Click here for details.
Sept. 21: Flagler Beach Police Captain Matthew Doughney and 7-Eleven host "Doughnuts with Doughney": The Flagler Beach Police Department and the city's 7-Eleven have partnered to host "Doughnuts with Doughney" on Monday, September 21, from 8 a.m. to 10 a.m. at 408 South Oceanshore Boulevard.
Sept. 28: Bunnell's State of the Art Water Treatment Facility Grand Opening and Ribbon Cutting at 100 Utility Drive (directly across the street from the Flagler County Government Services Building), from 4 to 6 p.m.
Oct. 6: The Flagler County School Board holds a town hall meeting at the Government Services Building.
Flagler County is now accepting applications for the Fall 2015 Citizens Academy. Classes will be held on Thursday evenings from 5 to 8 p.m. beginning September 10 for nine weeks. For more information, click this link or go to flaglercounty.org/academy.

The Disabled American Veterans Jim Booe Chapter 86 of Flagler County has relocated its chapter headquarters from 208 S 6th Street in Flagler Beach to 27 Florida Park Drive, Palm Coast. The office phone number remains the same. Chapter 86 of the DAV provides free, professional assistance to local disabled veterans and their families in obtaining benefits and services earned through military service and provided by the Department of Veterans Affairs (VA) and other agencies of government. Services provided depend on the immediate needs of the veteran. Most-requested services include transportation to VA medical facilities, medical claims services, homeless or at-risk homeless veterans outreach services, and education regarding benefits and services. "By moving to our new location building, our DAV chapter will be able to serve the members of our county more effectively," said Raymond A. Parker, Chapter 86 Commander. "Our new location is more centrally located and provides additional free parking for the membership. We feel our move to the new building will give disabled veterans within Flagler County improved access to the services we provide, and contribute significantly to our ability for outstanding service. Our new professional office space demonstrates our commitment to ensuring those who served our country and their families receive the care they earned. " For additional information, contact the DAV via telephone at 386-439-2122 or via eMail at inf[email protected] After September 15, 2015, Chapter 86 of the Disabled American Veterans can be found on the Web at www.davchapter86.org.
Seats are still available for Flagler County's (usually) popular Citizens Academy program designed to introduce participants to the day-to-day operations of Flagler County government. Beginning on Sept. 10, classes will be held Thursday evenings from 5 p.m. to 8 p.m. for nine weeks. Sessions feature presentations from each department of Flagler County government, in addition to meeting with Constitutional Officers and County Commissioners. Meeting locations will vary each week including a tour of Emergency Operations and the Flagler County Executive Airport. The program culminates in a highly engaging mock County Commission meeting with participants taking on the roles of commissioners, county administrator, and as concerned citizens as they utilize the information they have learned throughout the session. Each Citizens Academy class is limited to 30 participants selected in order of their application and the program is free to all Flagler County residents. Interested residents can apply online from the County's website at www.flaglercounty.org/academy; or for further information, please contact Ben Hogarth, Flagler County Special Projects Coordinator at 386-313-4040 or by email at [email protected].

Israel Deludes Itself as a GOP Red State: "For many weeks now, the political arena has been focusing on Chuck Schumer. Both U.S. President Barack Obama and Prime Minister Benjamin Netanyahu were doing all they could to lobby New York's senior (Jewish) senator to adopt their positions on the Iran nuclear deal. Both the White House and the Prime Minister's Office assumed that Schumer's vote would be a decisive one. It was presumed that whichever way Schumer went, dozens of Democratic members of Congress would follow. And indeed, two weeks ago Schumer decided. He capitulated to the indirect and sophisticated pressures exerted on him by the Israeli prime minister and came out against the position of the president of the United States. But to everyone's great surprise, there was no ensuing "Schumer effect." Contrary to expectations, masses of Democrats did not stream after the man who is meant to be the future leader of the Senate's Democrats. On the contrary; one after the other, even hawkish Democrats and Jewish Democrats have been siding with the White House. Why? Because over the past six years the Israeli government has insisted on turning Israel into another red (Republican) state. Because Netanyahu and his patron, Sheldon Adelson, have forged a dangerous link between Zionist issues and conservatism. Because at the moment of truth, Israel-loving Democrats who feel battered by Israel's policies (occupation, settlement, exclusion of women and discrimination against minorities) were not prepared to put their political futures at risk for Israel. After Jerusalem turned its back on the liberal values of Democratic America, Democratic America decided to turn its back on Israel's existential anxiety." From Haaretz's Ari Shavit.
The Art of Edward Gibbon: "Gibbon's spirit was one of supremely detached skepticism, reinforced by common sense to a high power, with a masterly command of the rich irony that gave forcible expression to both. This spirit derived from the time in which he lived and the peculiar circumstances of his own life. […] Christianity per se was not Gibbon's problem. Religious faith that brought intolerance or empty asceticism among its adherents was. Gibbon's artful malice was set aflame by what he took to be ignorant superstition. The polytheism of pagan Rome, tolerant of other religions, was more to his taste, though he mocked this, too. The oracles at Delphi, he concluded, were wiser about lining their pockets than about the future. He was no more merciful on the subject of the Jews: "That singular people seems to have yielded stronger and more ready assent to the traditions of their remote ancestors, than to the evidence of their own senses." He argued that Jews did not proselytize because they, "the descendants of Abraham, were flattered by the opinion, that they alone were the heirs of the covenant, and they were apprehensive of diminishing their inheritance, by sharing it too easily with the strangers of the earth." Religious rites were to him merely comic: "Many a sober Christian would rather admit that a wafer is God, than that God is a cruel and capricious tyrant." Priests and monks above all were to be distrusted. To a philosophic eye, Gibbon wrote, "the vices of the clergy are far less dangerous than their virtues." Gibbon mocked "those minds which nature or grace had disposed for the easy reception of religious truth." He satirized that truth as it was set forth in "the science, or rather the language, of Metaphysics" in its Christian version regarding the immortality of the soul. The intolerance of the Christians, once in power, an intolerance of others and of deviationists among their own ranks, aroused his ire: "In the course of their intestine dissensions, [Christians] have inflicted far greater severities on each other, than they experienced from the zeal of the infidels." From Commentary.
Ellen Page: It's 'borderline offensive' to call straight actors brave for playing LGBT characters: "The openly lesbian actress, who is starring alongside Julianne Moore as a same-sex couple in the upcoming "Freeheld," said portraying gay characters shouldn't be perceived as a risky career move, reported Time. "When people are [called] brave in regards to playing LGBTQ people, that's borderline offensive," Page said. "I'm never going to be considered brave for playing a straight person, and nor should I be." The 28-year-old actress, who came out publicly last year, said she would be "thrilled" to play nothing but lesbian characters for the rest of her career — but she said there simply aren't enough movies about LGBT people or other minority groups. "It's evident from what people are watching on television that people want diversity," Page said. "They want it. Whether they consciously know it or not, I'm not sure, but look at 'Orange is the New Black'. You're seeing actors that, if that show didn't exist, we might not have ever seen—that are extraordinary." From Raw Story.

Palm Coast Construction and Development Progress Reports:
The following is an update of ongoing construction and development projects in Palm Coast, through Aug. 6: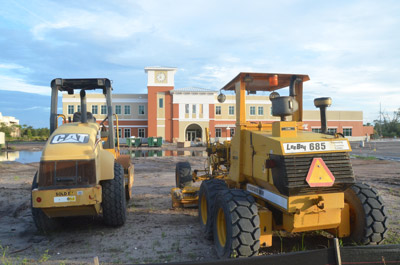 Palm Coast Parkway Six-Laning is 87 percent done: Widening on the north side of the parkway almost complete. Landscape irrigation work continues. Milling and Resurfacing of Roadway continues. FPL began installation of light poles and fixtures along the north side of the roadway.
Holland Park, 27 percent done: Continuation of installation of new water main. Began installation of FP&L primary conduit to new transformer.
Palm Coast City Hall at Town Center, 84 percent done: Installation of drywall on interior walls, mechanical duct work & VAV damper installation, electrical conduit rough-in and fire sprinkler piping are all 98% complete. Painting of interior and exterior walls continues. Floor tile in bathrooms continues. Mechanical system startup occurred. Parking lot curbing completed. Irrigation installation began See ongoing images of construction here.
Colechester Drive Bridge, 32 percent done: Bridge deck being removed, curbing on all sides has been removed.
County's I-95 Interchange Matanzas Woods Reclaim Water, 25 percent done: Contractor has installed approximately 1,000 ft. of reclaim water main total installed 5,000 ft. to date.
Palm Harbor Parkway Roadway Extension, 6 percent done: Contractor working on submittals and coordinating utility work with FPL & ATT.
Island Walk Shopping Center Phase 1, 91 percent done: The second run of gravity main was installed near Starbucks entrance.
Shops at Pine Lakes Convenience Store, 96 percent done: Pump station start-up and testing completed.
Old Kings Road Force Main – Master Pump Station, 10 percent done: Clearing crew on site removing trees.

Road and Interstate Construction: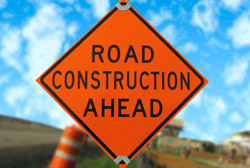 Palm Coast:
Palm Coast Parkway: Expect heavy delays on Palm Coast Parkway From 7 p.m. Tuesday, Aug. 18, to 5 a.m. Wednesday, Aug. 19: Westbound traffic will be reduced to one lane on the I-95 bridge. These lane closures are required for street light pole installations. In addition, motorists and other travelers should expect intermittent eastbound and westbound nighttime lane closures on Palm Coast Parkway between Florida Park Drive and Cypress Point Parkway / Boulder Rock Drive from 7 p.m. until 7 a.m., Sunday through Friday until the completion of the project in December 2015. One lane eastbound and one lane westbound will remain open at all times. These lane closures are required for paving and traffic signal operations.
Old Kings Road Lane Closures: On Monday and Tuesday, Aug. 17 and 18, motorists and other travelers should expect lane closures on Old Kings Road in the vicinity of the Matanzas Woods Parkway intersection. A single lane will remain open at all times. From Friday, August 21, through Sunday, August 23, motorists and other travelers should expect lane closures on Old Kings Road and Matanzas Woods Parkway in the vicinity of the Matanzas Woods/Old Kings Road intersection. A single lane will remain open at all times.
Complete Road Closure on Old Kings Road: On Wednesday and Thursday, Aug. 19 and 20, motorists and other travelers should expect a complete road closure on Old Kings Road and Matanzas Woods Parkway in the vicinity of the Matanzas Woods intersection. Matanzas Woods Parkway will be closed at Bird of Paradise allowing eastbound traffic to Matanzas High School only. Travelers heading south on Old Kings Road at the U.S. 1 intersection will be notified that Old Kings Road is open to local traffic only. Old Kings Road will be closed at the Forest Grove Drive intersection allowing northbound traffic to Matanzas High School only.
Road Closure Note: The northbound lane of S. Old Kings Road from Town Center Boulevard going north approximately 2.5 miles will have a moving lane closure starting Monday, July 27. The lane closure will be from 7 a.m. to 5 p.m. weekdays and will continue for approximately three weeks. A flagman will direct traffic.
Lane closures to begin July 27 on South Old Kings Road in Palm Coast: The northbound lane of S. Old Kings Road from Town Center Boulevard going north approximately 2.5 miles will have a moving lane closure starting Monday, July 27. The lane closure will be from 7 a.m. to 5 p.m. weekdays and will continue for approximately three weeks. A flagman will direct traffic. This lane closure is needed to allow a City contractor to clear the right-of-way along the roadway in preparation for an upcoming wastewater system project.
Flagler County Road 302 is Closed to all but local traffic as repaving began on June 7 and the roadway will be closed to all but local traffic. Others will be required to detour around County Road 302 using State Road 100. The roadway will be closed for 90 days, or until early September.
Palm Coast's Colechester Lane bridge to be closed July 7 through Sept. 4:  A detour will be established taking travelers over the Colorado Drive bridge instead. Signs will be posted directing motorists to the Colorado Drive bridge. The City of Palm Coast strives for safe construction zones. The City asks for the cooperation and patience of residents as this important bridge improvement project is completed. For more information, contact Palm Coast Customer Service at 386-986-2360.
US 92 to close overnight Tuesday for pedestrian bridge installation: The new pedestrian bridge installation is scheduled overnight Tuesday Aug. 18. Construction will run from 10 p.m. Tuesday night  to 5 a.m. Wednesday morning. During the installation, US 92 (International Speedway Boulevard) will be closed – eastbound and westbound – between Daytona Boulevard and Bill France Boulevard. Well-marked detours will be in place.
Detours:
Traffic going eastbound on US 92 will turn left on to Daytona Boulevard, right on to Avenue B, and then right on to Bill France Boulevard, where US 92 eastbound can be accessed.
Traffic going westbound on US 92 will turn right on to Bill France Boulevard, left on to Avenue B, left on to Industrial Parkway, right on to Avenue A, and left on to West Road, where US 92westbound can be accessed
This pedestrian bridge will be 750 feet west of Bill France Boulevard, and will include landscaping, lighting, fencing and bridge treatments. The bridge is part of the ongoing pedestrian improvements on US 92, which include upgrading the Williamson Boulevard intersection with new mast arms and other improvements, and replacing existing sidewalk and ditches with 12-foot sidewalks and closed drainage system. All businesses within the construction zone will be accessible during the instillation of the pedestrian bridge. For more information about this, and all Central Florida state roadway projects, visit www.cflroads.com.
Volusia: I-4 Widening from SR 44 to east of I-95, Monday and Friday, 7:00 a.m. – 5:00 p.m., Eastbound/Westbound shoulder closing. Sunday through Thursday, Eastbound and Westbound lane closures as needed from 8 p.m. to 6 a.m. Thursday, 9:00 p.m. – 5:30 a.m. EB road closure between Canal St./SR 44 and I-95 with detour at US 92 exit ramp.Motorists should be aware of traffic shifts near Canal St./SR 44.
County Road 304 Project Map and Description

Comment of the Day (From the Comment Section):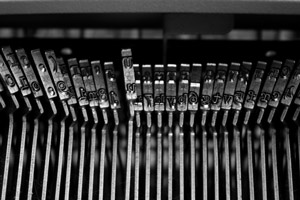 mrsdondarrian, in "Overselling Flagler: How County Tourism and Government Zeal Lost the Spartan Race Before It Started": Flagler can handle 6000 runners – just like Atlanta can handle 60,000 runners running through the streets of Atlanta into Piedmont Park (during the Peachtree Rd. Race, of which I volunteered many times). I think a better venue in Flagler would be the Town Center area (wide open fields, some woods, LOTS of parking). My son used to run cross-country in Georgia and one of the main venues they would have practice in and actual races was two parks – both preserves (Sweetwater, which has civil war era remains of homes and a millhouse, and a 1700's era farm with hundreds of wooded acerage.). Schools from all across Atlanta would meet and race there. Atlanta is a area of over 6 million people. Reply to mrsdondarrian here.

Cultural Coda:
Arthur Rubinstein Plays Chopin, 1950