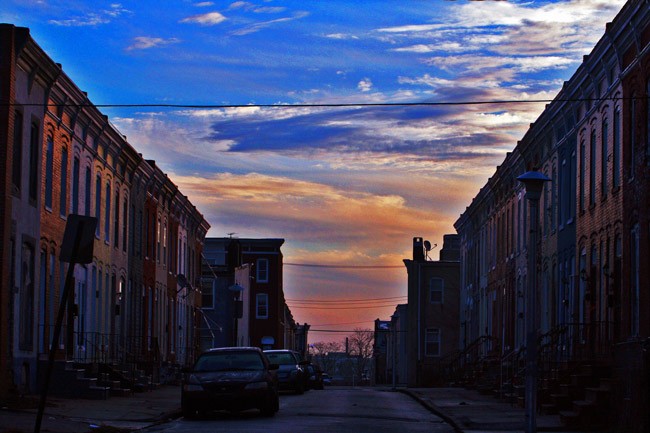 Today's weather (Saturday): cloudy, high of 73, low of 68.Details here.
Today's fire danger is Moderate. Flagler County's Drought Index is at 172
The weather in Murmansk, Russia: Sleet, High of 35, low of 23. Details.
The OED's Word of the Day: Risley, n..
The Live Community Calendar
Today's jail bookings.
Today's Briefing: Quick Links

Note: all government meetings noticed below are free and open to the public unless otherwise indicated.
Palm Coast City Council workshop: City Manager Jim Landon will present the latest findings and issues on Ralph Carter Park, where surrounding residents have again been complaining of unruly youths. It's a recurring issue. The council will also hear financial reports, including the annual investment report and the state of the budget so far this year. The council meets in the council conference room, 160 Cypress Point Pkwy. Suite B-106, 9 a.m. The meeting is expected to be lengthy. The full agenda is here. You can hear the meeting live here.
Tuesday, Matanzas Woods Interchange Construction Public Meeting: The Flagler County Engineering Department will host a public meeting to inform residents of the planned beginning of construction of the Matanzas Woods Parkway Interchange Project at I-95 and the future Old Kings Road Extension project. The interchange project is a long planned project providing interstate access to residents in the northern part of Flagler County and is slated to start this summer. This project will require the temporary closure of Matanzas Woods Parkway during the 2015 summer months when school is out of session. The future Old Kings Road Extension project will provide a direct route for commuters to the Matanzas interchange at I-95 and minimize traffic impacts to Matanzas High School. The Old Kings Road Extension project is slated to begin construction later this year. The meeting will be from 6 p.m. to 8 p.m. Tuesday, April 28th at the Palm Coast Community Center, 305 Palm Coast Parkway NE, Palm Coast. The residents of the area and the public are invited to attend this informational meeting. For more information call 386-313-4039.
Mala Compra Trail ribbon-cutting: Flagler County commissioners and Hammock residents gather at Bings Landing at 1 p.m. today for the ribbon-cutting. [Postponed]
Chamber boot camp: The Flagler Chamber of Commerce holds another two-hour session of its weekly boot camp starting at 6 p.m. at the Flagler County Chamber of Commerce conference room.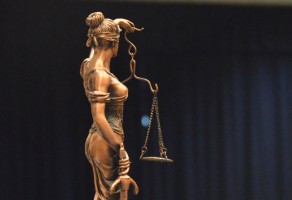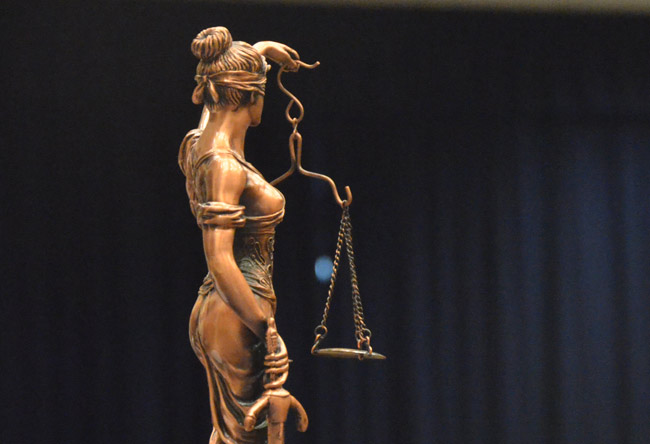 Judge Melissa Moore-Stens holds over 60 arraignments in county court this morning starting at 8:45 a.m., followed by violation of probation arraignments (Courtroom 404). Judge J. David Walsh will sentence Helder Sarmento, convicted of assault and felony battery, and Michael Stevens, convicted of possession of a firearm by a convicted felon, at 1:30 p.m., followed by the sentencing of Christopher Demon Lang, for trafficking cicaine, at 2:30 p.m. (Courtroom 401). Judge Michael Orfinger has docket soundings for two dozen cases starting at 9 a.m. (Courtroom 301).

Note: Most proceedings below can be followed live on the Florida Channel.

The House holds a floor session today starting at 2:30 p.m., taking up a variety of issues, including bills (SB 998 and HB 1247) that would ban the sale of powdered alcoholic beverages. Also, the House is expected to consider bills (SB 766 and HB 649) dealing with surveillance by drones.
Fracking: The Senate will hold a floor session and is expected to take up a bill (SB 1468), filed by Sen. Garrett Richter, R-Naples, that would set up a regulatory framework for hydraulic fracturing, or "fracking," a technique used to drill for oil and natural gas. Also during the session, the Senate is slated to consider a bill (SB 154), filed by Sen. Alan Hays, R-Umatilla, aimed at making it safer for children to walk to school. (10 a.m.)
The House is scheduled to hold a floor session starting at 11 a.m.
–Compiled by the News Service of Florida

Same-Sex-Marriage at the Supreme Court: The nine justices hear arguments in one of the year's most anticipated cases. Scotus Blog has the complete run-down on United States. v. Windsor.
Iran deal: The Senate begins debating the president's nuclear deal with Iran.
Japanese Prime Minister Shinzo Abe meets President Obama at the White House.

Mica wants quicker and further expansion of I-4: " Rep. John Mica met with more than three dozen Metro Orlando leaders Monday to drum up support for speeding the addition of toll lanes on Interstate 4 outside the 21-mile confines of the I-4 Ultimate makeover now underway. Extending the major overhaul from the downtown Orlando environs south to U.S Highway 27 near Haines City in Polk County and north to State Road 472 near DeLand in Volusia County would cost nearly $2.2 billion. Right now, there is very little money for the "beyond the ultimate" proposal, meaning serious planning and design work, not to mention construction, could not begin until 2022, or a year after the current rehab work downtown is complete. […] The I-4 Ultimate, cranking up now, will add four toll lanes down the middle of the highway, as well as rebuild major bridges and interchanges from Kirkman Road in the south to State Road 434 in the north. The cost is $2.3 billion, with more than half of the money coming from the state and federal governments. A private consortium also is contributing cash and borrowed money. It will be repaid over 40 years from tolls. Mica said he wants to bring that same tolling concept to another 40 miles of the interstate, with 19 of those miles in Volusia and Seminole and 21 miles in Osceola and Polk. […] I-4 opened in 1965 and quickly became the spine of Central Florida's transportation network, linking to major highways such as State Road 408 and Florida's Turnpike. It now carries as many 200,000 cars and trucks each day through downtown Orlando, with nearly 60 percent of the traffic being daily commuters." From the Orlando Sentinel.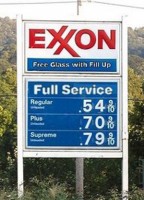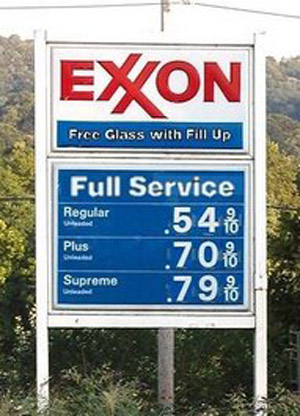 Gasoline prices will continue to rise in Florida: "Prices are likely to continue rising as the summer driving season nears and refineries switch to more expensive summer blends of gasoline, AAA said. But they should remain below $3 nationwide because of hefty oil production, especially from the U.S., the Energy Information Administration forecasts. […] Nationwide, gas prices now average more than $2.50 per gallon for the first time this year. South Florida prices typically top the U.S. average because of higher taxes. Prices started the week highest in Los Angeles at $3.30 per gallon, industry analyst Trilby Lundberg said Sunday. They were lowest in Tucson, Ariz., at $2.20 per gallon. The price for West Texas Intermediate, the benchmark U.S. oil price, reached it highest level in four months Thursday but dipped 1.02 percent to settle Friday at $57.15 per barrel. The EIA forecasts that oil prices will remain at the current range of $55 a barrel in 2015." From the Sun-Sentinel.
First Offshore Wind Farm In The U.S. Kicks Off Construction: "Construction on what will be the country's first offshore wind farm started Monday in Rhode Island. The wind farm, which is being developed by Deepwater Wind, will be located off of the coast of Block Island, a small island about 13 miles south of Rhode Island. Once completed, the five-turbine, 30-megawatt wind farm will produce enough energy to power all homes and businesses on Block Island, which previously relied on diesel generators, according to the Sierra Club. The wind farm will also send energy to mainland Rhode Island. It's expected to come online in fall 2016. Environmental groups, many of which have pushed for the project since it started going through hearings in 2013, applauded the start of construction. Bruce Nilles, senior campaign director for the Sierra Club's Beyond Coal Campaign, told ThinkProgress that the start of construction was a "landmark" moment for the U.S. wind industry, and that it "really makes real the promise offshore wind has" in the U.S., particularly on the East Coast." From Think Progress.

Road and Interstate Construction: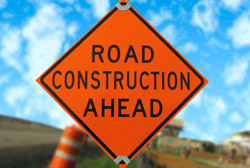 Palm Coast: Palm Coast Parkway between Cypress Point Parkway and Florida Park Drive. IMPACTS: Lane shifts and closures will occur and this may cause traffic congestion on this already busy roadway. Most construction work will occur between 9 p.m. and 7 a.m. though weather and unforeseen issues may adjust the schedules. This project will be complete by December 2015.
Flagler County: County Road 305 is now detour-free. 
Volusia: I-4 Widening from SR 44 to east of I-95, Monday and Friday, 7:00 a.m. – 5:00 p.m., Eastbound/Westbound shoulder closing. Sunday through Thursday, Eastbound and Westbound lane closures as needed from 8 p.m. to 6 a.m. Motorists should be aware of traffic shifts near Canal St./SR 44.
County Road 304 Project Map and Description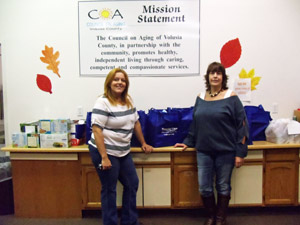 Council on Aging Celebrates National Older Americans Awareness Month: Throughout the month of May, in recognition and celebration of the National Older Americans Month and the 50th Anniversary of the Older Americans Act (OAA) which provides food for the elderly, COA has teamed up with AARP, FHCP, Humana, Ormond by the Sea Lions Club, and Walgreens in a food drive to benefit hungry seniors in Volusia County. "We are excited to be teaming up with these amazing partners this year to benefit our local seniors in need," said Sarah Gurtis, COA's CEO. "Our team has worked hard to establish these relationships and we are confident that our local residents will respond with generous enthusiasm as they have in the past, and the seniors in our community will receive the food they need." COA's goal is to feed 250 seniors in need. The food drive kicks off May 3rd and runs through May 9th. The community is invited to drop off a bag of canned goods at their neighborhood Walgreens locations throughout Volusia County during this time. Walgreens will also display a wish list of needed items throughout their stores. Fill your bag with donation items like canned fruit, ham, chicken or tuna, instant mashed potatoes, peanut butter in plastic jars, canned spaghetti sauce, packaged pasta or rice meals, soup, or sugar free cookies or desserts. All media is invited to the sort/pack day on Tuesday, May 12 at Noon to be held at the COA Administrative Offices located at 160 N Beach St., Daytona Beach, 32114. Location to office is from the parking lot at the rear of the building. Further details are available by visiting COA's Facebook page at and clicking on events, or by visiting www.coavolusia.org. They can also be reached via telephone at 386-253-4700, ext 250.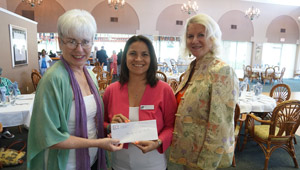 Palm Coast Yacht Club Donates $500 to Family Life Center: The Palm Coast Yacht Club's annual Fashion Show was held on Wednesday, April 15. More than 100 people attended the show featuring fashions from Macy's Department Store located at the Volusia Mall in Daytona. Proceeds from the event–$500–were donated to the Flagler Family Life Center. The Show was held at the Club in Palm Coast. Sharing master of ceremonies duties were Brenda Damiani of the Club and County Commissioner Nate McLaughlin. The Flagler Auditorium donated two free tickets for a special drawing for the Family Life Center. "We were thrilled to have such a large and enthusiastic crowd at the Show and even more proud that we were able to make a donation to the Family Life Center from the proceeds," Candyce Schmidt, commodore of the club, said. The Flagler County Family Life Center is a private, not-for-private social service organization providing no-cost services to individuals and families experiencing domestic or sexual violence. Models for the show were all members of the Club: Bob Bescher, Donella Crawford, Ken Damiani, Maurine Murphy, Mike Norris, Candyce Schmidt, Lloyd Smith, Linda Taillon, and Jack Wertz.
Students honored in annual DSC writing competition: Writing is alive and well at Daytona State College, evidenced by the number of winners at this year's Outstanding Student Writing Awards ceremony. Eighteen students were honored for their writing excellence on April 16 with dozens of college leadership, faculty and family members in attendance. The winning pieces were among more than 50 submitted for the annual competition, with categories ranging from poetry and short fiction to argumentative and narrative writing, general research and literary analysis. "This ceremony is an opportunity for the learning community at Daytona State to come together in celebration of the talents and success of our students and their faculty mentors," said Donna Mixon, chair of the Outstanding Writing Awards Committee. The writing competition was spearheaded four years ago by English Prof. Richard Vollaro. English Prof. Richard Kraskin, who was master of ceremonies for the event, said student writings were submitted to the awards committee judges by faculty. Names of the authors were removed prior to submittal. "We asked them to provide us with what they believed to be excellent examples of student work," he said, "whether it be something that was done for a class assignment or personal work the students have shared with their professor." Certificates were presented to the top three finishers in each category. First-place award winners also received a $25 tuition and book voucher from the DSC Foundation. Students had the opportunity to read their work to family, friends and faculty who attended the ceremony in the Hosseini Center on the Daytona Beach Campus. A book compiling the work of the competition's top entries will be available in the DSC library. Dr. Evan Rivers, chair of the School of Humanities and Communication, closed the ceremony by affirming the importance of writing and acknowledging the department's faculty. "Thank you to all of those English faculty who work day after day, week after week, to support, to cajole and to inspire our students to learn how to express themselves more effectively and to help develop their writing skills."
| | | | |
| --- | --- | --- | --- |
| Poetry | Student | Title | Submitting Professor |
| 1st Place | Ciara Prendergast | "Gullible Heartbreak" | Richard Vollaro |
| 2nd Place | Deborah Jones | "Silver Sharp" | Jill Clark |
| 3rd Place | Grady DiGiovanni | "Piece of Me" | Jill Clark |
| Narrative | | | |
| 1st Place | Sarah Dodge | "Iron Duckling" | Sally McGhee |
| 2nd Place | Valerie Nadeau | "Poor but Still Rich" | Richard Vollaro |
| 3rd Place | Glenda Parson | "Driving for Dummies" | Patricia Vetter |
| Literature Analysis | | | |
| 1st Place | Michael Said | "Mayberry to Ferguson" | Lynn Hawkins |
| 2nd Place | Phyllis Moten | "Reaping What You Sow!" | Judith Isakson |
| 3rd Place | Emily Linton | "Psych: A Case of Solving Our Detached World" | Harun Thomas |
| Argumentative | | | |
| 1st Place | Alexandria Fuller | "The Two Chairs through the Artist's Eyes" | Donna Mixon |
| 2nd Place | Donald Schmidt | "Disciplinary Reaction" | Richard Vollaro |
| 3rd Place | Sadie Cooke | "Virtual School: Close, but No Cigar" | Brian Lysholm |
| Research | | | |
| 1st Place | Mishelle Yelverton | "Happy Little Trees" | Richard Vollaro |
| 2nd Place | Anita Smith | "The Balance of Wildlife and Urban Development" | Richard Vollaro |
| 3rd Place | Emily Dias | "Obesity" | Judith Isakson |
| Short Fiction | | | |
| 1st Place | Deborah Jones | "9 to 5" | Jill Clark |
| 2nd Place | Kirsten Cooper | "Toothbrush" | Michelle Lee |
| 3rd Place | Sierra Bowles | "The Cabin in the Woods" | Jill Clark |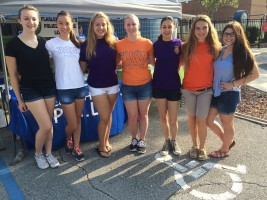 Matanzas High School's Leo Club members joined PAL and the Flagler County Sheriffs department on Saturday to support the Special Olympic Torch Run. The Torch Run is the largest fund-raising event with Special Olympics Florida and Law Enforcement Agencies. The funds are generated through the sale of the popular Torch Run T-shirts. Leo Club volunteers manned the registration booth and the sale of these festive T-shirts. They met many eager runners and active participants in all Special Olympic events. Their favorite part of the Torch Run was talking and getting to know the Special Olympic Athletes.

Volunteers needed for invasive plant removal at Betty Steflik Memorial Preserve, April 29: Bring a friend, bring a kid, bring gloves and a water bottle to Betty Steflik Memorial Preserve on April 29 to help rid it of invasive species like the Brazilian pepper trees along the entrance road. The entrance road will be closed from dawn to 1 p.m. as Land Management and Parks and Recreation staff, with the help of volunteers, remove the plants. Normal park access will be available after 1 p.m. "We appreciate the help," said Mike Lagasse, land manager. "Non-native plants are displacing the native plants." Flagler County has a dedicated group of volunteers who have worked at other preserves, like the River to Sea Preserve, protect the native ecosystem. Laura Ostapko is one of those volunteers and a member of "The Pepper Pickers," a group that started at Gamble Rogers and has recently expanded its scope of work. "We have a sign that says, 'Restoring paradise one tree at a time,' because that's what we are doing," Ostapko said. "It's very rewarding when you see what you have done." Betty Steflik Memorial Preserve is situated on 217 acres along the eastern side of the Intracoastal Waterway south of State Road 100. Those interested in volunteering are asked to contact Lagasse at 386-313-4064 or at [email protected].
Friday, Saturday and Sunday: "Committed," At City Repertory Theatre: Don't miss the Florida debut of "Committed," a musical Featuring 13 original songs penned by Flagler Palm Coast High School graduate Andrew David Sotomayor. Written by Tricia Brouk, "Committed" brings audiences inside the psych ward to find out what happens when life begins to fray at the edges, and how people hold themselves together. "Committed" is a dark and beautiful book musical about eight people working through the pain of their mental illnesses. Pain is pain. We all know it, we all feel it, we all relate to it. Sometimes it's difficult to talk about. "Committed" is a theatrical experience that brings awareness to mental illness and with compassion and humor, try to get past the suffering. The hope is to use art and entertainment to de-stigmatize mental illness and get people talking about it.An unforgettable show that you won't want to miss. Tickets are $25. Call the box office at 386/585-9415 or click here for immediate ticketing. Show times: April 30, May 1, 2, 8, 9 at 7:30 p.m., matinees May 3, 10 at 2 p.m.
Arbor Day 5K Root Run/Walk and Free Fun Run May 2 in Palm Coast's Town Center: Register now for the Arbor Day 5K Root Run/Walk, which starts at 8 a.m. May 2, followed by the Free Fun Run at 9 a.m. The run/walks will start and finish on Lake Avenue in Central Park at Town Center, 975 Central Ave. in Palm Coast. Awards will be given out at Central Park Main Stage after the race. This race will close out the 2014-2015 season in the Palm Coast Running Series. Register for the 5K Root Run/Walk at www.palmcoastgov.com/ArborDay. (Pre-registration is not required for the children's Fun Run.) Participants of the 5K Root Run/Walk are guaranteed a race T-shirt and goody bag if they register by April 24. Entry fees and pre-registration deadlines are as follows:
· $25 Online registration closes at 5 p.m. April 30 at www.palmcoastgov.com/ArborDay.
· $25 Mail-in registration closes April 24 (Mail-in registration is available through April 24. Mail registration form available online with check or money order made out to City of Palm Coast to: City of Palm Coast, c/o Arbor Day Race Pre-registration, Attn: Carol Mini, 160 Cypress Point Parkway Suite B106, Palm Coast, FL 32164.)
· $25 In-person registration closes May 1. Register in-person 8 a.m.-5 p.m. weekdays at the Palm Coast Community Center, 305 Palm Coast Parkway, NE. Checks, money orders, cash and credit cards accepted.
· $30 Race day entry fee – cash or checks only – at Central Park (along Lake Avenue).
· Veterans with military ID receive free entry
Packet Pick Up will be held at the Community Center from 8 a.m. to 6 p.m. May 1, or at 7 a.m. on race day at Central Park (on Lake Avenue). Prizes will be awarded to the overall male and female runners, as well as the top three men and women in 15 age groups. The race will be chip-timed. Children participating in the Fun Run will receive a ribbon. A ceremony honoring the overall winners for the Palm Coast Running Series will immediately follow the 5K Root Run awards. After the races, enjoy the free Arbor Day celebration from 9 a.m. to 2 p.m. at Central Park. Bring canned food or pet food items and exchange them for a three-gallon native hardwood tree (while supplies last). Feed a Mouth, Get a Tree, Grow a Community is the theme. The event will also feature a butterfly tent, zoo exhibits, green vendors, a fire prevention activity, entertainment and kite flying/building. The popular Native Butterfly release is set for 11 a.m. Complete details are available here. For more information, contact City of Palm Coast Urban Forester Carol Mini at 386-986-3722.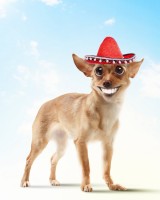 Calling All Chiuhuahuas:  The City of Daytona Beach's Cultural Services Division is looking for 200 Chihuahuas in full costume to help set a Guinness World Record as part of Chihuahua De Mayo. This fun-filled, family event will take place at the world's most famous bandshell May 2nd from 12 noon to 4 p.m. Chihuahua owners need to bring a copy of the pedigree registration or a birth certificate to verify that their dog(s) are pure breed, so they can take part in this record attempt.
Registration….12:00 – 1:30 p.m.
Guinness Book of World Records Attempt for most Chihuahuas in costumed attire (minimum 2 piece costume)….2:00 p.m.
Bandshell to Boardwalk Parade After Record Attempt
Parade Prizes – King & Queen Chihuahua Winners, Best Costume, Best Temperament, Best Hat, Best Duo, and Best Trio
1:00 – 3:30 p.m. – Mariachi Band – "Charros De Mexico" from Orlando
Mexican Hat Dance Off – Pinatas – Candy
Pet Rescue – Food – Vendors (vending space available)
$5 Admission Fee – a portion of the proceeds will go to benefit the Halifax & Flagler Humane Societies and the Arnie Foundation
Come watch these Chihuahuas strut their stuff for the cutest Cinco De Mayo costume parade and enjoy an afternoon filled with a variety of things to do for the entire family.


Blood donations are urgently needed. Patients in our local hospitals are in need of blood transfusions, and the need for blood does not take a holiday. That's why OneBlood is asking people to donate immediately.
Big Red Bus schedule in Flagler-Palm Coast:
Tuesday April 28th 11:00AM – 3:00PM Knights of Columbus Council 7845, 51 Old Kings Road North, Palm Coast
Wednesday April 29th 1:00PM – 5:30PM CVS Pharmacy, 1 Old Kings Road South, Palm Coast