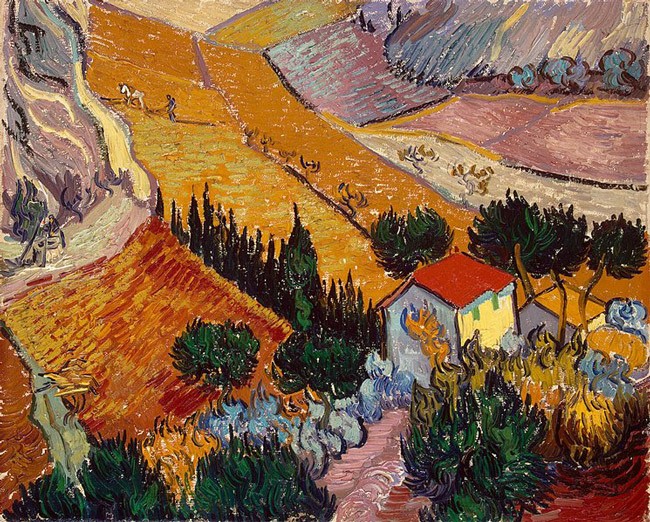 Today's weather: calmer, sunnier, high of 82, low of 65, a bit warmer and thunder-prone Saturday and Sunday. Details here.
Today's fire danger is Moderate. Flagler County's Drought Index is at 172
The weather in Agrigento, Sicily: High of 68, low of 52. Details.
The OED's Word of the Day: rurbanization, n..
The Live Community Calendar
Today's jail bookings.
Today's Briefing: Quick Links

Note: all government meetings noticed below are free and open to the public unless otherwise indicated.

The Flagler County School Board has a full slate of meetings today, starting with a 9 a.m. workshop (as opposed to the more usual 4 or 5 p.m. start time). Discussion will focus on standardizing school administrators' pay and applying a "step" plan that would automatically raise an administrator's pay according to years of service, educational attainment and position. The base pay for administrators would start at $65,000 and top off at $86,590, not including several potential pay enhancements. See the salary matrix here. The board will also discuss a contract with Career Source of Flagler-Volusia during the workshop. The board's business meeting is scheduled for 10 a.m. The board will be asked to approve spending $20,000 to underwrite the costs of 13 Flagler Palm Coast High School students, two teachers and one adult chaperone attending the International Future Problem Solving Conference June 10-15, 2015 in Ames, Iowa. Other schools are sending students as well, but fund-raising is underwriting those costs. The board is also expected to approve its District Strategic Plan for the next five years, which is available here. The board will meet again at 1 p.m. to discuss Phoenix Academy and its strategic plan. All meetings to be held at the Government Services Building's board chambers, starting at 9 a.m.
Senior Scholarship Awards for Matanzas and Flagler Palm Coast High School seniors, at the Flagler Auditorium this evening.

The Palm Coast City Council holds a business meeting at the Community Center starting at 9 a.m. Council members will consider approving, on first reading, changing the name of Seminole Woods Parkway to Seminole Woods Boulevard, among numerous prosaic matters. The full agenda is available here.

The River To Sea Transportation Planning Organization's Citizens Advisory Committee and Technical Coordinating Committee, which include representation from Flagler, meet today in the River to Sea TPO Conference Room, 2570 W. International Speedway Blvd., Suite 100, Daytona Beach. Note: The Citrizens Advisory Committee meets at 1:30 p.m., the Technical Coordinating Committee meets at 3 p.m. The full agenda and background material is here.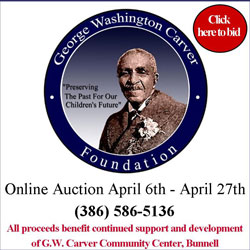 Online Auction for George Washington Carver Foundation: The annual auction, raising money for the Carver Center in Bunnell, is on through April 27. Make your bids here. The auction is the primary fundraising event for the Carver Center. In the past, money raised has been used for big-ticket items like ceiling insulation, furniture for the library, a scoreboard, bleachers, as well as money for scholarships and summer camp. "At this point, we are gearing up to assist the county with an addition to the center," said Flagler County Commissioner Barbara Revels. "Flagler County is applying for a community development block grant to build additional classrooms and meeting space. If that happens, we'd like to be ready to help with what we can to furnish it." Revels is a member of the George Washington Foundation and was part of a team instrumental in bringing the center up to sustainable level, saving the center from an uncertain fate. The Carver Center is a recreational facility that also offers tutoring, after school study, internet access and also serves the community with GED classes, employment counseling and other services. On April 20, Revels wrote: "I am reaching out to each of you as a reminder the G. W. Carver Center Auction will close at 7:00 p.m. Next Monday night the 27th. There is something for everyone to bid on. I want to thank those of you that have donated items and may have already bid. Please take the time to go to: http://gwcarvercenter.com/auction/auction/ and place your bid on one or more great items. I know I am tracking quite a few I want. Please help up make this year's event the most successful yet. Remember all funds go to our Foundation that is a tax exempt charitable organization and NOTHING goes to administration or salaries. All funds go to the direct support of programs, equipment, supplies, scholarships or other needs of the Community Center's patrons."
Flagler Chamber of Commerce Boot Camp, another two-hour session tonight starting at 6 p.m. at the Flagler County Chamber of Commerce conference room in Palm Coast.
The Bunnell Planning and Zoning Board meeting scheduled for this evening was cancelled.
The Inspired Mic: The cultural evening, open to all who dare take to the mic, is held at Leroy's 19th Hole on Easthampton Boulevard tonight from 6:30 to 9:30 p.m. Details here.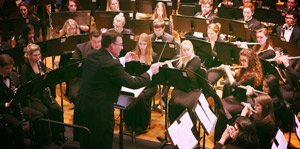 Handel's Messiah: Stetson University's Choral Union, Concert Choir, Women's Chorale, Stetson Men and Orchestra, under the direction of Timothy Peter: A combined chorus, student soloists, and orchestra totaling 250 musicians will present this sacred oratorio, which has a long performance tradition at Stetson University. Ensembles involved include the Choral Union, Stetson Men, Women's Chorale, Concert Choir, and Chamber Orchestra with additional winds and brass. Handel's Messiah was first performed in Dublin in April of 1742 and received its London premiere nearly a year later. After an initially modest public reception, the oratorio gained in popularity, eventually becoming one of the best-known and most beloved choral works in Western music. 7:30p.m., First Baptist Church, 725 North Woodland Boulevard, DeLand.

Circuit Judge Michael Orfinger's docket is all about case management today. County Judge Melissa Moore-Stens hears probation violation arraignments and pre-trail hearings at 1 p.m. (Courtroom 404).

Note: Most proceedings below can be followed live on the Florida Channel.

Health care: The Senate Appropriations Committee will hold a day-long meeting that will include a workshop on critical health-care issues. The Senate has proposed a plan that would use $2.8 billion in federal money to expand health coverage to about 800,000 low-income Floridians, but the House and Gov. Rick Scott oppose it. Also, the Senate plan involves an extension of a major health-funding program known as the Low Income Pool, which is scheduled to expire June 30. Also during the meeting, the committee will take up issues such as a bill (SB 918), filed by Sen. Charlie Dean, R-Inverness, that would increase protections for the state's natural springs. Among numerous other bills, the committee will consider a proposal (SB 1248), filed by Sen. Kelli Stargel, R-Lakeland, that would revamp the state's alimony laws. (10 a.m.)
Abortion: The House will hold a floor session and could take up dozens of bills, including a controversial proposal (HB 633), filed by Rep. Jennifer Sullivan, R-Mount Dora, that would require a 24-hour waiting period before women could have abortions. Among other bills on the House agenda is a measure (HB 4017), filed by Rep. Ross Spano, R-Dover, that would keep in place regulations on pain-management clinics. The regulations, which were approved to crack down on "pill mills," are set to expire Jan. 1 unless lawmakers act. (11 a.m.)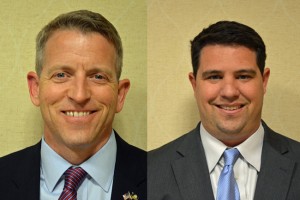 Special election: Voters in Hillsborough and Pinellas counties go to the polls in a special election in state House District 64. Former Rep. James Grant, R-Tampa, is seeking to return to the House and faces opposition from write-in candidate Daniel Matthews. Grant appeared to have won re-election in November, but the House declined to seat him because of a legal battle about whether the write-in was eligible to be a candidate. That necessitated holding the special election. The state Elections Canvassing Commission will meet to certify the results of April 7 special elections in Senate District 6, House District 17 and House District 24. Elkton Republican Travis Hutson won the race in Senate District 6, which includes St. Johns, Flagler and Putnam counties and part of Volusia County. St. Johns Republican Cyndi Stevenson won in House District 17, which includes the northern part of St. Johns County. Palm Coast Republican Paul Renner won in House District 24, which includes Flagler County and parts of St. Johns and Volusia counties.
–Compiled by the News Service of Florida

Boston Marathon bomber jury reconvenes today.
Google today adds "mobile-friendliness" to its search tools.
Trial for 93-year-old Auschwitz guard opens today: Seven decades after the liberation of Auschwitz, a 93-year-old former SS guard at the Nazi death camp shuffled into a German court on Tuesday to answer charges of complicity in the murder of 300,000 mostly Hungarian Jews in two months in the summer of 1944. With Holocaust survivors watching in the stark courtroom, Oskar Gröning read a terrifying but startlingly clear account of his life, focusing on the autumns of 1942 and 1944, when he served in the SS at Auschwitz-Birkenau." Details from The Times.

Man died of spinal injury after being arrested by Baltimore police "City officials suspended six police officers Monday as they investigate the death of a 25-year-old man who suffered a severe spinal cord injury while in police custody. Freddie Gray had been hospitalized since his April 12 arrest and, according to his attorney, was in a coma when he died Sunday. On Monday, the mayor and police commissioner publicly pleaded for calm and promised a full accounting — an effort to keep Baltimore from becoming the latest flash point in disintegrating relations between police and communities across the country. […] Officials also were unable to answer other key questions, such as whether Gray was given prompt medical attention and whether he had done anything illegal or suspicious to justify officers detaining him in Gilmor Homes, a cluster of red-brick public housing on Baltimore's west side. Also left unexplained is a video from a bystander showing two officers dragging what appears to be a limp suspect to a police van. […] Gray's death thrust Baltimore into the national spotlight as the latest city facing protests over police conduct and allegations of excessive force. Since last year's outrage over the fatal shooting by police of an unarmed teen in Ferguson, Mo., similar tensions have erupted in Cleveland, where an officer shot and killed a 12-year-old boy who was holding a toy gun; on Staten Island, where a street hawker died while being restrained by officers; and in North Charleston, S.C., where a video showed an officer shooting a fleeing, apparently unarmed man in the back, killing him." From the Washington Post.
New Genetic Tests for Breast Cancer Hold Promise: "A Silicon Valley start-up with some big-name backers is threatening to upend genetic screening for breast and ovarian cancer by offering a test on a sample of saliva that is so inexpensive that most women could get it. At the same time, the nation's two largest clinical laboratories, Quest Diagnostics and LabCorp, normally bitter rivals, are joining with French researchers to pool their data to better interpret mutations in the two main breast cancer risk genes, known as BRCA1 and BRCA2. Other companies and laboratories are being invited to join the effort, called BRCA Share. The announcements being made on Tuesday, although coincidental in their timing, speak to the surge in competition in genetic risk screening for cancer since 2013, when the Supreme Court invalidated the gene patents that gave Myriad Genetics a monopoly on BRCA testing." From The Times.
Google's Mobile Friendliness: "Many businesses around the world could wake up on Tuesday to discover their search ranking has been downgraded. After a monthslong warning period, Google will add "mobile friendliness" to the 200 or so factors it uses to list websites on its search engine. As a result, websites that don't meet Google's criteria will tumble in its all-important rankings. Google has made several big changes. Companies will be docked for shortcomings like displaying links that are hard to click or forcing users to scroll horizontally on a lopsided site. In addition, the company recently announced that in certain cases it would also use information contained within apps as a ranking factor for mobile searches performed on phones that run its Android software. "Since mobile search results are about half of what Google handles, anyone might be at risk," said Danny Sullivan, the founder of Search Engine Land, which closely tracks changes to Google's search engine. The shift to mobile devices has been a challenge for all businesses, Google included. In the space of a few years, phones have become the dominant portal through which people use the Internet. The United States had 134 million mobile users last year, about 100 million more than in 2010, according to eMarketer, a research company." From The Times.

Road and Interstate Construction: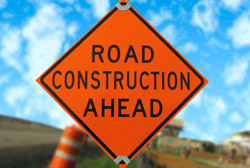 Palm Coast: Palm Coast Parkway between Cypress Point Parkway and Florida Park Drive. IMPACTS: Lane shifts and closures will occur and this may cause traffic congestion on this already busy roadway. Most construction work will occur between 9 p.m. and 7 a.m. though weather and unforeseen issues may adjust the schedules. This project will be complete by December 2015.
Flagler County: County Road 305 between CR 2006 and Tangerine. IMPACTS: Closure in force 3/17/2015 for the 2nd box culvert replacement. Detours detour via CR 110 to CR 95 to CR 2006. Truck Detour via Bunnell (SR 100 – SR 11)
Volusia: I-4 Widening from SR 44 to east of I-95, Monday and Friday, 7:00 a.m. – 5:00 p.m., Eastbound/Westbound shoulder closing. Sunday through Thursday, Eastbound and Westbound lane closures as needed from 8 p.m. to 6 a.m. Motorists should be aware of traffic shifts near Canal St./SR 44.
County Road 304 Project Map and Description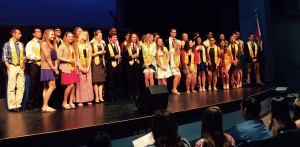 Matanzas High School National Honors Society Initiation: The National Honors Society (NHS) is the nation's most prestigious organization to recognize outstanding high school students. National Honors Society is not just honor roll based, NHS serves to honor those students who have demonstrated excellence in the areas of scholarship, leadership, service and character. These pillars of National Honors Society have been associated with membership in the organization since its beginning in 1921. Matanzas High School National Honors Society would like to congratulate the 2015 new inductees: Veronica Arrascue, Michaela Benvenuto, Kylie Dahlberg, Brendan DiCerbo, Adrian Dos Santos, Allayna Duffy, Megan Dukes, Edgardo Gonzales, Kobi Kane, Ashton Kato, Elizabeth Kirkconnell, Andrew Klopman, Simon Krassner, Nicholas Kubiet, Micayla Lavaglio, Bryan Lemus, Kaylee Mandt, Bianca Robinson, Storm Schalit, Abiel Souverain, Erin Tice, Payton Tucker, Jailyn Van Horn, Max Wolf and Shana Wolf.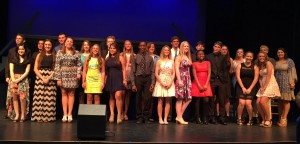 Concluding the Induction Ceremony the Society recognized each 2015 senior with their graduation stole and NHS tassel. In order to receive their stole each senior needed to be in good standing, with their dues paid and all mouthy volunteer hours submitted. We are so proud of our seniors for their contribution to the Matanzas High School National Honors Society. With heavy hearts and hopeful thoughts we present the NHS Class of 2015: Fernando Arrascue, Mikayla Bazell, Daniel Cerdeira, Nicole Corder, Alexia Denton, Jonathan Guilbe, Alexis Haines, Partick Hile, Kristen Hutson, Nicholas Jahn, Gracen Kent, Zack Klopman, Monica Lao, Michael Manning, Jarlene Peralta, Bailey Pickering, Nicholas Robinson, Thomas Rocco, Ian Pingshaw, Juan Salcedo, Lindsay Sanchez, Ashley Savage, Angelo Schibeci, Stefano Schibeci, Alivia Shelby, Mikayla Short, Morgan Stinchcomb, James Stup, Jeremy Tuggle, Nicholas Weber, Allie Wisniewski and this year's Club President Brianna Evans, Secretary Jonette Gonzalez and Historian Brooklyn Jimeson. (Contributed by Susanna van de Graaf 2015-2016 NHS Historian).)
Sheriff's Office Marks National Public Safety Telecommunicator Week: The Flagler County Sheriff's Office Communications Center celebrated National Public Safety Telecommunicator Week April 12-18. The week is designated as a time to recognize all public safety men and women who respond to emergency calls and dispatch emergency professionals during times of crisis. It is a time to show gratitude to 9-1-1 call takers, dispatchers, technicians that maintain radio and emergency phone systems, communications staff trainers, communication center personnel and other public safety telecommunications staff who help during emergencies. "For one week each year we take time to celebrate the public safety Communications Specialists who are our unsung heroes and true first responders that are on the other side of 911 and the radios used by our public safety personnel," said Kelley Eisen, FCSO Communications Manager. The Flagler County Commission, Town of Beverly Beach, City of Flagler Beach, City of Bunnell and City of Palm Coast presented the communications center with a proclamation acknowledging NPSTW. "Our Communications Specialists serve the community and are the life line to the person on the other end of the phone," said Sheriff Jim Manfre. "They work 24 hours a day, seven days a week and are always there when called upon." Throughout the week, communications specialists were able to bring their families to work, participated in cook-outs, and had themed dress down days, such as tropical day, crazy hat day, and sports team day.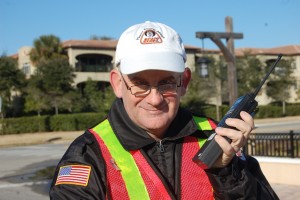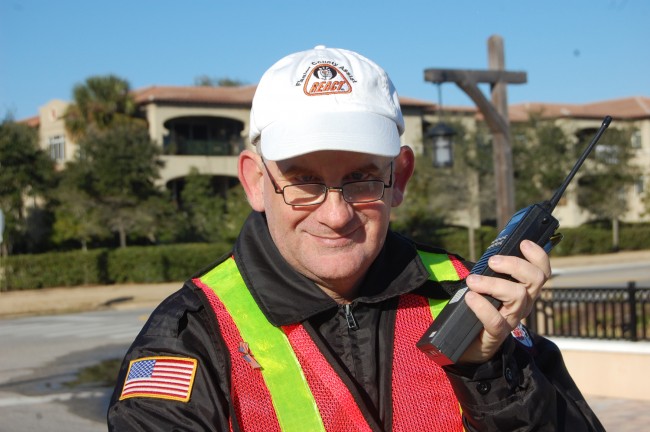 April 22: Skywarn Storm Spotter Program Class: This class is also great for first responders, dispatchers, anyone who works outside, school staff, coaches, etc. Meteorologists aren't the only ones who can recognize potentially disastrous weather. After participating in a free nationally acclaimed weather class hosted by the National Weather Service and Flagler County Emergency Services, anyone can become a trained storm spotter. The Skywarn Storm Spotter Program recruits volunteers to help protect people and property during tornados or severe thunderstorms. There are already over 1,000 storm spotters in Flagler County. "Skywarn is essential to the National Weather Service as weather radars cannot see everything," said Bob Pickering, Flagler County Emergency Management Technician. "Spotters play a key role not only in advanced warnings, but also storm verification." During a class taught by Ben Nelson, a National Weather Service meteorologist in Jacksonville, participants will learn to recognize signs of impending dangerous weather and how to report perilous conditions so warnings can be issued faster. The class will take place on Wednesday, April 22, from 6 to 9 p.m. at the Flagler County Emergency Operations Center, 1769 East Moody Blvd., Bunnell. To sign up for the class, please call Pickering at 386-313-4250 or send an email to: [email protected].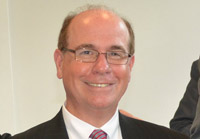 April 23: Sheriff Jim Manfre will be the guest speaker for the Flagler County Chamber upcoming Eggs & Issues breakfast at 8 a.m. at the Grand Haven Golf Club, 500 Riverfront Drive in Palm Coast. The chamber hosts Eggs & Issues breakfasts five times a year to bring local and business-related issues and topics to light. Guest speakers include elected officials, thought leaders and high profile executives/business professionals. Cost to attend is $15 with advance payment for members or $20 at the door. Future members pay $20 with advance reservations or $25 the day of the event. Seating is limited; reservations are requested by Friday, April 17 at 5 PM.
Flagler County Job Fair on April 24: A limited number of spaces are still open for businesses interested in reserving a free booth at the second annual Flagler County Job Fair. The event will take place on Friday, April 24, from 12 p.m. to 6 p.m. at the Palm Coast Campus of Daytona State College, 3000 Palm Coast Pkwy SE, Building 3. Last year nearly 400 jobseekers attended the inaugural fair, which was hosted by the Flagler County Department of Economic Opportunity and CareerSource Flagler Volusia. This year Daytona State College and the Flagler County Chamber of Commerce joined the effort to positively impact Flagler County's economic vitality. Among the businesses that have already registered are CoastalCloud, Edwards Jones Financial Service, Beutlich Pharmaceuticals and Target. A complete list of attending companies is available here. Businesses wishing to secure a place at the fair and job seekers interested in registering for preparation workshops should visit the job fair website. For additional information about the fair, please contact Casey Scott at 386-313-4098 or by email here.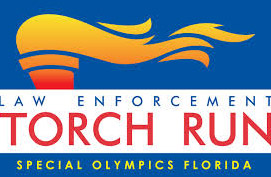 April 25: Law Enforcement Torch Run For Special Olympics: The torch run is the largest annual public relations and fund-raising event amongst Special Olympics Florida and law enforcement agencies. Local Flagler County agencies are getting their sneakers laced up for the event on Saturday, April 25. The run will start promptly at 10 a.m. in the front parking area of 5400 East Highway 100 next to Flagler Palm Coast High School. Registration is $12 and each runner will receive a Law Enforcement Torch Run t-shirt. In addition to the torch run, the City of Palm Coast, Frank Celico Foundation and the Bike Doctor are hosting their annual Family Bike Rodeo which promises to enhance your family's bicycle riding experience and safety. Children can participate in a bike safety course and have an opportunity to win a brand new bike helmet. There will be bike clinics, safety checks and a skills obstacle course. The Run/Walk/Ride will be escorted by the Flagler County Sheriff's Office as runners carry the torch, also known as the "Flame of Hope," westbound on State Road 100 to northbound Belle Terre Parkway and proceed to the Town Center Publix Shopping Plaza. There will be a break area in front of Mezzaluna Pizzeria before heading back out to Belle Terre Parkway southbound to the Target Plaza with another break area proudly sponsored by Hibbett Sports. The final leg will travel back to the start line were there will be pizza from Mezzaluna Pizzeria. "Year after year, the Flagler County Sheriff's Office supports this important event and continues to raise money and awareness for a good cause," said Sheriff Jim Manfre. This is a family event and there will be vendors and activities for children even if you do not run/walk. All activities will last until 1 p.m., so come on out and enjoy the Bounce House by Jump for Joy, Balloon Art by Bruce Bryant, and Face Painting by Doreen Lazzano. For more information, please call 386-586-2655.
Matanzas Inlet Beach Clean-up: In celebration of Earth Day, Fort Matanzas National Monument is hosting a beach clean-up on Saturday, April 25, from 9am to 12pm. Join us in removing not only man-made trash but invasive plant life. The event will begin with a safety briefing and an introduction to the park at the ocean-side parking lot on the east side of A1A, just north of the Inlet bridge. Trash bags, gloves, and water will be provided. Please bring sunscreen, appropriate beach wear (including a hat), and your own reusable water bottle. If you would like to participate, please call 904-829-6506 ext. 233 or email [email protected] by April 23.
Matanzas Woods Interchange Construction Public Meeting: The Flagler County Engineering Department will host a public meeting to inform residents of the planned beginning of construction of the Matanzas Woods Parkway Interchange Project at I-95 and the future Old Kings Road Extension project. The interchange project is a long planned project providing interstate access to residents in the northern part of Flagler County and is slated to start this summer. This project will require the temporary closure of Matanzas Woods Parkway during the 2015 summer months when school is out of session. The future Old Kings Road Extension project will provide a direct route for commuters to the Matanzas interchange at I-95 and minimize traffic impacts to Matanzas High School. The Old Kings Road Extension project is slated to begin construction later this year. The meeting will be from 6 p.m. to 8 p.m. Tuesday, April 28th at the Palm Coast Community Center, 305 Palm Coast Parkway NE, Palm Coast, Florida 32137. The residents of the area and the public are invited to attend this informational meeting. For more information call 386-313-4039.
Volunteers needed for invasive plant removal at Betty Steflik Memorial Preserve, April 29: Bring a friend, bring a kid, bring gloves and a water bottle to Betty Steflik Memorial Preserve on April 29 to help rid it of invasive species like the Brazilian pepper trees along the entrance road. The entrance road will be closed from dawn to 1 p.m. as Land Management and Parks and Recreation staff, with the help of volunteers, remove the plants. Normal park access will be available after 1 p.m. "We appreciate the help," said Mike Lagasse, land manager. "Non-native plants are displacing the native plants." Flagler County has a dedicated group of volunteers who have worked at other preserves, like the River to Sea Preserve, protect the native ecosystem. Laura Ostapko is one of those volunteers and a member of "The Pepper Pickers," a group that started at Gamble Rogers and has recently expanded its scope of work. "We have a sign that says, 'Restoring paradise one tree at a time,' because that's what we are doing," Ostapko said. "It's very rewarding when you see what you have done." Betty Steflik Memorial Preserve is situated on 217 acres along the eastern side of the Intracoastal Waterway south of State Road 100. Those interested in volunteering are asked to contact Lagasse at 386-313-4064 or at [email protected].
Arbor Day 5K Root Run/Walk and Free Fun Run May 2 in Palm Coast's Town Center: Register now for the Arbor Day 5K Root Run/Walk, which starts at 8 a.m. May 2, followed by the Free Fun Run at 9 a.m. The run/walks will start and finish on Lake Avenue in Central Park at Town Center, 975 Central Ave. in Palm Coast. Awards will be given out at Central Park Main Stage after the race. This race will close out the 2014-2015 season in the Palm Coast Running Series. Register for the 5K Root Run/Walk at www.palmcoastgov.com/ArborDay. (Pre-registration is not required for the children's Fun Run.) Participants of the 5K Root Run/Walk are guaranteed a race T-shirt and goody bag if they register by April 24. Entry fees and pre-registration deadlines are as follows:
· $25 Online registration closes at 5 p.m. April 30 at www.palmcoastgov.com/ArborDay.
· $25 Mail-in registration closes April 24 (Mail-in registration is available through April 24. Mail registration form available online with check or money order made out to City of Palm Coast to: City of Palm Coast, c/o Arbor Day Race Pre-registration, Attn: Carol Mini, 160 Cypress Point Parkway Suite B106, Palm Coast, FL 32164.)
· $25 In-person registration closes May 1. Register in-person 8 a.m.-5 p.m. weekdays at the Palm Coast Community Center, 305 Palm Coast Parkway, NE. Checks, money orders, cash and credit cards accepted.
· $30 Race day entry fee – cash or checks only – at Central Park (along Lake Avenue).
· Veterans with military ID receive free entry
Packet Pick Up will be held at the Community Center from 8 a.m. to 6 p.m. May 1, or at 7 a.m. on race day at Central Park (on Lake Avenue). Prizes will be awarded to the overall male and female runners, as well as the top three men and women in 15 age groups. The race will be chip-timed. Children participating in the Fun Run will receive a ribbon. A ceremony honoring the overall winners for the Palm Coast Running Series will immediately follow the 5K Root Run awards. After the races, enjoy the free Arbor Day celebration from 9 a.m. to 2 p.m. at Central Park. Bring canned food or pet food items and exchange them for a three-gallon native hardwood tree (while supplies last). Feed a Mouth, Get a Tree, Grow a Community is the theme. The event will also feature a butterfly tent, zoo exhibits, green vendors, a fire prevention activity, entertainment and kite flying/building. The popular Native Butterfly release is set for 11 a.m. Complete details are available here. For more information, contact City of Palm Coast Urban Forester Carol Mini at 386-986-3722.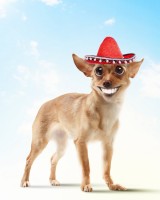 Calling All Chiuhuahuas:  The City of Daytona Beach's Cultural Services Division is looking for 200 Chihuahuas in full costume to help set a Guinness World Record as part of Chihuahua De Mayo. This fun-filled, family event will take place at the world's most famous bandshell May 2nd from 12 noon to 4 p.m. Chihuahua owners need to bring a copy of the pedigree registration or a birth certificate to verify that their dog(s) are pure breed, so they can take part in this record attempt.
Registration….12:00 – 1:30 p.m.
Guinness Book of World Records Attempt for most Chihuahuas in costumed attire (minimum 2 piece costume)….2:00 p.m.
Bandshell to Boardwalk Parade After Record Attempt
Parade Prizes – King & Queen Chihuahua Winners, Best Costume, Best Temperament, Best Hat, Best Duo, and Best Trio
1:00 – 3:30 p.m. – Mariachi Band – "Charros De Mexico" from Orlando
Mexican Hat Dance Off – Pinatas – Candy
Pet Rescue – Food – Vendors (vending space available)
$5 Admission Fee – a portion of the proceeds will go to benefit the Halifax & Flagler Humane Societies and the Arnie Foundation
Come watch these Chihuahuas strut their stuff for the cutest Cinco De Mayo costume parade and enjoy an afternoon filled with a variety of things to do for the entire family.


Blood donations are urgently needed. Patients in our local hospitals are in need of blood transfusions, and the need for blood does not take a holiday. That's why OneBlood is asking people to donate immediately.
Big Red Bus schedule in Flagler-Palm Coast:
Monday April 20th & Tuesday April 21st 9:00AM -2:00PM Daytona State College- Flagler/Palm Coast Campus, 3000 Palm Coast Parkway, Palm Coast
Saturday April 25th 1:00PM – 6:00PM Epic Theatre, 1185 Central Ave, Palm Coast
Monday April 27th 11:30AM – 4:00PM Flagler County Public Library, 2500 Palm Coast Parkway
Tuesday April 28th 11:00AM – 3:00PM Knights of Columbus Council 7845, 51 Old Kings Road North, Palm Coast
Wednesday April 29th 1:00PM – 5:30PM CVS Pharmacy, 1 Old Kings Road South, Palm Coast