Today's Live Wire: Quick Links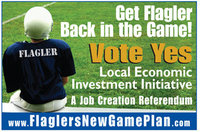 Talk about Enterprise Flagler's right hand not knowing what its left hand is doing: On Friday the public-private board voted to quit its drive for a higher property tax to drum up cash to drum up buildings to drum maybe up businesses that could possibly drum up jobs that might add up to a drumroll or two. But its Facebook page continued to beat the old drum as if nothing had happened. ("Modern companies need modern buildings. See how the initiative will address this issue at the Flagler's New Game Plan website," went one posting Saturday. And Sunday: "The Plan is divided into three areas of concern…" Concern is right: poor planning, poor planning, and poor planning. So much for the private sector taking on a public initiative and making it work.
Enterprise Flagler is scheduled to make an appearance before the Flagler County Commission this morning shortly after the morning ceremonials at 9. On the agenda, it reads like this: "Enterprise Flagler Presentation," as if it were one of those feel-good spotlights that so often begin those meetings. It's nothing of the sort: Enterprise Flagler is here to ask the commission to pull the tax referendum from the ballot. That is, to ask the commission to save Enterprise Flagler further embarrassment and ask the supervisor of elections to ask voters for their indulgence: the vote won't count.
Curiously, Enterprise Flagler is going first, before all other presentations and proclamations, including a presentation from Wayne Riley, the president of Lutheran Social Services of Northeast Florida, and Thomas Mantz, chief of Second Harvest Food Bank of North Florida, who are going to tell the commission about the nearly $10 million a year Flagler County residents in need are unfortunately foregoing in food stamps. That's $10 million that could be spent here to feed an increasingly large population of people living below the poverty line. That's another story, and a necessary one that must be told. Those gentlemen will be followed by a presentation on health planning in the region. What's curious is that Enterprise Flagler would be listed first in that brief list. Why? Why shouldn't its representatives go after those two presentations (assuming the group will send more than one or two lambs to the commission's altar: don't expect to see the usual chamber-of-commerce hangers on, who latched on to this thing in its early days then dropped it like a skank when it soured) and hear something of the reality on the ground that it missed entirely?
An agenda's hierarchy, like its content, is never innocent. It tells you plenty of what you need to know about how even the county administration sees things here. Who's first. Who can wait. It's not only Enterprise Flagler's priorities that need to change.
See Also:

To Sink or Scott: Claims and Counterclaims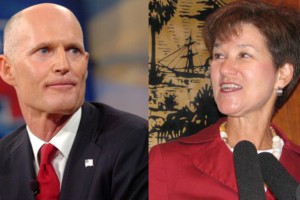 Gubernatorial candidates Alex Sink and Rick Scott are facing all sorts of attacks, and attacking each other, over their record–she as a former bank president, he as a former CEO of the gulag of hospital chains known as Columbia/HCA, both in the 1990s. "Under Scott's tenure, Columbia cut more than 5,000 jobs at hospitals nationwide, according to state statistics and a review of news reports on the company's business practices," the Sentinel reported. "Columbia snapped up hospitals from Miami to San Jose. Job losses followed in many markets it entered." Sink meanwhile was head of the Florida division of NationsBank when, in 1997, the bank announced a 6,000-job cut after its merger with Barnett Bank.
"The strikingly similar job-loss numbers underscore how much the two have in common," the St. Pete Times writes, "even as they play up their differences in the campaign to lead a state where 1 million people can't find work and 1 in every 155 houses is in foreclosure."
But the St. Pete Times goes a step further to analyze the substantial differences between the two type of job losses Scott and Sink brought about: "When Sink left the company, she had earned $8.8 million in the last three years, a combination of her salary and cashing in 26 years of accumulated stock options, pension and deferred compensation, but it was not a bonus or tied to the job losses. […]
Scott, though, benefited financially from the Columbia/HCA job cuts because it helped boost the company's stock, which was a darling on Wall Street until the federal government launched a FBI probe that led to Scott's ouster and a record $1.7 billion Medicare fraud fine. That happened in 1997, the same year as the bank merger under Sink."
Here's a round-up of related articles:

Space-Age Layoffs Begin Today in Florida
From Florida Today: "The waiting ends today for about 1,100 shuttle program workers who will say farewell to careers that for some spanned two decades or more. Some will be entering a competitive job market in a county where unemployment is nearly 12 percent. […] United Space Alliance, the main shuttle contractor, will lay off about 900 workers, including at least 155 engineers, 223 technicians and 87 inspectors — some 17 percent of its workforce at Kennedy Space Center. Another 200 shuttle workers are expected to lose their jobs at seven companies, including Spherion Staffing, Boeing and Wiltech Corp. of Florida, which provides cleaning services. […] Late Wednesday, the House approved policy legislation that would add a third shuttle flight and pump money into the commercial space sector. It already passed in the Senate and now goes to President Barack Obama for his signature." The full story.

Your Elections for Sale, Thanks to the Supreme Court
If you had any doubt that the U.S. Supreme Court decision lifting limits on corporate political contributions, and on secret contributions, wasn't going to wreck the system in favor of the moneyed and the shady, here's a little more evidence. From the Post: "The $80 million spent so far by groups outside the Democratic and Republican parties dwarfs the $16 million spent at this point for the 2006 midterms. In that election, the vast majority of money – more than 90 percent – was disclosed along with donors' identities. This year, that figure has fallen to less than half of the total, according to data analyzed by The Washington Post. The trends amount to a spending frenzy conducted largely in the shadows.
"The bulk of the money is being spent by conservatives, who have swamped their Democratic-aligned competition by 7 to 1 in recent weeks. The wave of spending is made possible in part by a series of Supreme Court rulings unleashing the ability of corporations and interest groups to spend money on politics. Conservative operatives also say they are riding the support of donors upset with Democratic policies they perceive as anti-business. […] 'Folks across America should be worried about these anonymous groups that go into an election and try to buy a favorable result,' said Braley spokeswoman Caitlin Legacki. 'People have no idea where the money came from. It's difficult to take recourse.' […] Conservative groups such as Americans for Job Security and Crossroads GPS, an arm of the American Crossroads group, co-founded by former George W. Bush administration adviser Karl Rove, are organized as nonprofits and don't have to disclose who is giving them money." The full story.

Bank Owes You: The End of Foreclosure (For Now)
From The Times: "As some of the nation's largest lenders have conceded that their foreclosure procedures might have been improperly handled, lawsuits have revealed myriad missteps in crucial documents. The flawed practices that GMAC Mortgage, JPMorgan Chase and Bank of America have recently begun investigating are so prevalent, lawyers and legal experts say, that additional lenders and loan servicers are likely to halt foreclosure proceedings and may have to reconsider past evictions.
"Problems emerging in courts across the nation are varied but all involve documents that must be submitted before foreclosures can proceed legally. Homeowners, lawyers and analysts have been citing such problems for the last few years, but it appears to have reached such intensity recently that banks are beginning to re-examine whether all of the foreclosure papers were prepared properly. […] [T]he wave of defaults still does not excuse lenders' failures to meet their legal obligations before trying to remove defaulting borrowers from their homes. […] Attorneys general in at least six states, including Massachusetts, Iowa, Florida and Illinois, are investigating improper foreclosure practices." The full story.
See Also:

A funny shot–and caption–from an incomprehensibly named website:

Distrust in US Media at Record High
From Gallup: "Gallup's annual update on trust in the mass media finds Americans' views entrenched — with a record-high 57% expressing little to no trust in the media to report the news fully, accurately, and fairly, and 63% perceiving bias in one direction or the other. At the same time, the steady nature of these views stands in contrast to Americans' views of the three branches of government, which are all down sharply this year. Thus, in an environment in which few institutions elicit high levels of trust, it appears the media are neither gaining nor losing significant ground — but are just managing to hold steady." The full report.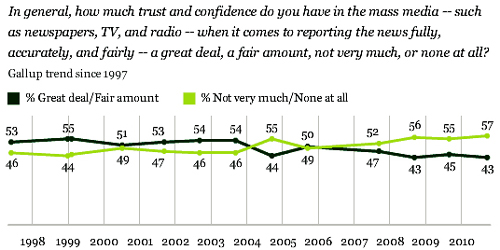 The Nation's 50 Most Influential Liberals of the 20th Century
If Rolling Stone can devote every other issue to meaningless lists and National Review obsess about the 100 greatest conservative films, why shouldn't The Nation devote one issue to the most influential liberals (or progressives, as it chose to call them, maybe for circulation's sake)? Some names on the list, or rather the slide show, this being the age of new media: Eugene Debbs, Louis Brandeis, W.E.B. Du Bois, Frances Perkins (that would be FDR's labor secretary for 12 years), Eleanor Roosevelt, Henry Wallace, A. Philip Randolph, founder of the first black labor union, Paul Robeson, Woody Guthrie, Earl Warren, Jackie Robinson, Rachel Carson, Martin Luther King, John Kenneth Galbraith, Malcolm X (he would have disputed being a liberal, but he was a great man all the same), Betty Friedan, Jesse Jackson, Muhammad Ali and Billie Jean King. Have fun: here's the whole section.
Remember this?

Vidal turned 83 or 84 on Sunday, which could signal his approaching death: Voltaire died at 84. Vidal, being his heir, might not want to upstage him. Then again, Vidal is into upstaging the gods, too. He may yet live longer. Here's TV like they don't do anymore, for all the 24-hour channels in the world. Dick Cavett trying to mediate an incendiary encounter between Vidal and Norman Mailer, with some woman thrown in:

Jacksonville's Mikyle Crockett is Miss Florida Teen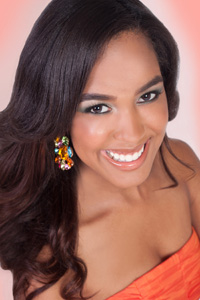 From the Gainesville Sun: "The Miss Florida Teen USA Pageant crowned a new winner Sunday in Hollywood, Fla. Mikyle Crockett of Jacksonville will represent the state in the Miss Teen USA contest. If she is unable to attend, or needs someone to fill in for her at any functions during her reign, she will be assisted by her first runner-up, Tori Petry, Miss Marion County Teen USA. The second runner-up was Natalie Martinez, Miss Alachua County Teen USA. Representing cities and counties across the state, 57 teenagers competed to wear the crown." The reigning teen is Kayla Collier. The Miss Florida USA and Miss Florida Teen USA pageants are the official qualifiers towards Miss Teen USA, Miss USA and Miss Universe, which are all owned by Donald Trump.
See Also:

A young violinist from Rio
Was seducing a lady named Cleo.
As she took down her panties
She said, "No andantes;
I want this allegro con brio!"