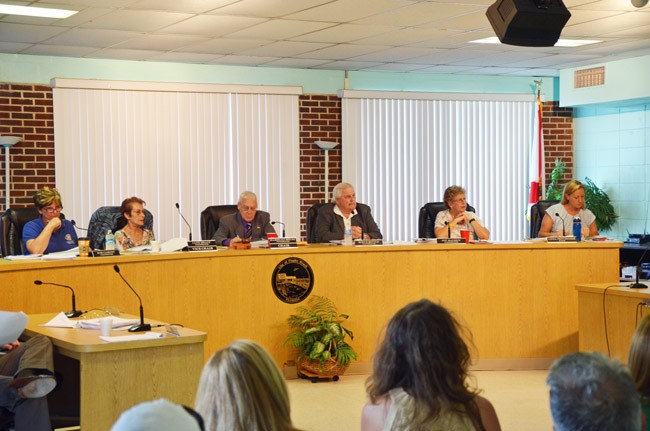 Flagler County Commissioner George Hanns was relieved this afternoon. "I wasn't quite sure what we would run into but my anticipation was rather high that it would be a little more controversial," Hanns said. The commission meeting was the culmination of the summer's budget process, ending with setting the proposed tax rate for next year.
There'll be a tax increase, just as there will be for every other local government with the likely exception of Flagler Beach. But the increases are generating almost no opposition, in large part because they are tied to benefits taxpayers can see: raises for teachers and cops, additions of firefighters (three this year at the county, three more next year), restoring reserves decimated during the recession, and so on.
The school board set its tax rate earlier this month and will formalize it at a hearing Tuesday evening: school taxes are going up 4 percent. Palm Coast did the same last week, keeping its maximum rate the same as this year, but resulting in a 6 percent increase. This evening, the Bunnell City Commission set its tax rate at a level that equates to a 7.5 percent tax increase (yielding $12,000 to $15,000 more in revenue for the city.) In every case but the school board, the proposed tax rate is not necessarily the rate each government will adopt later this summer. It's merely the maximum tax rate each government may impose. Between now and then, officials will attempt to lower the rates, and usually manage to knock off a symbolic fraction or two off the number.
"Bunnel is whole financially," Commissioner Elbert Tucker said this evening, crediting the city manager, Larry Williams, for bringing the city back from the financial brink through severe budget cuts and restrictions over the past year and a half. The city's reserves will be at 20 percent of the budget.
Last Thursday Flagler Beach set its tax rate at a little more than this year's, but its stated intention is to actually lower its rate and keep its revenue neutral—no tax increase, no tax decrease, even though when adjusted for new construction and tangible personal property, property values rose 5.5 percent in Flagler Beach (but are still almost half a billion dollars below their levels in 2007).
"We'll be one of the few taxing authorities that get back to true roll-back," Campbell said, referring to the roll-back rate—the tax rate at which a government's tax revenue neither increases nor increases.
The county is not going to roll-back, but as with Palm Coast, its 6 to 7 percent tax increase will not actually bite homesteaded homeowners as steeply: once new construction is subtracted from the tally, the average increase on homesteaded homeowners will be on average at or just below 5 percent (although there will be fluctuations of zero to double-digit increases). "That will be all over the board depending on who you talk to," County Administrator Craig Coffey said.
The county's tax increase will underwrite what amounts to more than $3 million in new costs, including a 28 percent increase for the sheriff's office. That increase is driven in part by a 5 percent raise for all ranks, the addition of six new deputies (four at the jail, where there hasn't been additional two on road patrol) and seven non-uniformed personnel.
Appearing before the county commission this afternoon, Flagler Sheriff Jim Manfre said the agency's calls for service have increased from 120,000 to 180,000  in two years. "It's unprecedented," he said. "We cannot maintain that kind of increase without adding employees. We cannot do it. And you can only work people so hard and asking them to make overtime before people start making poor decisions." Manfre couldn't explain why the calls are increasing so dramatically other than to suggest that the population is aging, though he said his office would conduct further analysis to explain the rise.
The raise for county employees will be less than 3 percent. Manfre wanted 5 percent because he's been in negotiations with the cops' union, making a promise that he would push for the higher pay. Mike Scudiero, the union's representative, asked the commission to go along: "This is a big step forward for this agency it," he said. "It fixes a lot of problems that have been in place for a number of years and we support it 110 percent." Collective bargaining is ongoing, with the outcome of those contract negotiations contingent on the outcome of the commission's willingness to provide funding for salary increases.
As with the school board Tuesday evening, every local government agency will have public hearings later this summer to finally adopt budgets and tax rates. But as with workshop meetings, those hearings have been drawing no public interest, at least before elected officials. This year's nearly across the board tax increases may have had some officials like Hanns nervous, which explains his relief this afternoon.