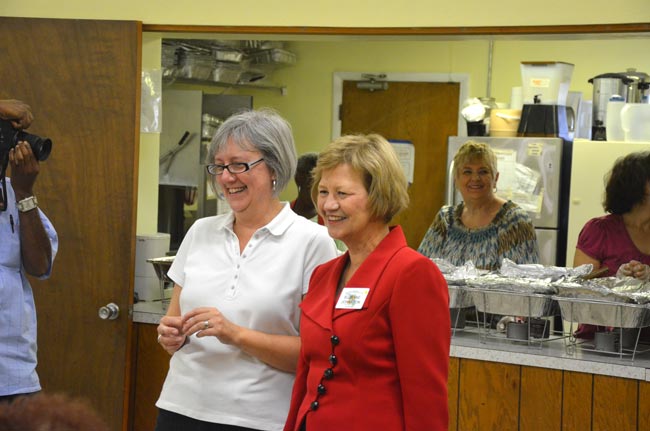 Last Updated: 7:37 p.m.

7:37 p.m., Final Wrap-up:
More than 3,000 meals served today.
"Wow," was Milissa Holland's reaction this evening. The intent of the meals was to invite the community "to come out and break bread." It did. "That's always a good feeling. I know everyone was always appreciative of the meal itself." All 1,000 boxes of groceries, each containing a week's worth of food, were given away, providing a little extra food security, though even though 1,000 boxes are a small measure of the county's poverty: some 11 percent of the county's population lives below the poverty line, or about 15,000 people. Feed Flagler reached a large portion, and will continue reaching a large portion in months ahead as cash raised to pay for today's meals–and $14,000 to be distributed to two food pantries–will extend the day's benefit to eight to ten weeks of stock for those food banks.
"That is just overwhelming–the support has been overwhelming, the volunteers have been overwhelming, the day itself was just overwhelming," Holland said. "It sends the message that we really do care about those who are struggling."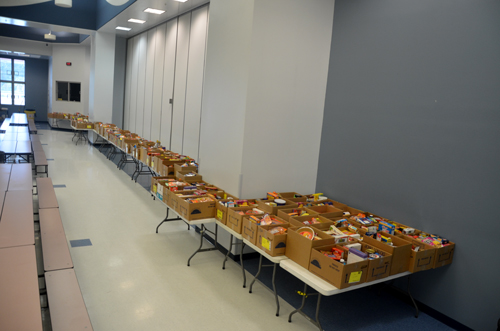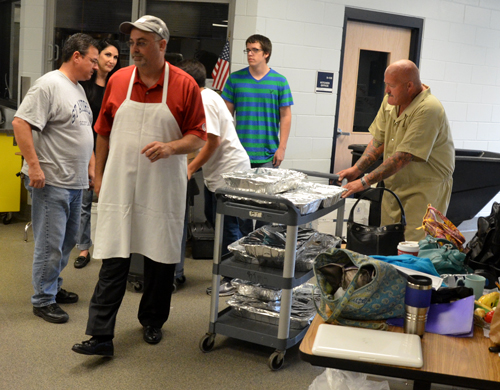 Sally Sherman, the deputy county administrator who's been keeping tabs on logistics and coordinating all 11 sites' needs, sums it up at the end of the evening: "Everything went extremely well, we're so pleased with all the turnout and pleased with the people who were able to take home a week's worth of groceries."
Just about every location used up all the food prepared for each. "A number of locations ran out of the meats and potatoes and green beans and they may have had a little corn, but the majority of the staples were consumed by our residents," Sherman said.
There were a few challenges: cell phone reception at some of the locations made communications more difficult, but one way or another messages were received and when food ran out, drivers rushed more there. "The drivers did an awesome job transporting the food to the different locations," Sherman said, while volunteers in shifts were entirely attentive to guest's needs, the food handling in kitchens, the distribution of groceries, and providing the entertainment.
On Thursday, more free meals will be served at Bunnell's old city hall.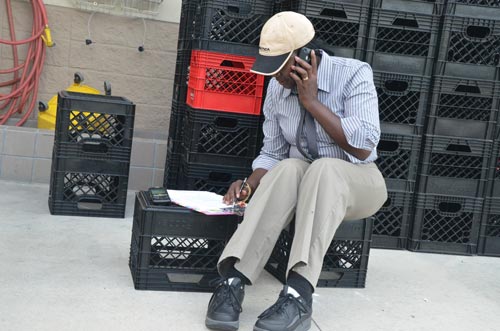 5 p.m. at First United Methodist in Bunnell, where the music's been rocking Fellowship Hall–Paul and Caren Umbarger's Island Duet and an Umbarger-led quartet of the Flagler Youth Orchestra. Tax Collector Suzanne Johnston just dropped in. She still can't get over the fact that she's come in second to the sheriff in the fund-raising race, but she informs us that the trophy, which she claimed at last year's Feed Flagler, has been manacled and locked in chains to furniture at her office. And someone just gave her an additional $20 for Feed Flagler. Cash.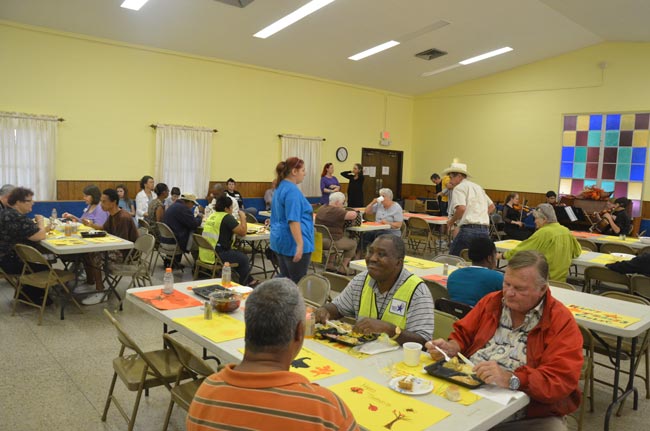 4:15 p.m., at Buddy Taylor Middle School, to the acoustic guitar and mandolin sounds of Adam Pryor and his father Chris (the principal at Matanzas), with David Pandich on guitar, they've been coming into the Buddy Taylor dining room in relatively small but steady numbers, many stopping in to pick up food to go. The giggles table is full of children, face-painted enough for a small museum's worth. The skies have cleared a little, not much more rain in the forecast, but plenty of food piled up. Jason DeLorenzo, one of Palm Coast's two newest council members, is braving a a 10-day-old cold to be here (the sheriff too, incidentally, was battling a a fever this morning).
The crowds at buddy Taylor tend to be slow-growing early on, but last year it got busy after 5 o'clock as people left work. Milissa holland is expecting a similar rush here today.
Other locations are hopping. Three locations ran low on food, including Wickline and First Methodist in Bunnell. Organizers are ensuring that extra meals are heading that way.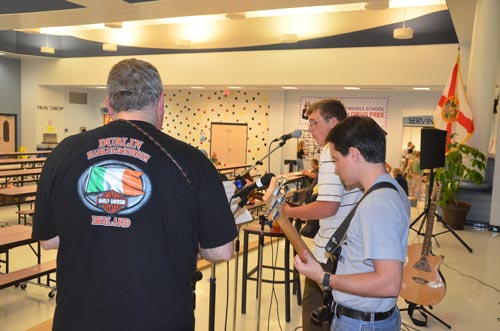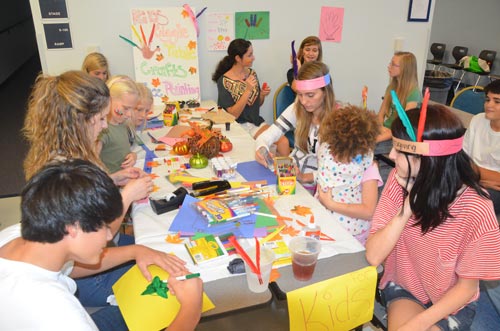 2:55 p.m. At the Wickline Center in Flagler Beach: they've already served 74 meals this morning here, to elderly residents, and they're getting ready to serve 125 to 150 more. Stan Drescher, the poet laureate here, just walked over to tell us that he was the big winner of the a1a raffle last Saturday (that's the friends of A1A group that did its annual garage sale along the highway)won a night at the Topaz, dinner for two at Blue and at least one other restaurant. Anyway, they've started serving here, with volunteers including the volunteer of them all, Jean MacAllister (of Flagler Volunteer Services), county commissioner Barbara Revels, Flagler Beach city manager Bruce Campbell, once and likely future commissioner Joy McGrew, and many others.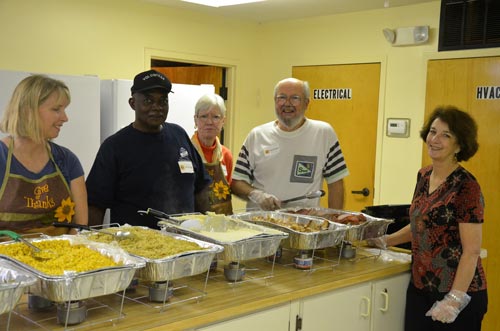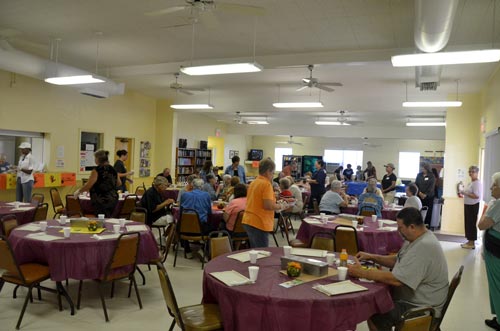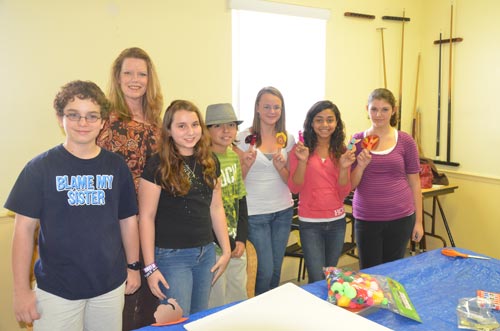 2:23 p.m.: Picture this: 540 pounds of ham, 901 pounds of turkey, 300 pounds of green beans, 300 pounds of corn, 400 pounds of stuffing, 400 pounds of potatoes, 250 pounds of cranberry sauce, 65 gallons of gravy (that's more than two barrels of the stuff, though it tastes much better than oil), 4,032 rolls and 3,240 slices of pumpkin pie: just about all cooked at the Buddy Taylor Middle School kitchen by the staff of Hammock Dunes Club led by Chef Jason Hall and overall chief Marc Ray, with help from more than a dozen members of the Matanzas High School Culinary Arts Academy. Those students were led by Lisa Kittrell.
"It's so organized, it's like a well-oiled machine," is how Milissa Holland put it. Holland is the county commissioner who started Feed Flagler three years ago and has been its driver since, with county government's coordinating help.
The food preparation and some of the cooking took place beginning at 8 a.m. Tuesday, and again at 5 a.m. today.
Starting at 11 this morning, a small truck was loaded with about 1,000 meals that went to Bunnell Elementary School, from where other drivers ere to pick up batches of food by the hundreds to continue the distribution to all the county locations that will be serving free Thanksgiving meals today, beginning at 3 p.m. There are 11 locations in all. Each location will also be stocked with 100 boxes of groceries, each box containing a week's worth of food, to be given out to families in need.
And entertainment will be provided at each location, so will so-called "giggle tables," where teen volunteers will keep children entertained while their parents enjoy their meal.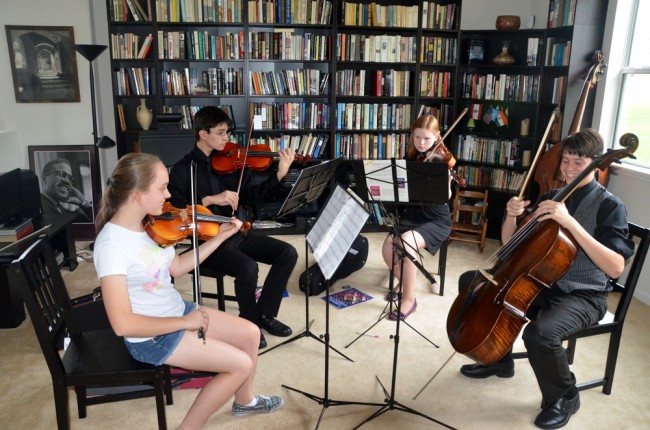 Today's 11 locations offering free Thanksgiving meals from 3 to 6 p.m.:

Bunnell Elementary School, 305 N. Palmetto, Bunnell.
Hidden Trails Community Center, 6108 Mahogany Blvd. in Bunnell, hosted by Grace Tabernacle Ministries.
Pellicer Community Center, 1380 County Road 2007 in Bunnell, hosted by Westside Baptist Church.
Espanola Community Center, 3055 County Road 13 in Bunnell, hosted by St. Paul Missionary Baptist Church.
First United Methodist Church, 205 Pine Street in Bunnell, co-hosted by God's Family Church and the Church of Jesus Christ of Latter Day Saints.
Buddy Taylor Middle School, 4500 Belle Terre Parkway in Palm Coast, hosted by the school district.
St. James Missionary Baptist Church, 609 State Street (U.S.1), Bunnell.
Hammock First Baptist Church, 5382 Oceanshore Blvd. (State Road A1A), in the Hammock.
Mt. Calvary Baptist Church, 75 Pine Lakes Parkway South in Palm Coast.
Wickline Center, 800 S. Daytona Avenue in Flagler Beach.
First AME Church of Palm Coast, 91 Old Kings Road North, Palm Coast.