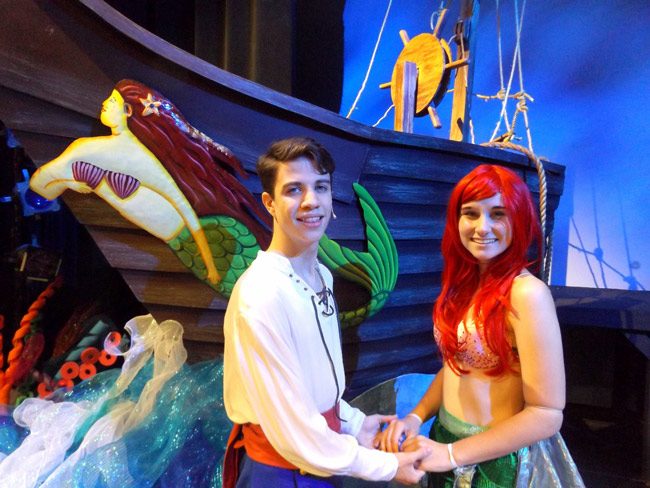 Ariel, that Disney princess, is getting the big-time princess treatment from Flagler Palm Coast High School.
The school's thespian troupe is staging "The Little Mermaid," that 1837 fairy tale written by Danish author Hans Christian Andersen that was turned into a 1989 animated Disney musical film, which in turn was adapted with additional songs into a hit 2008 Broadway play.
It's the story of Ariel, a young mermaid who becomes enamored with a human, Prince Eric, and yearns to give up her life in the sea to become human herself and be with him. Her dreams are thwarted by her misunderstanding father, King Triton, and, of course, a wicked witch.
The FPC production – with lavish costumes, actor-dwarfing set pieces and an estimated $18,000 cost – will be staged Thursday Saturday May 12 at Flagler Auditorium on the school campus. It follows on the heels of the very successful production of "Shrek The Musical" last month at Matanzas High School, itself a $10,000 extravaganza that set a new bar for local high school productions–a bar FPC seems entirely willing to meet or exceed. What's turned into a joyous battle of the musicals is giving Flagler audiences a new look at high school musicals that have little to differentiate them from presumably more accomplished community theater productions.
"When we do a musical it's go big or go home, and this one is quite a feat," says Kelly Rivera, the drama teacher at FPC and the play's director and musical director. "It's expensive. Our costume rental bill alone – and I said 'Hey guys, we can't afford to do this every year' – was 10 grand, and that's not counting other things we had to fashion."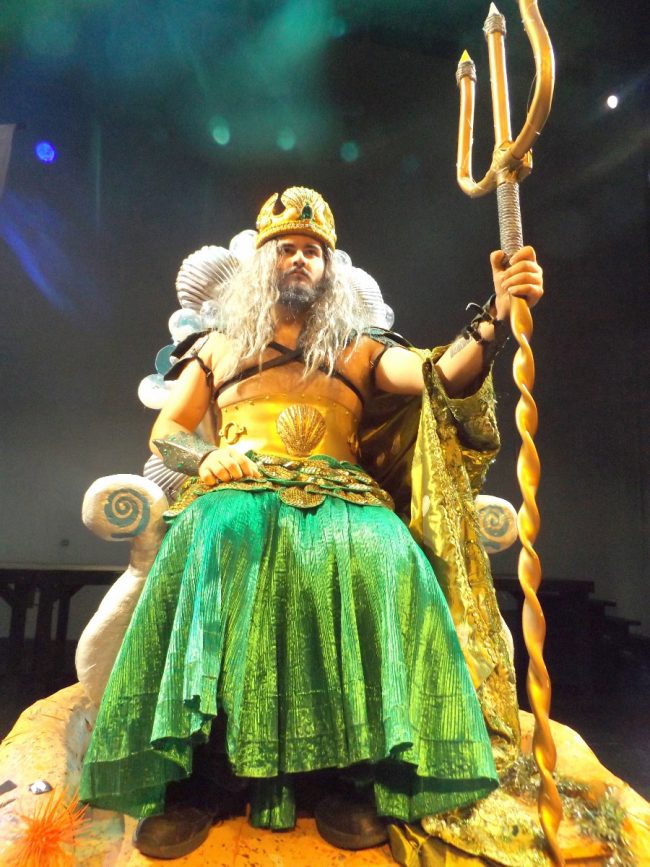 Licensing rights – the fees that theatrical troupes must pay in order to perform copyrighted material, "are very expensive, especially when you're doing musical theater," Rivera says. "A non-musical is maybe on average about $75 a performance, not counting your materials. A musical is several thousand. And, of course, when you're dealing with Disney or those top-end shows, they're going to nickel and dime you for everything."
Unlike Matanzas's "Shreck," which had a live pit orchestra, the music for "Mermaid" is recorded. But those tracks "are about a thousand dollars," Rivera continued. "Our use of projection is about a thousand dollars. We also were very fortunate that Montverde Academy, a prep school near Orlando, had some beautiful set pieces that they were very generous to rent to us for a nice fee."
Those sets include a ship, a boat with lanterns for the "Kiss the Girl" scene, and Ariel's bathtub. (The production's technical director is Jack Neiberlein, and the choreographer is Lisa Kinnaly.)
While the high school provides funding to its theater department, the thespians' budget is augmented by the profits from ticket sales of past productions – profits that Rivera shepherds so that "once in a while we can do something this big.
"We have it in the account because we have made a lot of money off previous years," she says. " 'Hair Spray' was a big box office draw. 'Beauty and the Beast.' Even 'Big Fish,' even though everybody said I was crazy – 'Nobody knows that musical! Don't do that musical!' But I said, 'Well, nobody's doing it. Let's give it a chance.'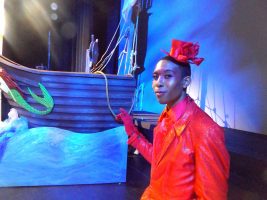 "You do that so you can build your rep and build an audience, so they know when they come they will see something that's exceeding the level of a high school production. When people say, 'Why are tickets so high?,' well, we're doing things on a larger scale than many local theaters."
For the two stars of the production – Samantha Shumaker as Ariel and Austin Branning as Prince Eric — there's a bit of a fairy tale aura in what will be the two seniors' last high school production. They've known each other since elementary school and performed together since middle school. "The Little Mermaid" will be the first time they've co-starred together in leading roles.
Branning became quite princely during rehearsal of a scene in "The Little Mermaid" that calls for Prince Eric to lift Ariel. During one rehearsal, Shumaker broke a nail on one hand and inadvertently increased the pressure of her other hand on Branning's shoulder.
"She put so much pressure on this one side that my shoulder popped out," he says with a chuckle as Shumaker cringes at the memory.
In true princely fashion, "He was more concerned about her nail," Rivera says.
The 45-member cast of "The Little Mermaid" also includes Michael Mendoza as King Triton, Gerald Kitt as Sebastian, Elana Sobhani as Ursula, Sawyer Perry as Grimsby, Gabriel Auletti as Flounder, Isaac Jordan as Scuttle, Isabella Scarcella as Flotsam and William Raszi as Jetsam.
And Shumaker and Branning each have their own "go big or go home" ethic. Last year Shumaker played the character A in the high school's black box production of "Cut," Ed Monk's absurdist play-within-a-play-within-a-play in which the actors begin to forget who is playing what roles. That play might be a mirror of the two young actors' lives.
They each have performed with area community theaters as well as in numerous past productions with their high school troupe. Shumaker played young Sandra in "Big Fish" last year at the school, and she performed in "The Nutcracker" at the Flagler Playhouse.
Branning smiles and says he has "done too many shows – every show at school" including the Ken Ludwig cross-dressing farce "Leading Ladies," as well as playing Linus in "You're a Good Man, Charlie Brown" at City Repertory Theatre and Lord Farquaad in "Shrek" at the Flagler Playhouse. It's his director Rivera who points out that Branning (shades of Monk's absurdist play) has performed in productions simultaneously at the high school and community theaters.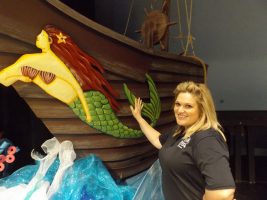 Shumaker has been busy away from the stage – this May she will graduate not only from FPC but also, through a dual enrollment program, she will earn her associate's degree from Daytona Stage College.
Both Shumaker and Branning plan to pursue theater at college. She will be auditioning for the musical theater program at the University of Central Florida, and he'll study musical theater at Daytona State.
As for "The Little Mermaid," the two co-stars see the musical as more than a kids' show.
"Ariel is more than just a Disney princess," Shumaker says. "There's more to her. She's so ambitious and she goes after what she wants, and I admire that a lot about her. I have a really big attachment to her because she's more than just the beauty and everything. I think that's really admirable.
"It's a show that speaks to everyone. There's a lot of family morals that tie into it, a lot of growth. King Triton, for example, starts off as this mean and isolated person, and he learns that he has to let his daughter do want she wants and what she loves."
"I don't agree with people who say it's a kids' show," Branning says. "I feel like Disney does such a great job telling their stories to where they keep their stories not only entertaining for young kids but also engage adults.
"Honestly, I don't see our production as just a Disney show. There is such a difference between the Broadway show and the movie. Same plot, similar dialogue, but there's the added songs, and there's nothing like live theater. You get to see these people go through these things and watch their emotions and everything take place."
–Rick de Yampert for FlaglerLive

"The Little Mermaid," based on the story by Hans Christian Andersen, book by Doug Wright, music by Alan Mencken, directed by Kelly Rivera, with the Flagler Palm Coast High School Thespian Troupe 5023, starring Samantha Shumaker as Ariel and Austin Branning as Prince Eric. Thursday May 10 through Saturday May 12, with a matinee at 2 p.m. Saturday May 12. Performances will be at Flagler Auditorium on the high school campus, 5500 State Road 100, Palm Coast. Tickets are $15 adults, $10 students and are available at the auditorium box office, online at flaglerauditorium.org, and at the door. Information: 386-437-7547.