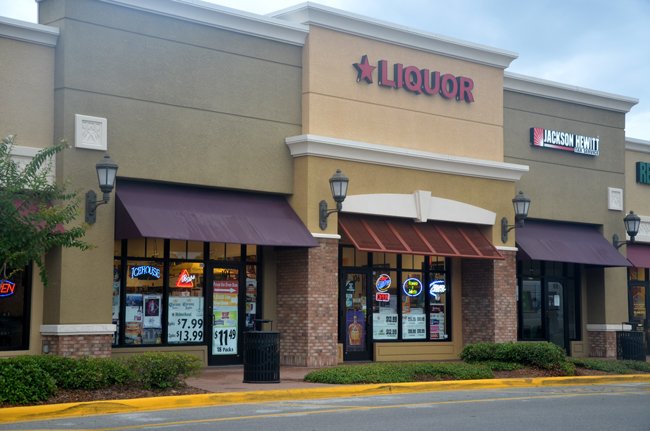 Prakash Patel, an immigrant from India, is the 51-year-old owner of Star Liquor, in the Publix shopping center at the entrance of Town Center, off Belle Terre Parkway.
At about 8:30 Wednesday evening, a thin, somewhat short, 140-pound white man, young, with short-cropped brow hair, entered the store and looked to buy a bottle of liquor. But he didn't have an ID. Patel couldn't sell it to him. The man left, saying he'd return with an ID. He returned five or six minutes later, walked around the store and talked on his cell phone, then brought a bottle of liquor to the counter again.
Patel again asked him for ID. The man said he didn't have one but tried to persuade Patel to sell him the bottle anyway. Patel, who by then had put the bottle in a bag for the man, told him no, took the bottle and set it aside behind the counter, to his right.
At that point the man gestured with his right hand to his belt, suggesting he had a gun, and told Patel to give him the money in the register, at one point reaching over toward the register. Patel said the man threatened to "pistol" him if he didn't comply. In the store's surveillance video (see below), Patel is seen emptying the cash register into the man's hands. It amounted to $200.
Taking the cash, the man starts to walk away but returns, gestures to Patel, telling him to lie on the floor, and leaves again. He does not take any liquor with him. No sooner has the man left, Patel is seen running across the store to the door.
There was a witness, but not inside the store. The 61-year-old witness told police that he'd seen the suspect pushing a white, older-model, two-door Ford Explorer and leaving it on the east side of the shopping center. That was before the suspect entered the store the first time. The witness then saw the man go back to his car about 30 minutes later, but he couldn't say which direction the man had gone.
The investigation is ongoing. The surveillance video below was made available by the Flagler County Sheriff's Office. Anyone with information about the suspect or the robbery may contact the Sheriff's Office at 313-4911.
---
Star Liquor Robbery[media id=221 width=500 height=400]