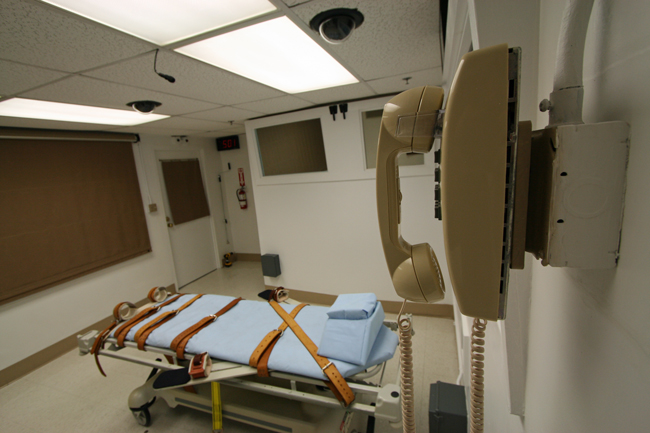 The Florida Supreme Court on Thursday ordered a review of the new drug used in the state's lethal injection cocktail in the case of Paul Augustus Howell, a Death Row inmate scheduled for execution Feb. 26.
Justices ordered a circuit court to hold an evidentiary hearing on whether substitution of the drug midazolam violates the constitutional protections against cruel and unusual punishment by the government.
Howell's lawyers argued in briefs filed Tuesday that midazolam, the first of the three drug-cocktail that induces unconsciousness, paralysis and cardiac arrest, is problematic because it will not anesthetize him and would leave him "unable to communicate his agony" when the other drugs are administered.
The justices rejected an appeal about the new drug in a previous case, but in a four-page order issued Thursday said that an expert's report submitted by Howell "has raised a factual dispute, not conclusively refuted, as to whether the use of midazolam, in conjunction with his medical history and mental conditions, will subject him to a 'substantial risk of serious harm.' "
The court also ordered the Department of Corrections to produce correspondence and documents from the manufacturer of midazolam concerning the drug's use in executions, "including those addressing any safety and efficacy issues."
The high court ordered the 2nd Judicial Circuit in Jefferson County, where Howell was originally tried and convicted of the murder of a highway patrol trooper in 1992, to hold a hearing and enter an order on the issue by 2 p.m. Wednesday.
In September, the Florida Department of Corrections substituted midazolam for the barbiturate pentobarbital as the first of the three-drug lethal injection "protocol." Florida and other states switched to the new drug because the manufacturer of pentobarbital stopped selling it for use in executions.
The second drug, vecuronium bromide, renders muscle, including the diaphragm, unable to contract, making it impossible to breathe.
If not completely anesthetized when that drug is administered, the condemned would "experience the physical and psychological agony of suffocation," Howell's lawyers argued in briefs filed Tuesday.
The new drug protocol has been used four times since its adoption in September, but Howell's lawyers argued that three of those executed were not fully anesthetized before the other drugs were administered.
The Supreme Court on Thursday also ordered the court to consider testimony from University of Miami anesthesiologist David Lubarsky regarding problems with the state's protocol for making sure that inmates are unconscious. According to Lubarsky, the state is not waiting long enough between injections for the anesthetic to take effect. Lubarsky also testified the drug poses a significant risk for "paradoxical reactions" for Howell because he has mental health disorders and possible brain injuries.
Howell was scheduled to be executed last year but a federal appeals court issued a stay the day before he was slated to die. The stay was lifted in November, and Gov. Rick Scott rescheduled his execution for Feb. 26.