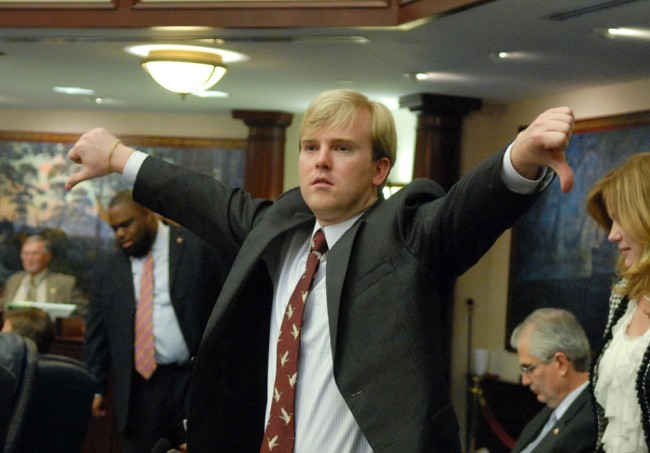 Despite protests from cities, counties, public hospitals and school districts, a House committee Thursday narrowly approved a proposal that would increase dollar limits on lawsuits against local governments.
The increased limits are part of a broader attempt to reform what is known as the state's "claim bill" process. That process can lead to state lawmakers requiring local government agencies to pay large sums to injured people — such as a claim bill last year that required Lee Memorial Health System in Fort Myers to pay $15 million to the family of a brain-injured child.
But lobbyists for various local-government organizations argued Thursday to the House Select Committee on Claim Bills that the reform measure (PCB SCCB 13-01) would drive up their costs. That is because limits on lawsuits that don't end up in the claim-bill process would increase from a maximum of $300,000 to $1.5 million.
"We believe that the end product of this committee makes a bad situation far worse than it currently is," said Keith Arnold, a lobbyist for Lee Memorial.
But committee Chairman James Grant, R-Tampa, said the overall bill would give more certainty to local governments about their potential liability and fix what he described as an arbitrary claim bill process.
"It's a fundamentally broken process," Grant said. "We can make it better."
The committee voted 5-3 to approve the bill, though it remains highly questionable whether the changes will ever make it into law. The Senate does not have a similar measure.
Through a legal concept known as "sovereign immunity," state law limits the potential liability of government agencies in lawsuits. Under current law, those limits are $200,000 or $300,000, depending on how many people are involved in an incident — totals that would go to $1 million and $1.5 million under the House bill.
But people can go to the Legislature to try to get claim bills passed that require local governments to pay more than those limits. Such bills drew controversy last year, primarily because of the Lee Memorial case and another measure that called for providing $10.75 million to a man who was severely injured in a car accident with a Broward County sheriff's officer.
While the House bill would increase the sovereign immunity limits, it also includes a change that could help shield local governments from costly claim bills. Those agencies would be protected from claim bills if they buy insurance that would cover damages.
Grant said he is trying to encourage local governments to act responsibly and that the protection for having insurance is one of the "carrots" the state can offer. Lee Memorial, for example, did not have insurance coverage to pay the $15 million claim bill approved last year.
The House proposal also would make a change that would allow judges, rather than juries, to determine damage amounts in lawsuits against local governments — a proposal that drew objections from the Florida Justice Association trial lawyers groups.
But most of the debate Thursday centered on insurance and increasing the liability limits. Lobbyists for various types of local governments said they are concerned about being able to find and afford insurance coverage.
Also, they said they are concerned that increasing the limits would encourage more lawsuits against government agencies.
"I call it the pot-of-gold at the end-of-the rainbow syndrome," said Bob Harris, a lobbyist for the Panhandle Area Educational Consortium, a group of small school districts.
But Rep. Kionne McGhee, D-Miami, said the discussion left out people who are injured because of negligence by local governments.
"What about the victim?" McGhee asked. "No one here has spoken about the victim's pain (and) suffering."
–Jim Saunders, News Service of Florida