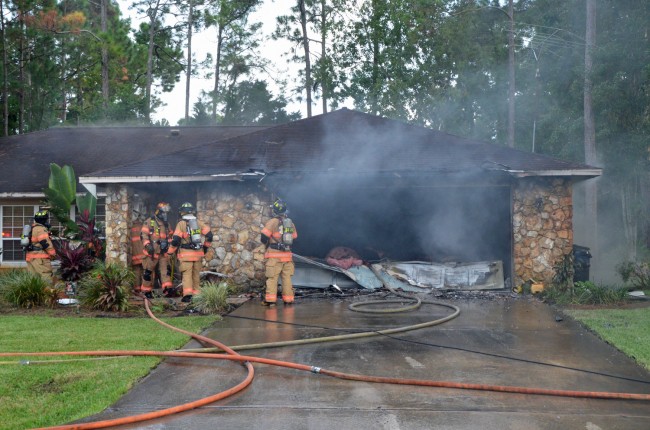 Around 6 p.m. Saturday evening Van and Ilene Vitale, who were in their house at 36 Woodward Lane in Palm Coast, heard someone banging on their door. "Your garage is on fire," they were told. So it was.
Van Vitale told authorities that he had been cutting the grass shortly before the fire started. "When he got done cutting the grass he parked the lawnmower in the garage," Palm Coast Fire Department Capt. Mark Valentik said at the scene. The banging at the door came 10 minutes later. "When he came out he said the fire was located in the same area where the lawnmower and the gas can and such were."
The fire engulfed the garage rapidly and threatened to spread. "There was a pretty good column when we were coming up the road," Valentik said. But the fire department was at the scene within minutes of being called: they were called at 6:10 p.m. They had water on the fire at 6:18 p.m., a remarkably rapid response.
Firemen went to work immediately from inside and outside the house, successfully confining the fire damage to the garage,. The rest of the 2,200 square foot house, built in the 1990s–the Vitales have been living at that address for 10 years–sustained smoke damage. But that can be treated.
No one was injured among either residents or firemen.
"We heard Boom Boom, and I said there must be a storm coming in," a neighbor who identified herself as Mary said. "We were watching TV. Next thing I know, maybe 15 minutes later, Boom Boom, again, and he (her husband) came out the front door, and said my God, the fire trucks are everywhere."
One of the deputies at the scene said that what had sounded like explosions may have been the tires on two motorcycles in the garage, as well as the lawnmower's pumped-up tires, which could have blown. (The best place to store lawnmowers and gasoline is an outdoor shed, Valentik said.)
The Palm Coast Fire Department's Ladder 25, Engine 21, Engine 23 and Medic 25 responded to the call, along with Flagler County Fire Rescue's Rescue 22 and Battalion 22 units. The Palm Coast Fire Police also responded and regulated traffic in the neighborhood, in the northwest corner of Palm Coast's W Section, off Pine Lakes Parkway.