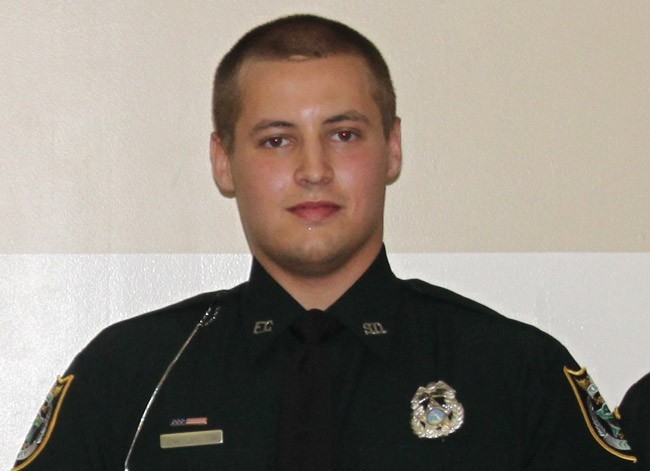 Jonathan Kuleski, a Flagler County Sheriff's deputy marking his first year with the agency later this month, was cleared of wrongdoing following an internal investigation into his involvement in a drinking party on a private wooded lot on Wood Aspen and Wood Acre lanes in Palm Coast last April.  The investigation, however, found that several people at the gathering were under-age.
The investigation, first reported Sunday by the News-Journal, was triggered after another deputy had responded to the lot because of a noise complaint. There, the deputy found some 15 "young adults" listening to music and drinking, among them Kuleski, 22, who told the deputy he believed everyone there was of legal drinking age.
Kuleski told the deputy at the time, according to the now-unredacted incident report, "that he was invited to the gathering at the above location by a male named Andre Rich, who was of legal drinking age. Jonathan advised that after he arrived at the gathering, a group of people arrived and had brought alcoholic beverages with them and began drinking what they had brought. Jonathan advised that he brought alcoholic beverages to the gathering for Alexandra Bogaert and himself, both of whom are of legal drinking age. Jonathan advised he was unaware that the property the gathering was on was private property and stated that had he known of that fact, he would not have gone to the gathering. Jonathan provided a sworn written statement in reference to the incident which will be submitted into records."
Several other people present at the time confirmed Kuleski's account and said he'd not been involved in organizing the party. Brass knuckles were found at the scene, but no one claimed them. Brass knuckles are considered a weapon under Florida law, and carrying them without a permit is illegal.
On April 13, Deputy Chief Jeff Hoffman requested that Kuleski's role be investigated.
"There were several people under the age of 21 who were consuming alcohol," James Dopp, the deputy who initially investigated the noise complaint, told the internal investigator. Kuleski was of age at the time, and was not appear to be drunk, the statement read.
"There was no mention of anyone supplying the underage individuals with alcohol. They had brought their own drinks to consume," the investigation reads.
When Kuleski was interviewed for the investigation, he said he had not known at the time that some of the people at the party were under-age, and that he provided no one witgh alcohol.
The investigation notes that Kuleski was off duty that night (there is no regulation against deputies' drinking when off duty), that he was cooperative throughout, and had no knowledge of the property being private—which, in essence, meant that he and the other people at the party had been trespassing. He thought the land was owned by Rich, the friend who'd invited him there.
The investigation, closed on June 28, found unfounded any allegation against Kuleski.