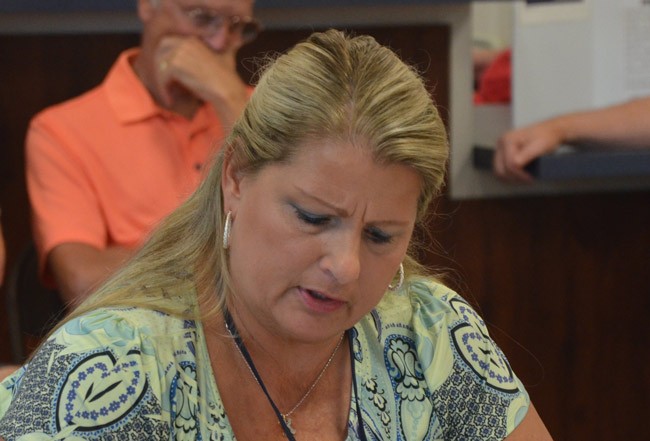 The Florida Elections Commission on Tuesday dismissed all charges former Supervisor of Elections Kimberle Weeks brought against County Commissioners Charlie Ericksen, George Hanns and Barbara Revels, ending what case Weeks had built against them through some 100 pages of largely speculative, subjective and often inaccurate claims. But the commission was required by law to review every page.
Weeks resigned in January, half-way through her second term, three weeks after filing a slew of ethics or elections charges against every county commissioner and the county attorney, and three months after the Floirida Department of Law Enforcement launched an investigation of her conduct and her office. The investigation, which included a raid of her office and is still ongoing, was prompted by Weeks surreptitiously recording County Attorney Al Hadeed and County Commissioner Charlie Ericksen outside of the immediate bounds of a canvassing board meeting both men were attending. The county called the recording illegal, and has since revealed that portions of Weeks's recordings had been doctored.
"Notably," Hadeed wrote in an April 23 memo to commissioners, "Ms. Weeks' complaints against the Commissioners were filed during the time she was Supervisor, but she has vigorously continued to pursue her claims following her resignation."
The Elections Commission found Weeks's first round of allegations against the three commissioners legally insufficient, as Hadeed summarized the case in his memo. While Weeks took it as a mere procedural setback, the election commission's response in early March established that several heavy-handed moves by Weeks to remove Ericksen and Hanns from the Flagler County Canvassing Board were, in fact, unwarranted.
For example, Weeks successfully pushed Ericksen off the board after she revealed that he had contributed $25 for a meal at a fellow-commissioner's campaign event. But in the elections commission's executive director's words, while Ericksen "may not have been qualified to serve on the board, nothing in the election code specifically mandates that a canvassing board member step down, and no provision is made for a penalty in the event that a disqualified canvassing board member fails or refuses to step down."
Amy McKeever Toman, the elections commission's executive director, also sharply rebuked Weeks's allegation that Ericksen "had knowledge of a felony violation" of the elections code, an allegation Weeks had made based on that surreptitious recording of Ericksen and Hadeed."The attorney's discussion was speculation and your allegation is speculation," Toman wrote. Toman was equally dismissive of Weeks' claim that the county administration had no authority to seek state monitors for the local election.
The Elections Commission's March letters  addressing Weeks's allegations about Hanns and Revels are equally sharp rebukes of Weeks's claims. The letters, which the county disclosed today, are unambiguous correctives of Weeks's habit of serving as her own prosecutor, judge and jury even when advised more professionally and appropriately by lawyers. The rebukes did not dim Weeks's other recurrent compulsion: to press on with the same cases, as she was legally entitled to do.
The Elections Commisison gave Weeks the chance to amend her three complaints. She did so. Those are the complaints that on April 21, the Elections Commission deemed equally insupportable. "Your amended complaint makes the same essential allegations that were made in your original complaint," Toman wrote in language more brief and less patient than in the first round of letters. "This case is now closed," she wrote. In Hanns's case,  (The three final letters regarding the commissioners are available here, here and here.)
"There is no further relief from the FEC available to Ms. Weeks," Hadeed wrote county commissioners, referring to the Florida Elections Commission, "and the courts have held that the FEC's decisions of legal insufficiency are not subject to appeal."
Florida Ethics Commission cases Weeks filed against Commissioners Ericksen, Frank Meeker and Nate McLaughlin are still pending, as is a Florida Bar complaint and an ethics complaint she filed against Hadeed.
The FDLE investigation against Weeks remains ongoing, too, an FDLE spokesman said today. Hadeed noted in his memo that the recordings Weeks had made in her tenure as supervisor were not at the supervisor's office, suggesting that Weeks may have removed what amounted to public records from the premises. Since her resignation, the office has been led far more quietly and without controversy by Kaiti Lenhart.