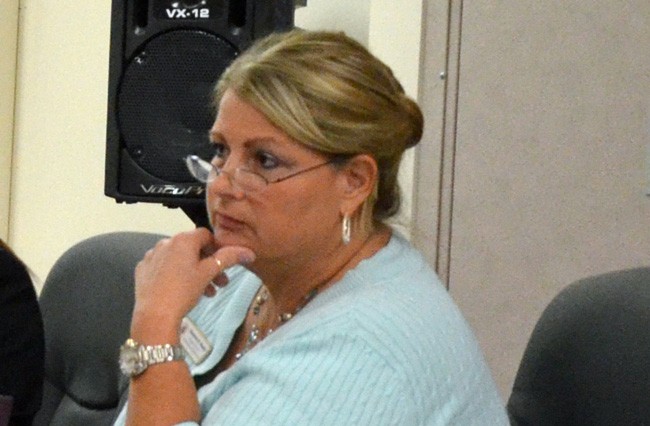 Unlike the six years of her tenure as Flagler County Supervisor of Elections, when hardly a month passed–and hardly a week in her last year–without Kimberle Weeks slamming herself in the news with creative controversies largely of her making, the months and court appearances leading up to her trial on 12 felony charges have been strikingly uneventful, even dull: for once, Weeks is letting attorneys do the talking, something she had difficulty doing when in office no matter how many attorneys she hired or queried.
Friday's latest pre-trial hearing was no different. It was continued. And her usual attorney didn't even bother showing up. Nor did Weeks, for that matter. She has avoided all court appearances, including her felony arraignment. dispatching her husband Dwayne instead to monitor proceedings.
On Friday, Dean Bartzokis, standing in for Joerg Jaeger as Weeks's attorney, requested more time to interview witnesses and research case law during a five minute appearance before Circuit Judge Margaret Hudson, the usually Volusia-based judge imported for the Weeks case after Judge J. David Walsh recused himself. Hudson granted 90 more days, ensuring that Weeks's holiday season will not be marred by a trial.
Weeks was indicted on 12 felony counts after illegally recording numerous officials and others without their consent–including County Judge Melissa Moore-Stens, County Commissioner Charlie Ericksen, County Attorney Al Hadeed, and several state officials, including the secretary of state. The investigation was spurred by county officials after the recordings of Ericksen and Hadeed at the supervisor's offices, but outside the immediate purview of a canvassing board meeting. Weeks's recordings were not limited to officials: she also recorded a funeral director and another individual involved in private matters involving Weeks's family.
Ericksen attended today's hearing but declined comment.
The investigation into Weeks began in October of last year by the Florida Department of Law Enforcement, when FDLE agents seized electronic equipment from her office, interviewing Weeks and members of the county commissioners and officials.
Weeks routinely downloaded the audio files to her computer, edited and then transcribed them, documents show. She went as far as forbidding supervisor office employees from handling canvassing board minutes (minutes the canvassing board itself did not recognize as official because of Weeks's proclivity for editorial commentary and selective editing.)
"I'll give you an additional 90 days," Judge Hudson told her attorney, "but after that we're going to have to start putting some deadlines and timelines."
Hudson made it clear the defense had to have some depositions scheduled by the time they returned to her courtroom.