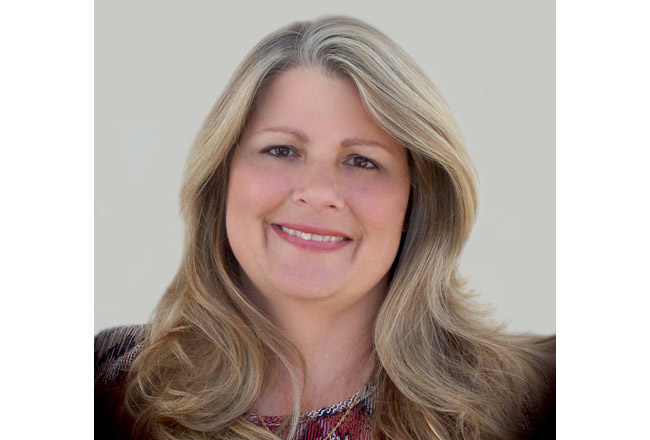 Kimberle Weeks is a candidate for Flagler County Supervisor of Elections, running against Trey Corbett.
Weeks, a Democrat, is a one-term incumbent who won the position four years ago in a three-way race, defeating Pam Richardson with 49 percent of the vote, to Richardson's 35 percent. Weeks had no primary opposition. Corbett, a Republican, is first-time candidate for public office who won a four-way primary by defeating Richardson by a margin of less than 1 percent (or 80 votes, out of 9,284 cast).
It has been a tough and at times bitter campaign, with each candidate facing up to various issues–Weeks's history of combativeness, and Corbett's occasional missteps.
All registered Flagler County voters may cast a ballot in the supervisor's race, whatever their party, whatever their address.
The supervisor of elections is paid $94,000 a year. The salary is set by state law, based on county population, but paid out of local dollars.
FlaglerLive submitted 13 identical questions to all four commission candidates, who replied in writing, with the understanding that some follow-up questions may be asked, and that all exchanges would be on the record. Each candidate was also given the opportunity to ask his or her opponent three questions, which appear following the FlaglerLive questions. Follow-up questions, when necessary, appear in italics, and may be awaiting answers.

The Questions in Summary: Quick Links

Place and Date of Birth:
Current job: Flagler County Supervisor of Elections
Party Affiliation: Democrat
Website: www.VoteForWeeks.com
1. What qualifies you to be supervisor of elections?
Having family roots here in Flagler County since 1913, I am very dedicated to the community in which I live, which is also where we have raised our five children, managed a family business, and where most of our grandchildren are also being raised today. I have worked for five Flagler County constitutional officers. In years past, I was employed by the Sheriff's Department, Supervisor of Elections, Tax Collector and Clerk of Court, before I ran for public office in 2008, and was elected by nearly 50 percent of the vote in a three way race (Democrat, Republican, No Party Affiliation) in the General Election to serve as your Supervisor of Elections.
I have gained valuable experience handling millions of your tax dollars, while proving to be hard working, conservative, dedicated, and fiscally responsible, all while following the laws governing the office in which I serve you today. My experiences have allowed me to better serve you today. I have many years experience with customer service and have respect and compassion for those who work with me to serve the citizens of Flagler County, and for the citizens, whom I have served and continue to serve. Being Supervisor of Elections is not a 9-5 job, and I have the endurance, dedication, and proven experience to perform the duties of this position while providing excellent service and results.
I am State Certified, and one of eight Supervisors who have completed levels one and two of the Florida Certified Election Professional Courses. I was also ranked by the Governor as one of the top 13 Supervisors in the state in April 2012.
The fact that I have the lowest operating budget of comparable Supervisor of Elections offices throughout the state, and provide you quality, fair, and honest elections, confirms that I am fiscally responsible while managing our tax dollars. As your Supervisor of Elections, I have been audited each year by independent auditors, and have never had to report wrongdoing to the Auditor General. In fact over the past three years, I have returned nearly $100,000 to the Board of County Commissioners of budgeted monies that were not spent.
I am the only candidate with proven experience, with a proven record to go on, while managing the Elections office and who is not making empty promises to you. You can learn more about my accomplishments in my first term in office by visiting my website.
I have demonstrated how one is to be fair, impartial, and honest, and how important it is to show those who elected me, that I will not be influenced or manipulated. The Supervisor of Elections is independently elected to preserve the integrity of the electoral process and to prevent manipulation and influence by any individual, board or organization.

2. Describe the essentials of a supervisor's responsibilities—and the limits of those responsibilities.
The Supervisor of Elections is responsible for registering new voters and maintaining the voter registration rolls by not only removing ineligible, registered voters from the rolls, but by keeping the eligible voters records current. Supervisors rely heavily on voters to keep their records current, so that the state database reflects the most current information. We receive information about voters from the State as well as the Clerk of Courts office.
The supervisor is also responsible for educating citizens of each election (dates, times, location, methods of voting, etc.) and preparing for and conducting fair, accurate, honest and impartial elections while following the rules and laws of the state of Florida. This must be accomplished while remaining non-partisan in and out of the office. The supervisor must also treat all citizens with dignity and respect regardless of party affiliation, race, sex, age, or ethnic heritage.
The Supervisor of Elections is also responsible for accepting candidate paperwork when they have decided to enter a political race. I provide the candidates with a packet of information, including links to the election laws. My position is ministerial in nature, as I am not authorized to offer political or legal advice, rather, I serve as a liaison between the candidates and the State Elections Board, to promote ethical campaigns, without violations of the Florida Elections law and damage to the electoral processes.
I have fulfilled these duties over the past four years, and, if re-elected, I will continue to do so. I will continue to follow rules and laws that are in place to manage the operations of the Supervisor of Elections Office to maintain the voter's confidence in the process. It is important to keep up with the ever-changing laws and rules established, relating to our voting process here in Florida. I have been recognized by the Governor of the state of Florida as one of the top 13 supervisors in the state. I am State Certified, and one of eight Supervisors in the state who has completed all of level 1 and level 2 of the (FCEP) Florida Certified Election Professional courses, which has allowed me to better serve you today. I am the only Flagler County Supervisor of Elections candidate with proven experience, which allows the voters to vote for me, as Supervisor of Elections with confidence. As a State Certified Supervisor of Elections I will further my education as is required to maintain my certification, and continue to keep the voters informed while doing my job in the elections office.

3. Until 2008, Flagler County voter turnout was, among Florida's 67 counties, solidly at or near the top of the chart. Turnout has fallen significantly since. To what do you attribute the drop, and what would you do to reverse it?
When discussing comparisons, it is imperative to compare apples to apples and oranges to oranges. It is my opinion, that not all elections are comparable. For example, some local, constitutional offices have not appeared on a ballot in the last several elections, because the incumbent is running unopposed. When there are not as many popular races on ballots to create a public interest, there is not as high a turn out. Take for instance, the race for Judge appearing on the 2012 ballot this year. This is a very popular race, where locals are more inclined to make their vote count, so there is a higher voter turnout. The same philosophy applies with Presidential races. The more popular the race, the higher voter turnout we will see. It should be noted, that rarely, local political races drum up as much popularity as a national race, which leads to lower voter turnout.
Also, when there are Universal Primary Contests (where all registered voters can turn out and vote), the voter participation could be higher than that of an election where there are closed races allowing only one particular party to vote; which may be seen as voter manipulation. This particular example occurred in this 2012 primary with multiple local races. This may erode the voter's confidence in the process, which also may result in voter apathy. With this being said, I don't think it is possible to always compare one election with another.
Elections officials are always combating a barrage of rumors and untruths, concerning the elections process. For instance: those who distribute misinformation telling voters that absentee ballots do not count, the post office holds absentee ballots because they are mailed back with insufficient postage, voter rolls are filled with ineligible voters such as felons, non citizens etc., are examples all of which shake voter's confidence in the process and also creates voter apathy and a potentially lower turn out.
My efforts to improve voter turnout is to educate the voters and provide quality service to restore their confidence in the electoral process. I believe that by setting an example of being an elected official who works for the voter and the taxpayer will allow the voter to know not everyone holding public office is a politician, and not all holding public offices are the same. Voter's may be disappointed in some of the candidates they placed their confidence in, but hopefully there are some, such as myself who can make a difference, and who will inspire voters to continue to exercise their precious right to vote.
Is it your position that your tenure had nothing to do with the observed drop-off in turn-out in such races as the Palm Coast City Council or the last primary–both of which were comparable to their previous equivalents, and both of which saw a decline in turnout?


4. How have you (or would you) you reach out to elderly or incapacitated voters who are living in assisted living facilities and nursing homes, or voters who are homebound and may have trouble voting in person?
The law requires that we offer assistance to those in nursing homes and assisted living facilities. My staff and I have also delivered absentee ballots, when possible, to voters when they call with special needs. Whenever the opportunity arises, we do whatever we can to assist the voter, as the voters are our employers and we are a service-oriented office. There is an option that does not require the voter to vote in person (absentee ballot), which affords the voters the opportunity to vote in the privacy of their own home. As long as the voter completes the ballot, and places it in their mailbox, it will be returned to the elections office and their vote will be counted.
Can you explain what it means to offer assistance to those in nursing homes and assisted living facilities?

5. Would you support making the supervisor's race non-partisan? What will you do to ensure that your own party allegiance does not interfere with the impartiality the job requires?
It is very important that the Supervisor of Elections remain non-partisan at all times, this includes while they are campaigning on their personal time and while serving in the capacity of Supervisor of Elections. The voters must know that their Elections Chief is impartial, and that all elections are fair. I am a registered Democrat of 32 years, I am not a Democratic club member, I have not paid Democratic club dues, nor have I ever been a Democratic Committee Woman or held office in the Democratic Club. I also have not taken part in closing primary elections with write-in candidates as my opponent has, to disenfranchise other voters from selecting their elected officials. It is my hope, that our Legislators will take a closer look at this loophole in the law, and make appropriate changes.
By contrast, my opponent has demonstrated very poor judgment and has proven to be unfair and impartial. He is very actively involved in his party politics and he is even a member of a particular political club, responsible for closing multiple important, 2012 PRIMARY, local races thus disenfranchising 75% of Flagler County Voters. [Weeks is referring here to the Ronald Reagan Republican Assemblies of Florida, which has claimed that while its members have engaged in these practices, the club itself has not been responsible for them.–FL]
Since my opponent filed to be a candidate for Supervisor of Elections, he has publicly supported particular candidates, which is of concern. If he should be elected as Supervisor of Elections, and those same candidates he supported are elected, the appearance of impropriety could be very damaging to the Elections Office reputation.
My opponent is also passing out materials to voters in early voting lines, asking them to vote for particular candidates of his own party. This is not being fair and impartial, and it certainly does not allow those registered of an opposing party affiliation to have confidence that my opponent would be fair and impartial if he were elected as Supervisor of Elections. As of September 30, 2012, Flagler County has approximately 68,933 registered voters, with the majority of them being nearly evenly split between Republicans (25,552) and Democrats (24, 330) and over 17,056 NPA's. My opponents actions of actively campaigning for his party, do not give the remaining 43,381 voters confidence that the elections process under my opponents supervision, will be unbiased, fair and honest.
My opponent has actively supported and was involved with the political club who was responsible for closing local races on the 2012 Primary Election ballot to Republican voters only; which prevented approximately 75 percent of the registered voters from having a voice in electing those who serve them. Had the write-in candidates (who simply qualified only to close the races and not because they were truly interested in seeking the office) not qualified, these races would have been a Universal Primary Contests, allowing all registered voters to vote on one of two Republican Candidates seeking the office; so either way, the office would have been held by a Republican. The write-in candidates closed the race so that only registered Republicans were able to vote for which Republican they wanted to hold the office.
Following the Primary Election, the write-in candidates withdrew from the race, which then made the Republican candidate who won the primary (which were only voted on by a handful of Republican voters), the winner to serve us taxpayers the next four years. This was a legal loophole, but in my opinion, was a manipulation of the process.
In a recent forum, my opponent responded to a question posed about closed elections, by stating that he supported his team (registered political party and club) and was in agreement with his political party in disenfranchising 75 percent of the voters through the loophole in the State Statutes. It was not illegal, and he wanted to choose him team, and wanted the best for his team. Does this sound like you want to ensure fair, honest and impartial elections?
As a candidate for Supervisor of Elections, you must be conduct yourself impartially, so if elected, the voters will have confidence that you will carry out fair, impartial and honest elections.
While the answer delineates legitimate concerns of partisanship, might it not be interpreted interpreted as a shrewdly partisan attack on your opponent? and it still lacks an answer to one question: would you favor making the office's election non-partisan, as with school board and judicial elections?

6. Supervisor Weeks's tenure was characterized at times by a combative relationship with the county commission. Assess that relationship, and explain how you foresee relations with the commission over the next four years.
It is my responsibility as the Supervisor of Elections to do what is best for voters to make certain the ballot box is not controlled by the budget, which is decided on by a board of five county commissioners who each only have 1/5th of a vote of authority. Controlling the ballot box through the budget could prohibit me from adequately serving the voters as I see necessary, and within the confines of Florida laws and Statutes which could lead to an elections disaster and be an embarrassment to our county.
I am responsible for the entire management of the elections office with 100 percent of the voice for this office, and it is necessary that I protect and defend the office in which I was elected to serve-even if it makes me unpopular. I am independently elected by the voters to preserve the integrity of the electoral process and to prevent our elections from being manipulated. I have a responsibility to the voters-and am accountable to the voters.
There is always an adjustment period when there is new leadership. Many of the board members have had the opportunity to be involved in our elections as canvassing board members, and work directly with me to serve those who elected us into office. We established a working relationship that has been positive, and I look forward to continuing that positive relationship.

7. How can the public be sure that the machines used to count votes are not rigged or played with to affect the outcome?
All voting equipment is tested prior to the random selection of particular equipment that is tested publicly. The public is notified of the public testing of voting equipment by a newspaper advertisement, the Democratic and Republican clubs are notified by Certified mail and candidates are also notified in person, or by Certified Mail, to allow them the opportunity to be present during the testing. The Canvassing Board must certify to the accuracy of the testing, and if any equipment does not test satisfactorily, it is not used until it is sent to the vendor for further testing and analysis. Once tested and passed, the serial and seal numbers are recorded, the equipment is set for election, and the Department of State is issued documentation, and in most, if not all cases, is present during the testing. When the equipment is presented to the Precinct Clerk the day before the election, the Clerk verifies the seal numbers and the serial numbers, and the printed tabulation tape, which verifies there are no votes cast on the equipment.
When the poll workers arrive election morning, the equipment seal and serial numbers are verified, the equipment is turned on and tabulation tapes are printed which reflect all zero's on the tapes showing there are no votes cast on the tabulation equipment. All members of the election board sign the tapes verifying they have verified there are no tabulated votes on the equipment prior to the polls being opened for the voters. Following the close of the polls, an election ender card is run through the tabulator, which then will prevent the tabulator from accepting any additional ballots. The Optical Scan tabulator results are modemed into the Global Elections Management System from the precinct. The equipment is then sealed with the recorded seals and brought to the elections by a two-person control. Any equipment that is not modemed is sealed with a recorded seal and brought to the elections office for direct upload to the Global Election Management System. The equipment is then stored under lock and key. Following the election, before the canvassing board, there is a Post Manual Audit conducted, at which time there is a manual count of ballots of a particular, randomly selected precinct and race, which is compared with the Global Election Management System report for accuracy. This office has security cameras, and at no time is the equipment left unsealed or unsecured.

8. Please analyze for us the supervisor's budget: is it adequate for the office's responsibilities? If not, where is it most lacking—what areas of concern must be remedied most—and what will you do to ensure that those areas of concern are remedied, given tight budgets?
The 2012-2013 budget I proposed was approved. I budgeted for what I believed was adequate. However, one cannot budget for the unknown and unfunded mandates. Even though the 2012-2013 budget has been reduced, it remains considerably less than comparable counties.
In other words there are no areas of need that you would like funded, but cannot have funded at the moment?
9. Please give us an assessment of the current precinct map: Is there room for more precinct consolidation? Do you see a relationship between the contraction of precincts and the drop in turnout?
Prior to redistricting, there were some precinct changes at the request of the Board of County
Commissioners and are due to the fact that some of the precincts that were used for voting in previous years, were no longer available for our use. Many voting precincts are personal property, and the property managers, or property owners are generous enough to allow the public to enter their facility to vote on Election Day. We can be, and have been, faced with some of these private facilities not being able to continue to accommodate us, leaving us no choice but to change polling locations for the voters.
Following redistricting, and to comply with the constant request of the Board of County Commissioners, some of the precincts have been consolidated. Voters were moved to precincts which allowed for accommodating a larger number of voters with comfort and ease, such as the First Baptist Church of Bunnell, and the VFW. It was also taken into consideration which locations allowed for connectivity of the EVIDS (Electronic Voting Identification Device System), which expedites voter check-in as is exhibited during early voting, as several precincts use the EVID's on Election Day. Many counties throughout the state have consolidated precincts following redistricting, which will mean less voting tabulation equipment will need to be purchased when we are required to purchase voting equipment in the next year or two.
The 2012 Primary Election was the first election we have had since redistricting and precinct consolidation. Even though many races on the 2012 Primary ballot were closed races to Republican voters only, voter turnout was higher during this election than it was during the Primary Election of 2008. Therefore, it is believed voters still know where and how to vote, they just choose not to vote in every election. It is hoped that there will not be a need for precinct changes anytime in the near future. However, if the need arises to expand precincts, they will be expanded. There was a lot of cleanup done following redistricting to remove precinct splits to avoid multiple type ballots from being issued for particular locations.

10. We hear plenty of anecdotal tales of voter fraud, but see precious little hard evidence of it, especially in Flagler County, whether under Peggy Border or Kimberle Weeks. Evaluate the issue of voter fraud realistically, in Flagler County: Is it an issue? If so, describe what—if anything—you would do, or have done, to address it.
If you hear tales of voter fraud, and see precious little hard evidence of it, especially in Flagler County, then perhaps it doesn't exist in Flagler County, and its existence may be exaggerated by misinformation being released to the public. I would like to see those who commit voter fraud be prosecuted, and by doing so, it would then send the message to others who consider committing voter fraud that they will be held accountable. I have asked our Clerk of Court to provide me with documentation of individuals who are convicted of felonies after each court hearing, so I can begin the process of removing identified ineligible voters from the voter rolls before they have the opportunity to vote as a convicted felon and commit another crime. I have also requested our Clerk of Court to notify my office of any Juror who is a non-citizen; so that I can check the voter rolls to make sure non-citizens are not registered to vote. This too, helps keep our voter records clean and up to date, without delay.

11. Setting aside statutory restrictions, would you, as a supervisor with a voice that can be heard in Tallahassee, favor lengthening early voting days?
With one's ability to request an absentee ballot by mail or in person several weeks prior to early voting starting, I do not see the need in lengthening early voting days. In reality, with voters being issued an absentee ballot in the office several weeks before advertised early voting begins, voters are essentially voting early, they just are not feeding their ballot through the tabulator after they vote their ballot; their ballots are tabulated during a publicly advertised canvassing board meeting. Myself, and other supervisors would like to see the law changed to allow more flexibility as to where early voting can be conducted. Currently we are restricted to holding early voting at the Supervisor of Elections Offices, Public Libraries and City Halls.

12. One of the Weeks campaign ads states that she was "ranked as one of top Supervisors in the State by the Governor in April 2012." How is that rank achieved? Do you support the governor's method of evaluating supervisors of election within the state that allows each supervisor to self-grade his or her performance. Why, or why not.
Supervisors did not "self-grade his or her performance". Supervisors have responsibilities and part of the ranking determined if supervisors complied with requirements. The ranking by the Governor was based on factual reports confirming if statutory requirements were complied with when conducting elections. Other parts of the ranking, which could have reduced a supervisor's score, had nothing to do with requirements being fulfilled. Supervisors were given points as to when they filed their reports; if the report was filed electronically, points were given and if it was not filed in electronic format, penalty points were assessed.
Supervisors were required to provide information as to when tasks were completed. This information was then compared to when tasks were required to be completed. This task was used to verify if the supervisor(s) were in compliance or not. Supervisors knew they were going to be ranked, but it was not possible to know what the ranking was going to consist of, to allow supervisors the ability to make sure they were in full compliance beforehand. It was not known exactly how the ranking was going to be scored, so supervisors did not have the opportunity to know where or how they could earn points. The timing of the ranking was not appropriate as many supervisors are up for re-election, and the results could impact the outcome of their re-election efforts. It has been said that the Governor was going to rank all the Constitutional Officers, yet we have only seen the Supervisor of Elections be ranked to date. This was unfair to Supervisors as we all work together, and work very hard to be the state in the nation who holds the best elections, and we are accountable to the voters.

13. On the ballot are 11 verbatim constitutional amendments which are lengthy and worded in legalese. There's not the usual summary to educate voters. What should a supervisor of elections do to ensure informed voter participation?
The supervisor must remain impartial and not influence a voter in anyway. Therefore I do not provide any information on the amendments other than what the Department of State issues to me. The Department of State is required to issue Supervisors a publication on the amendments to educate the voters. This publication is distributed to the public and because this information is provided in limited supply, the book is scanned and placed on the Flagler County Supervisor of Elections web site, so all voters could have convenient access to it.

14. The following questions were submitted by Weeks's opponent, Trey Corbett. Her answers will be posted when received:
i. Can you explain to the tax payers how an employee in the Supervisor of Elections Office in September 2010 earned wages of over $3,000.00 in one pay period, which was obviously way above a normal pay amount, and as you told the County Commissioners that you do not consider this "a bonus"?

The 09-10 operating budget was encumbered nearly $30,000 from the purchase of voting equipment that was purchased and never paid before prior to me taking office in January 2009. The operating budget was also impacted with an expense that was not budgeted for when the Governor extended voting. Therefore, I withheld budgeted salary monies until the end of the fiscal year to ensure I did not go over budget. In summation, no bonuses were given and a former disgruntled employee made false accusations and relayed inaccurate information to the board.
ii. As you know, by 2016 there is a significant expense coming up to upgrade voting equipment and other counties have "earmarked" monies that the SOE Office"gave back" to the county. How have you worked with the County Commission to do the same with monies that you said you have given back to the County?
The Board of County Commissioners are responsible for funding the operations of the Elections Office. They have been made aware that the Touch Screen Voting equipment is mandated to be replaced by 2016. Nearly $100,000 of the SOE's operating budget has been returned to the Board over the past three years. If the board desires to place those funds along with additional funds in an escrow account to be prepared for the replacement of the voting equipment, that will be at their discretion. They are aware the elections office has been operating on much less than comparable counties, and I have complied with reducing precincts as they have requested. I feel confident the Board will provide necessary funds to ensure we comply with this State requirement to allow our office to continue to provide quality elections to the citizens of Flagler County.
iii. Do you feel that it is appropriate, and even ethical, for a Supervisor of Elections to have a booth for the Office at a public event and distribute campaign material for their own campaign at that booth? Were the employees in the booth being paid regular hours or over time? Should any candidate material be distributed from a SOE booth at a public event?

It is certainly appropriate and ethical for a Supervisor of Elections to have a booth at a public event to serve the voters. If the event holder does not allow a candidate to have a booth, but permits a candidate to campaign and hand out campaign materials at the same event without having a booth, I also feel this is appropriate and ethical. At no time, did a Supervisor of Elections candidate sit in the Supervisor of Elections booth while campaigning, and at no time did a Supervisor of Elections Candidate distribute campaign materials from the booth of the Supervisor of Elections at a public event. If the event holder did not feel it was appropriate for the candidate to distribute campaign materials at the event, the candidate would have been informed of such. If the candidate was violating any policies of the event holder, they too would have been notified as the event holder has strict rules and enforces their rules.
It certainly is unethical and inappropriate for another candidate who is seeking to be elected to the position of Supervisor of Elections to insinuate wrong doing when wrong doing hasn't taken place, and to create a perception of false information to try to deteriorate the integrity of the candidate they are opposed to.
If employees of the elections office are due to be paid their regular rate of pay, then that is what they should be paid. If they are entitled to over-time, then that is what they are to be paid when attending public events. The office of Supervisor of Elections is a non-partisan position. Those who are employed in the Supervisor of Elections office are also non-partisan and do not distribute candidate's political information from a booth at a public event or from the elections office.
My dedication and work ethic is evident in that I am able to separate my professional position in office from my re-election campaign. The Supervisor of Elections office was represented at the event with Elections Staff assisting Flagler County Residents. Despite your insinuations, I am entitled to campaign for re-election, and at no time did I do so, with taxpayer dollars or by violating event rules.