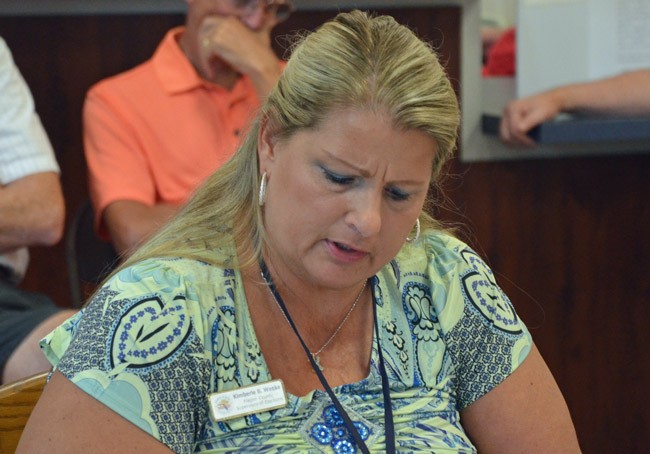 Last Updated: Aug. 10, with $2,000 Ron Labasky payment.
Kimberle Weeks, the former Flagler County Supervisor, ran up  $10,500 in legal bills in her last five months in office, including $5,000 to defend herself in a state investigation that resulted in 12 felony counts against her. She charged the bills to taxpayers.
Along the way, she misled local news organizations when she did not fully respond, as she was legally required, to a public record request, remaining silent about what bills had been paid when, in fact, $5,000 had been. She also did not disclose a retainer agreement with one of her lawyers.
The first $5,000 bill, paid last August, just before the end of the fiscal year, was for Roberta Walton, the Orlando attorney Weeks hired as the canvassing board attorney. Weeks retained Walton without approval from the two other members of the canvassing board, who had designated County Attorney Al Hadeed as the board attorney. Hadeed's representation was not costing the supervisor's office any additional dollars, as he is salaried through the county commission.
Walton billed the supervisor's office at $250 an hour, and at $35 an hour for travel time to and from Orlando, plus $30 per trip for "travel expenses." She attended several canvassing board meetings. The agreement listed nine such scheduled meetings between October and November, though Walton may have missed one.
The second bill, for $5,500, paid last November–in the current fiscal year, which ends Sept. 30–was for Michael Lambert, the Daytona Beach attorney, whom Weeks hired on Oct. 1 "with regards to my position as Supervisor of Elections of Flagler County, Florida, to assist and advise me in that capacity," she stated in her contract with Lambert. "This representation includes, but is not limited to, researching Florida Statutes dealing with the Supervisor of Elections Office, addressing and responding to complaints filed against me in my capacity as Supervisor of Elections, and any other legal issues that may arise as Supervisor of Elections."
On March 18, 2014, Weeks also cut a $2,000 check for Ron Labasky, the general counsel for the Florida State Association of Supervisors of Elections, whom she'd hired for counsel on a conflict she had instigated with Palm Coast government over the city's charter. Weeks had claimed that a change to the city's charter regarding elections was improperly documented. Labasky was one of four lawyers to tell her that the city was on sound legal ground. Nevertheless, Weeks continued to dispute the attorneys' opinions for weeks.
Weeks also hired a Volusia County court reporting agency for a canvassing board meeting in November, at a cost of $238, which was paid in February. The actual check was for $252, because of a late fee. (The court reporter was brought in in defiance of a 2-1 vote by the canvassing board that ruled against Weeks keeping minutes of meetings because of her long-documented habit of drafting selective and subjective minutes.)
"Those aren't budgeted for," Kaiti Lenhart, the Flagler County Supervisor of Elections, said, referring to the legal costs incurred under Weeks. The Walton cost was charged to the previous fiscal year, which ended on Sept. 30, 2014. The Lambert cost and the court reporting cost are charged to the current fiscal year's budget.
"The fiscal year is not yet over," Lenhart said. "Hopefully we're going to be able to have some savings in other areas to compensate for that."
The Supervisor of Elections' current budget is $719,000. It covers six employees at that office, not counting poll workers at election time. The proposed budget for the coming year, which includes elections, is $848,000.
Weeks hired Lambert two days after the Florida Department of Law Enforcement confirmed that it was looking into allegations of illegal practices by Weeks at the supervisor's office. FDLE confirmed that on Sept., 29. On Oct. 3, FDLE searched Weeks's office and seized equipment and documents, launching a formal investigation into allegations that Weeks had illegally recorded various individuals, most of them elected officials, including County Judge Melissa Moore-Stens, without those individuals' knowledge.
Weeks resigned her position on Jan. 5. In May, a grand jury indicted her on 12 felony counts related to illegal recordings. After she resigned, Weeks hired Orlando attorney Joerg Jaeger to defend her in the felony case. Her next court date is a pre-trial in October.
Last Nov. 4, three local news organizations–FlaglerLive, the Palm Coast Observer and WNZF–submitted a public record request to Weeks, in a hand-delivered letter and an email replica, which she acknowledged, requesting billing records, invoices, retainer agreements ad the like relating to any attorney she had contracted with, or court reporters. Weeks responded on Nov. 4 by email with a copy of the retainer agreement for Walton, but nothing else.
By then, of course, she had already issued a $5,000 check to Walton, dated Sept. 30. Weeks never provided documentation of that payment in response to the public record request. The $5,500 check to Lambert was not cut until Nov. 21. But the retainer agreement with Lambert, which listed the retainer fee and costs, had been signed on Oct. 1. Weeks never provided that agreement in response to the public record request.
Earlier this week, Sem. Travis Hutson filed a bill for the January legislative session that would amend the law addressing canvassing board. Hutson's bill would designate the county attorney as the official attorney of all canvassing boards absent a two-thirds vote by the board members to designate someone else. With regards to the Flagler canvassing board, two board members had, in fact, designated Hadeed as the board attorney. Weeks still refused to recognize him and hired her own, but at taxpayers' expense.