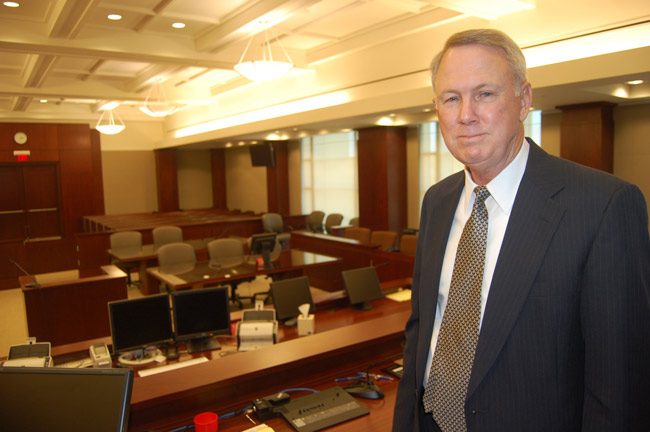 On the eve of his retirement after two decades serving as Flagler County's circuit judge seven years ago, Kim Hammond spoke about the pictures that had been taken down from the walls of his office, in the building that bore his name.
The pictures traced the arc of a career that mirrored one of his touchdown passes when he was a star quarterback. A touchdown pass against the Florida Gators. A touchdown pass against Penn State in the 1967 Gator Bowl. Right above it, the MVP Award he got in that game. Pictures of his days at Florida State. A picture of Bear Bryant grabbing him by the neck at a banquet. Pictures of teammates. Pictures that went back to his high school years, including pictures of Bill Nelson—whom he still called "Billy"– in Little League, where the future astronaut and U.S. senator was a catcher (it was Nelson who recruited Hammond.) That was when he drove a black Mercury Marquis four-door and when his teammates called him Governor.
He didn't mention pictures of Bill Proctor, the future president of Flagler College and Florida House representative who was key in securing a second judgeship for Flagler by 2011: Proctor had once punished Hammond, because Proctor, a disciplinarian on the Seminole football team, had found dust in Hammond's college room. He made him run up and down the steps of Campbell Stadium at night for that. "They had punishments you wouldn't wish on your worst enemy," Hammond had said in a 2010 interview.
It was easier in playing professional ball—"you're dealing with men, then," Hammond had said—as he did for the Miami Dolphins and the Boston Patriots for a couple of years, getting paid $25,000 to $30,000 in 1967 (or $186,000 to $223,000 in today's dollars) and setting aside much of it to pay for law school. Gov. Bob Graham appointed Hammond and Jim Foxman—the other man who has a courthouse named after him, in Volusia County—to the bench the same year, 1979. When Judge Mel Orfinger left Flagler for a seat on the Fifth Circuit Court of Appeal, the chief judge asked Foxman and Hammond which of the two wanted to take the seat in Flagler.
Hammond said he would.
The rest is now etched in that white granite face of the Kim C. Hammond Justice Center in Bunnell, in whose shadow Hammond took his last bow in November 2010, after logging 11,000 days as the county's judge of all things.
On Sunday, Judge Kim C. Hammond died in Daytona Beach after battling illness for many years. He was not yet 73.
---
"There's still a lot of goodness, even among people that are having problems, making mistakes, a good many of them are pretty good people in most respects and are just struggling through hard times in their lives."
---
His death left friends, colleagues and admirers shaken at the loss of one of the few men who could make the building that bears his name look small in comparison.
"He was a lot of things to me, a father figure, a brother, a friend, a mentor," said Circuit Judge Raul Zambrano, who worked with Hammond in Flagler before taking his place as the county's criminal court judge in 2011. He paused today as he spoke, emotion at times overcoming him, as he'd remained close to Hammond through the years, until the end. "We ate every day together, every single day I was in that courthouse. You develop a kind of strong bond with people like that. It really hurts."
"Law aside, we shared a lot in common in terms of how we were raised by our parents," Zambrano, now the circuit's chief judge, continued, "and there was a remarkable similarity between what was then rural Brevard County in the 1960s and 1970s," where Zambrano spent his adolescence and young adult years after moving from Panama, "and Panama in the 1970s. It's just how he grew up and the things he did as a child, it's almost as if we lived in a different era, we were 20 years apart, and yet we were having identical experiences." The two men it seemed had more in common than they had differences, down to the career paths they took.
And there was this about Hammond's father-figure effect on the younger Zambrano, as he remembered himself back then: "He was always a calming presence for me, I'm kind of young, my Hispanic culture, you know, full of emotions a lot, and he was always able to calm you down, soothing voice, able to tell you what to do next. It's just something I'll miss a lot."
Gail Wadsworth worked with him in two courthouses for a decade. He taught her to be the clerk of court, she says. His tenure had begun within just a couple of years after her father, Billy Wadsworth, had left the bench in 1978.
"I just wasn't ready for that, not him, he was one of my heroes," Wadsworth said today. "I've known him since I was 17, and I'm 71, so that's a long time. I didn't play football, I didn't have head trauma, I didn't gain diabetes from all the related things in my life, and God Bless him, I'm sorry, and I'll miss him."
He'd never realized what an enormous workload he was carrying, Wadsworth said, in a day when he did criminal, civil, family—all but county court.
Wadsworth and her staff kept tabs and tabulated the load. "I took those numbers to Bill Proctor and I said help us, help Flagler County get a new judge," Wadsworth said. Proctor was in the Legislature by then. In 2011, the additional seat was secured.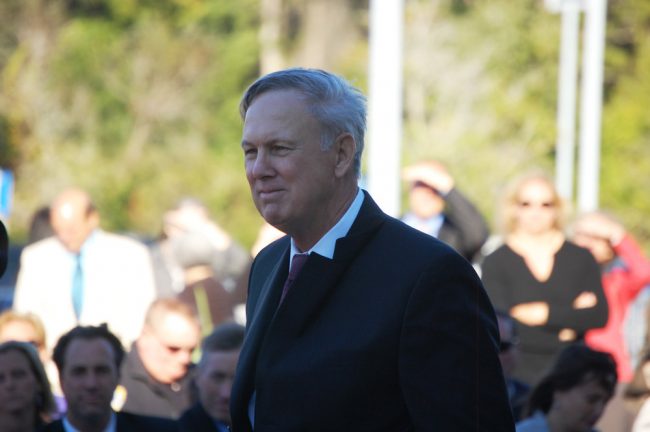 Rick Blaine, the Director of Courts, remembers his days as a bailiff, providing security for Hammond. "He never put himself out to be a high and mighty person, he was very humble, and it was a pleasure to guard him when I did," Blaine said. The two would often have lunch together. "He was a great guy, all around good guy, humble, always willing to say hi, shake hands and talk to people. Every decision he made he didn't take lightly." He added: "It's a loss for the community and a loss for the legal world, but he lived a heck of a life." (Palm Coast Mayor Milissa Holland called him a "gentle giant.")
He had the admiration of law enforcement as well. "He is what a judge is meant to be," said Liz Williams, the long-time detective with the Flagler Beach Police Department who continues to fill a central role in Drug Court. "Thorough, decent, fair, and honest. He had incredible mastery of the law but was insightful enough to see the human behind the act. It was his compassion and vision that was instrumental in the birth of Flagler County's Drug Court and for that, I will remain forever grateful. He will always be an inspiration to me and I am honored to have known him."
In November 2011, Hammond agreed to a 75-minute interview with FlaglerLive, in his office, days before his retirement. It was his longest then or since. The interview, the audio of which appears in full below, has never been published before. He spoke of his career as an athlete and a judge, and reflected about the law and how Flagler changed over the years. At one point he spoke about his own effect as a judge locally.
"I think I've been treated particularly well by the citizens of this circuit and this county, and they've shown a certain affinity or likeness for some of the things that I've done, and I'm sure some would dispute things that I've done," Hammond said. "But I've been treated pretty well. And I realized some years back, I was averaging several thousand cases a year that I was handling that involved multiple parties, family members, friends, loved ones, people that were interested in the litigation, people in the community that were watching or interested, and without exception, I realized that I was touching a lot of people's lives. It's almost scary. You don't touch that many people's lives, many times if you're a star athlete. You'll have certain, maybe, some loyalties. But I was handling thousands of cases."
He continued: "So you really have an opportunity to have some influence in a lot of people's lives, and that almost is frightening, because it comes with it a lot of responsibility, and you become more aware of that the longer you do it. It doesn't mean that you change much, except that you maybe listen better, you maybe consider some things you hadn't considered before, you see things a little bit differently. That opportunity to have that influence in people's lives is really a high honor."
Not even his daily exposure to crime's consequences dimmed his generally bright outlook on society.
"There's still a lot of compassion out there," he said. "There's still a lot of goodness, even among people that are having problems, making mistakes, a good many of them are pretty good people in most respects and are just struggling through hard times in their lives. So I feel pretty optimistic about the world around me and the people I deal with."


The Seventh Judicial Circuit released the following obituary notice:
The Seventh Judicial Circuit sadly announces the passing of the Honorable Kim C. Hammond, who served for more than 30 years as Circuit Judge in Flagler County. Judge Hammond died yesterday, July 16, 2017, in local hospice care. He was 72.
A native of Miami, Kim Hammond grew up in Melbourne. He earned his undergraduate and law degrees from Florida State University, where he was an All-American quarterback. He played professional football for the Miami Dolphins and the Patriots while going to law school. He passed the Florida Bar in 1972 and started as an attorney in private practice in Daytona Beach. He was appointed to the bench in late 1979 and for many years served as the only circuit judge sitting in Bunnell, presiding over all aspects of law.
He was credited with making the new courthouse in Flagler County a reality and the justice center, which opened in 2007, was named in his honor. He also served as a former Chief Judge of the Seventh Judicial Circuit. He retired from the bench on Jan. 3, 2011.
"Judge Hammond was a beloved judge in the Seventh Judicial Circuit," said Chief Judge Raul A. Zambrano. "He was the ultimate statesman and was revered by his colleagues on the bench. He will be missed – but will always be remembered as a true Seminole."
In addition to his work in the courtroom, Hammond served on numerous statewide court committees and held leadership positions with the Florida Conference of Circuit Judges. He also was an instructor with the Florida Judicial College. He was active in his community, serving the United Way, Boy Scouts, the Daytona Beach Community College Foundation, Florida Special Olympics and First Presbyterian Church of Daytona Beach.
He is survived by his wife Jan, three children and eight grandchildren.