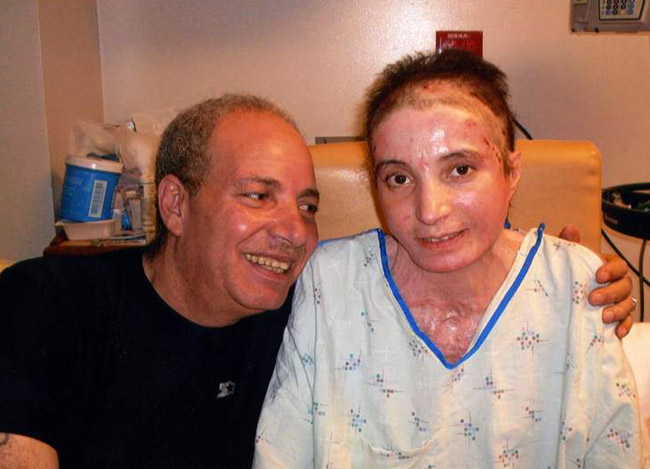 Khalid Mohd, a Palatka shopkeeper and immigrant from Jordan, is going to spend the rest of his life in prison for setting his wife on fire to prevent her from going back to Jordan. Putnam County Circuit Judge Patti Christensen sentenced Mohd Wednesday, after his wife, speaking in a video recording from Amman, the Jordanian capital, said she wanted Mohd "to get tortured the same as I got tortured."
Khalid Mohd and Rema Jamal had married in Jordan before Khalid left for Palatka, literally to set up shop—a convenience store, the entry-level business of many immigrants from the Middle East—and earn a living for his family. He'd send monthly sums home. The couple had two sons. In 2009, Khalid, during a trip back to Amman, married another woman, but remained married to Rema, not an uncommon practice among some Muslims. The same year, he moved Rema and his sons to Palatka.
On March 27, 2010, the couple argued over the other woman. Khalid wanted to move her to Palatka, too. Rema wasn't keen on the idea. She had wanted a Green Card for herself and her children (the first step to American citizenship), which Khalid had already secured. Khalid didn't want to hear of it. When Rema threatened to go back to Amman with the boys, her husband threatened to kill her and bury her in the backyard swimming pool, the same pool he had her fill in with dirt, as if to make her prepare her own grave. She was going to call the police. He ripped the phone line off the wall. The argument escalated.
According to his arrest report, Khalid at first claimed that his wife caught fire because of a grilling accident that morning. He then changed his story to say that she had self-immolated, dousing herself in lighter fluid. That, of course, was not the case. As the children played in the yard, it was Khaled who doused his wife in lighter fluid and who lit her on fire, prosecutors told the jury during his trial in June. Rema's children saw her, flames all over her body, "yellow stuff" falling off.
She would end up with second and third degree burns on 85 percent of her body. She was treated at Shands hospital in Gainesville: skin grafts, infections, therapy, for weeks an inability to speak or even lie down. She was unable to care for herself. Her father, Jamal Al-namroti, became her caretaker and her children's parent as she was treated, before taking the family back to Jordan. Meanwhile, Khaled awaited his trial in a Putnam County jail cell.
In her video testimony Wednesday, Rema, now 33, said she was permanently disfigured, in daily pain, and in need of a dozen more surgeries. She currently receives regular physical therapy and requires help from her family in dressing and bathing, the state attorney's office says.
Rema's father also spoke by video at the hearing (he and his daughter could not be flown over because of Ramadan, the month-long annual observance that ends on Aug. 18). He said he'd already spent $200,000 to care for his daughter.
"Those five months were like hell to me," he said of the time he spent with his hospitalized daughter in Gainesville, in comments quoted by the Times-Union.
Khaled denied it all, saying his wife had self-inflicted all her harm.
"Based on the violent nature of the crime and the long term injury inflicted, a life sentence is the only appropriate sentence allowed by law for this defendant," R.J. Larizza, the state attorney for the 7th Judicial Circuit, which includes Flagler County, said. "Rema Jamel was completely defenseless.  She did not provoke him.  She was attacked by her husband, had lighter fluid thrown on her by surprise and was unconscious when he lit a match to her body.  This life sentence will prevent the defendant from inflicting any more violence on anyone else again."
According to the Times-Union, Khalid Mohd, 41, "appeared smug and was often argumentative with the lead prosecutor and during the judge's comments" during Wednesday's sentencing hearing. Photographs of the hearing show him smiling, flashing a thumbs up, pursing his lips defiantly as he sat or stood, his wrists, waist and ankles in chains.
Jamal, Rema's last name, means "beauty" in Arabic. Today, she is afraid to go out in public.