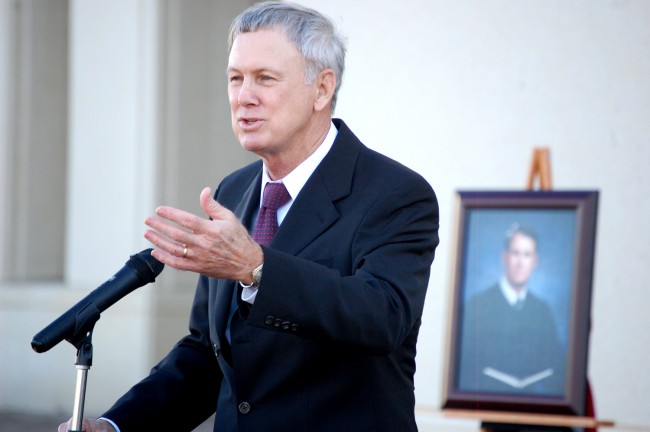 It started  some five decades ago with the Fight Song at Florida State, where Kim Hammond was a star quarterback before going on to play for the Miami Dolphins and the New England Patriots. It ended Friday the same way, this time with lawyers, judges and such doing that air-chopping thing State's legion of Seminole tribesmen do when they hear their song, with the Stetson University Brass Ensemble playing it like an anthem and a slightly older Judge Hammond readying to make his final pass, this one to Raul Zambrano, the circuit judge who'll take over Hammond's duties come January.
What happened in between those two songs, 50 years and a life's drive apart, not to mention the 11,000 days he was Flagler's judge, was actually visible to the more than 100 people formed in a crescent around Hammond on the plaza of the Flagler County Courthouse Friday afternoon as they celebrated his retirement: a boy who once played little league with "Billy Nelson," as Hammond calls the U.S. Senator, had turned into a student, a football player, a lawyer, a judge, a father and grandfather, and finally, an institution—the kind of institution who gets a monumental building named after him while he's still using it for his day job.
It's not an exaggeration to say that Hammond stood in his own shadow Friday afternoon, but a literal fact: the crowd was in the sun. Hammond was in the shadow of the four-story Kim C. Hammond Justice Center, dwarfed by what he leaves behind, and even somewhat "relieved," as he put it after the ceremony.
"I'm a little concerned about how hard my successor is going to have to work," Hammond said. "It's probably going to be Judge Zambrano. So I'm trying right till the end to do everything I can to get the caseload in shape, but it's a heavy burden. With his youth maybe he can manage, but they're going to need help, and I'm not going to be able to help, there's not much I can do about it. But I see the problem."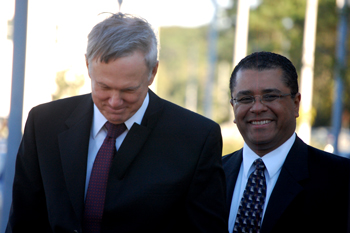 There'll be time to look back later. The afternoon's ceremony was its own self-contained case-closing, complete with court reporter Louise Pomar doing the transcribing (the judge, she said, likes to have a written record, and the courthouse has a habit of always including court reporters at investitures, so why not at retirement?) . Chief Judge David Walsh did the introductions, George Hanns, the chairman of the county commission, did the official presentation of the proclamation of Nov. 5, 2010 as "Judge Kim C. Hammond Day," Billie Nelson was piped in by video from wherever he's mourning Tuesday's results, Hammond's official portrait was unveiled, Zambrano wielded words, trumpet, humor and reassuring confidence, and through it all, Hammond sat, stood and spoke with the coldest day of the season chilling him enough, like retirement's first frosty licks, that he was quivering.
"So as I shake in your presence," Hammond told the crescent of esquires and lesser lights, "I want you to know that I really appreciate your endurance."
"It's time for me to retire. It's good to know that, I believe that," the judge said, though his official last day isn't until Dec. 31. "I'll see you at the grocery store." And with that, he handed over the burden of being Flagler's senior judge to the young Zambrano, in Flagler just five years. Zambrano will take over Hammond's criminal caseload. Dennis Craig, the Daytona Beach prosecutor just elected to fill the Flagler vacancy (at 49, Craig is a more than a decade older than Hammond was when he started in Flagler in 1979), will begin excavating the civil docket.
"I'm going to come in and work as hard as I can work, do the best that I can do. I know it won't be the same as having Judge Hammond, but I can't wait to get started and get right into the caseload," Craig said after the ceremony, showing no hint of shoe-filling syndrome. "I've been around long enough and been through enough both in my legal career and personally, I don't get nervous about things anymore. I take things in stride."
It's an old Kim Hammond trait.