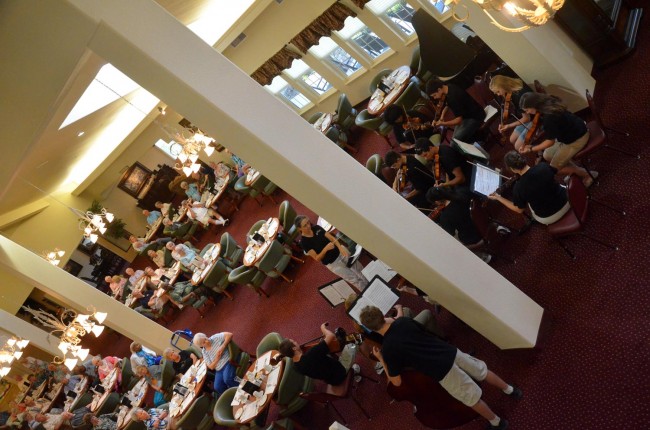 The woman had already caught the attention of members of the orchestra: she had a shoulder swagger, a dance in her step unusual for someone her age, for anyone at an assisted living facility, maybe betraying memories of her capers across 1940s dance parlors. The Flagler Youth Orchestra ensemble then started playing "Jazz Pizzicato," the devilish Leroy Anderson piece from 1938. The woman  immediately picked up on the roller-coaster rhythm, and started conducting. She had her room key on her right wrist. It jingled along with her direction, a tiny percussion accompaniment from an audience of about 20 residents at Alterra Sterling House, the assisted living facility on Club House Drive in Palm Coast. She was so into it that the ensemble, at the end of the mini concert Saturday, played the piece again, and dedicated to her.
It was one of several highlights of the Flagler Youth Orchestra's day-long tour of three assisted and independent living facilities in Palm Coast Saturday in memory of its founding music director, the late Jonathan May.
"We are just keeping the spirit of Jonathan May alive by sharing our music with the community, and we're trying to reach audiences who might not otherwise have an opportunity to hear these wonderful young musicians," Caren Umbarger, the Youth Orchestra's music director and a friend of May's, said between gigs.
A 13-piece ensemble of the Youth Orchestra—violinists, violists, a cellist and a bass player—performed at Benton Village (two performances, including one in the memory care unit for patients afflicted by Alzheimer's and similar diseases) and Las Palmas before concluding at Alterra. It's a distinct sort of performance setting for the young musicians, all of them in middle and high school, particularly compared to their big concerts at the Flagler Auditorium, where they're guaranteed a friendly audience filled with moms, dads, uncles, aunts, brothers and sisters.
"It's a more intimate setting, so they have to be on their toes," Umbarger says of Saturday's performances. "It's just that they're being observed from a closer vantage point. These aren't their relatives. It's a critical but appreciative audience." It was bound to be appreciative: the ensemble held it together, playing cleanly and enthusiastically. (It's had its off days on occasion).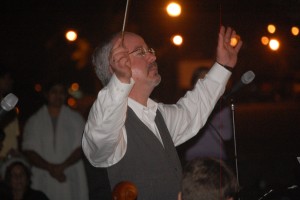 "The audience,  obviously they're a lot older so there's a lot less energy, but they're also a lot more respectful, and I think that's really the biggest difference," Daniel Masbad, a 15-year-old violinist, said over lunch at Woody's. At the auditorium, he says, "it's kind of disconcerting, a lot of people don't understand the etiquette." Masbad knew of May and saw him around the orchestra when he started playing four years ago, but never worked with him. He had a different teacher at the time. "Everyone is always talking about how caring he was with all his students and how good of a teacher he was, so it would have been good to work with him. I'm sad that I never had that experience."
Not that his current experience is any less fruitful: he works with Umbarger and has developed so rapidly in just four years that he's in line to be the Youth Orchestra's concertmaster next year.
"People can tell when music sounds good and when it doesn't," Umbarger said. "I'm thrilled with how well these children are rising to the occasion. Playing in different venues is not an easy task because they get moved around, each space has its own individual sound, they're listening to each other, adjusting, and they sound great."
May would have loved it, too. They're his descendants, in a sense, as performers of the Flagler Youth Orchestra always will be, though as stories of creation go, this one almost didn't make it.
In the beginning, early in the previous decade, there was the semblance of a youth orchestra in Flagler County: a dozen musicians more or less, more often less than more, trying to keep the idea of a strings ensemble going in Flagler County. But it was expensive to join and the pay-off was unconvincing. By 2004, the orchestra was really a chamber group straining toward extinction.
May, the celebrated conductor of youth ensembles all over Central Florida, conducted the Flagler group for a while too, but driving in from Orlando once or twice a week for the little return he got out of it convinced him to quit—until a convergence of events seven years ago brought him back: Bill Delbrugge, the school superintendent at the time, had himself been a band director and a musician (he plays the trumpet, among other instruments). He wanted a strings program in Flagler schools. And he was willing to put money behind it. Not much, but enough to make it possible for any student who wanted to play strings to do so, free of charge.
The response was phenomenal, and unexpected. Some 125 students enrolled that first year. Two more teachers were brought on. The Flagler Youth Orchestra was born. And it very quickly grew to a routine enrollment of 300 students or more every fall from every school, home-schoolers included (a few dozen less as they year wears on and disinterest or other extra-curricular seductions take their toll), making it by far the largest performing arts program in the county. May's popularity helped, as did three annual performances of the entire orchestra (and its several subdivisions) that usually pack the Flagler Auditorium.
On Feb. 27, 2010, Jonathan May died. A brain bleed.
May had four children, all musicians (the youngest is 18). The Mays started their own musical program since May's death, carrying on his legacy. The Flagler Youth Orchestra never skipped a note, either. Another lucky concurrence of events ensured its survival the rest of that year, then its recreation under Umbarger, whom May had actually invited to Florida the spring of his death to get familiar with the youth orchestra and perhaps become a part of it. Those who give providence its due may say he might have known something.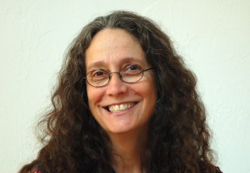 The orchestra under Umbarger (a novelist and recent winner of a bronze medal in the Florida Book Awards) thrived on, never forgetting its founder, or its founding principles. "I think we could cook something up here, Cheryl," Umbarger remembers telling Cheryl Tristam, the orchestra director since its first day with May. "We did. We have. Here we are."
It's still free. It's an even more rigorous immersion in the demands and pleasures of musical skills. And it takes community involvement very seriously.
"It was important to him that the community was behind the Youth Orchestra, and the way to do that was to get out in the community and perform," Tristam says. "Jonathan gave us a huge gift, and when you receive such generosity it's important that the kids understand that they have to turn around and give it back." (Tristam is married to FlaglerLive editor Pierre Tristam.)
To honor May's memory last year the orchestra performed on Feb. 28 at First United Methodist Church in Bunnell, for the cold-weather shelter there. Orlando has since declared May 1 Mr. May Day, "so we decided that we would schedule something around that date," Tristam said, "and we thought that hitting the numerous assisted living facilities in Palm Coast would be a good idea, so that folks who don't normally get to go to our concerts would experience the music."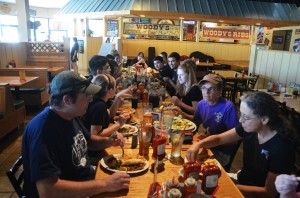 Saturday's tour is merely the latest near the end of a season that has seen the orchestra and its variegated parts log a record number of performances: The three big annual concerts at the Auditorium, a recruiting tour at the beginning of the year when a quartet goes to six Flagler elementary and middle schools over two days, two separate performances before the Flagler County Rotary, one before the county's Realtor association, a performance at Flagler Hospital Flagler's celebration of volunteers, two performances with City of Palm Coast commemorations (July 4, Sept. 11), a concert during the United Methodist Church's Youth Music Festival, a collaboration with Trinity Presbyterian church's Trinity Chamber Players, a recent art opening at the Hollingsworth gallery, a joint event with the Flagler County Art League and the Flagler Playhouse, a day-long series of performances at one of the Feed Flagler venues, and a few more along the way.
Several more to come, too, including the final major concert of the year at the Auditorium, on May 9. Touring ahead of that concert has its purposes beyond outreach, the way stand-up comedians like to hit the regional circuit before appearing on Letterman. "This kind of a tour really creates camaraderie among the students," Umbarger says. "They bond with each other and it makes their music better, they can play together more effectively."
And some of them, even the younger ones, have their own ways of keeping May's memory alive, on and off the state. "I always think about him when I play," says Shannon Hutches, a 12-year-old violinist who started with the orchestra in its first year (back when it took kindergarteners: now it starts with third graders). "He's kind of a role model for me. Like, when I'm practicing, at home or anywhere and I want to give up on something, I think of him, and keep practicing."