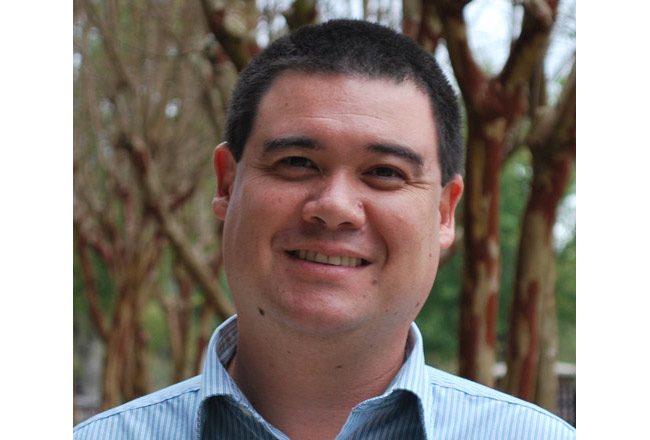 Jonathan Lord this morning began his tenure as the sixth man to take over leadership of Flagler County Emergency Management in 12 years. Lord, 43, had for more than two years been deputy director of Florida's Division of Emergency Management, overseeing the statewide response to Hurricanes Hermine, Matthew and Irma firsthand.
Lord replaces Steve Garten, who resigned in October ahead of being fired after less than two years on the job in what had become the most unsettled of county government's departments, small though it is: the department's ranks have fluctuated between five and six employees. Aside from its frequent weather advisories, emergency management is among the less visible of the county's departments—except in major emergencies such as tropical storms and hurricanes, when it becomes the hub of all local government operations.
"Coming in at this time is kind of a benefit to me because I have two recent storms, two recent events, to get insights into what worked and didn't work," Lord said.
Lord brings a varied career in public safety to the job. His experience spans state and local government, in Florida and New Jersey, and that included long stints at various levers of public safety, starting before he graduated high school as a volunteer Emergency Medical Technician on a first aid and emergency squad in Moorestown, N.J., and moving on to similar positions with gradually greater responsibilities as a paid EMT, a department of health officer and eventually an EMS chief, all in New Jersey, before taking up his first post in Miami-Dade. His career there started in 2004 as an emergency management coordinator for Miami-Dade County's Emergency Management Department.
As such he had experience in annual nuclear power-plant exercises (Florida Power and Light has two nuclear reactors at Turkey Point in Miami Dade) and was the planning section chief during Hurricanes Katrina and Wilma. Two years later he took over management of the division's public safety branch, conducting incident command exercises for emergency operations staff and first responders—the sort of exercises once conducted in Flagler, under a previous emergency management chief (Kevin Guthrie), but not since. Lord briefly worked in Palm Beach County's Public Safety Department before returning to Miami Dade as emergency management's assistant director then deputy director for six years before moving up to the state position. In his application, Lord also underscored his experience in technology.
Why move from one of the busiest, high-profile emergency management posts in the nation to one of Florida's more modest ones, in Flagler County?
"The sense of community is why I got into civil service or public service in the first place, and I get a greater kick out of working with smaller communities," Lord said, harking back to his experience in new Jersey. His intention as he starts the job is to develop "partnerships" with all local governments, non profits, volunteer groups, business and the media. The depth of those partnerships define how well a community responds to disasters, he said, as "the better we can prepare the citizens, as one big partnership, the better we can recover."
Garten had been hired in part because of his experience working with the Federal Emergency Management Administration—to which he returned—though the county struggled a bit in the aftermath of Hurricane Mathew in recovering much emergency spending. Lord's experience appears to dovetail that focus as well. "Over my career," he wrote in his cover letter, "I have had significant experience in strategic and emergency plan development, budget development, procurement, training (emergency managers/responders and the public), and exercise development and implementation, I have had the opportunity to reexamine budgets, implement new organizational structures, build new teams, and develop collaborative partnerships at the local, regional, and state level. My experience has also allowed me to serve as contract developer and manager for many projects."
Lord, who'll be paid $90,000, has a Bachelors of Science degree in Emergency Medical Services from Hahnemann University which is now part of Drexel University in Philadelphia. He is a Florida Professional Emergency Manager, and holds a Department of Homeland Security Secret Clearance. He has a 7-year-old son ("he's my everything") in whose cub scout troupe he's been involved, and he used to scuba dive a lot, a hobby he says he hopes to resume in Flagler.
"We are thrilled to have Jonathan Lord join our staff," said County Administrator Craig Coffey in a release. "He is well-qualified and has breadth of experience we are looking for in our Emergency Management Chief."



Jonathan Lord's Cover Letter and Resume (2017)