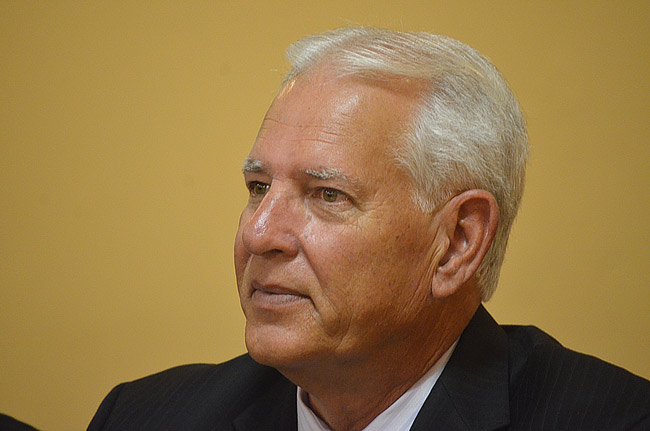 By John Pollinger
There has been speculation and rumors about my retirement from the Middletown Township Police Department.  Word was bandied about that I was "fired," "forced to resign" or that I somehow failed to protect the residents on Election Day in Middletown in 2004.
Nothing could be further from the truth.
I was a civil service employee throughout my career. Unlike chiefs of police in Florida, I could not be removed from office for any reason other than formal disciplinary actions or committing a criminal offense. When appointed to the position of chief of police, I was selected by a Business Administrator (city manager) with the approval by the Township Committee (city council).  The Township Committee was all Republican. I note that simply because politics played no role in my appointment.  I was never asked about my political affiliation, as it is of no importance in the role of any law enforcement officer.
I made the governing body aware of my intent to retire in May 2004.  The members of the body were notified months ahead of time out of professional courtesy, and to allow sufficient time to schedule a test for the next chief of police. It became public and the media printed stories about my decision in the coming months.
The situation on Election Day became a public issue during my final days as chief.  A Catholic School used as a polling station was demanding a police officer's presence during voting hours. Failing this demand, the location threatened to cease being a polling station.   The business administrator, Robert Czech, under pressure from city officials, demanded I place a police officer at the location. The Attorney General of New Jersey however, issued an order the previous day that no police officers were to be stationed at any polling places in New Jersey.  I had a choice: either allow my department to be used for political reasons, or follow the order of the Attorney General of New Jersey.
Since the Attorney General of New Jersey is the chief law enforcement officer, and his orders have the power of law, I chose the latter.
I could have easily obeyed an unlawful order, quietly riding out my final days as chief of police and retiring as I had planned, in less than sixty days.   I could have chosen not to have controversy that would have otherwise marked what had been a successful career in public service, not just by my accounts. I made a decision to do what was right and what was lawful. In fact, I actually delayed my retirement for two months for some authority to intervene and decide who had the authority to manage day to day operations of the department.  While I had the backing for my decision in an editorial in the Asbury Park Press and the local Courier newspapers, the NAACP, both police unions, the county and state chiefs of police organizations, no decision was forthcoming from local, county or state officials.  As a result, I retired on February 28, 2005.
The second part of an online comment here was most disturbing, to say the least. It referred to my relationship with the local American Legion post, and alleges, from an anonymous source, that I took a trip to New Jersey in the fall of 2009, at the expense of my responsibilities to the legion. The allegations are short on facts and rich in falsehoods.
It should be noted that I did not seek the office of Post Commander but did so at the urging of others. The Commander at the time needed to step down for health reasons and not one of the other 300 plus members would accept the position. I knew my former wife's condition was worsening and at any time I might have to be by her side in her final days. I was assured I would have plenty of assistance if I would only agree to take the position and under those assurances, I accepted.
The trip to New Jersey did not occur in August but in December.  On Saturday, December 5, 2010, I learned my former wife Nancy was critically ill at a hospital in New Jersey. She had been battling breast cancer for over 20 years and the situation was dire. At the urging of my wife Janet, I left Palm Coast the following morning, drove straight through to New Jersey and checked into a hotel in Middletown.  The following morning I arrived at the hospital, stayed by Nancy's side day and night and at her request, spent the final three days of her life in the hospital. I was with her in her room when she passed away on December 19, 2010, and days later gave the eulogy at her funeral. I returned to Palm Coast the day after her funeral.
During this time of grief, I was receiving emails on my phone about making travel arrangements for a young girl for an oratory contest in the American Legion.  I implored a number of people through emails from my phone to handle this, as I did not want to leave Nancy's side to make phone calls. For that, I was criticized by one or more people in the American Legion for a "failure in leadership."  People in the American Legion knew where I was and why. I still have the email exchanges in my computer files, but I will save them the embarrassment for their own failures during a very difficult period of my life.
I have decided to post all of this information for your own edification and opinion at my website. You can find under the "About the Candidate" tab a pull down menu as well as more articles in my "behind the badge" articles I wrote for a local newspaper at the time.
I made a decision to run for Flagler County Sheriff because I believe in giving back to a county that has made me feel welcome and at home.   I plan on implementing programs I created as a chief of police to reduce crime, foster a positive image and a renewed enthusiasm and dedication to the citizens of Flagler County.
I have committed most of my life in service to my community and service to my country as a United States Army Veteran. From teenage "cadet" to the challenges faced as chief of police on September 11, 2001, I believe every event has prepared me for the next chapter in my life as your sheriff. Law enforcement alone is not the answer.  Members of the Flagler County Sheriff's Office are the most visible part of local government and must be part of our community's solution to social issues as well.  A connection between law enforcement and the community we serve must be real and not simply a slogan. If elected, I will lead by example, encouraging the men and women of the sheriff's office to make a positive difference in Flagler County and reflect their best each and every day.

John Pollinger, one of three Republicans running for Flagler County Sheriff in the Aug. 14 primary–along with incumbent Don Fleming and Ray Stevens–served as the police chief of Middletown, N.J., from 1997 to 2004. Democrats Jim Manfre and Karl Tozzi are also running.