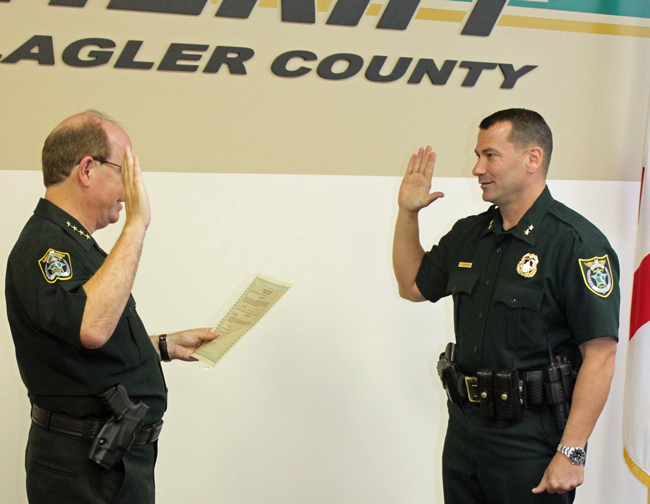 The Flagler County Sheriff's Office welcomed a new Senior Commander to it ranks on Monday after Sheriff Jim Manfre administered the oath of office during a morning ceremony. Jeff Hoffman will oversee the agency's Neighborhood Services Division, the largest within the Sheriff's Office. Hoffman is essentially filling the chief deputy's role previously occupied by Paul Bovino, who's on medical leave (and who will be going back to platoon commander), and David O'Brien, who was forced to resign earlier this year.
The division is comprised of sworn deputies who are assigned to such areas as patrol, special operations, and traffic enforcement and training.
For a little over a year, and until last week, Hoffman was the Bunnell Police Chief. In late 2013, as Bunnell was bleeding top administrators as a result of turmoil on the city commission, Hoffman interviewed for Senior Commander with the Sheriff's Office, a position he apparently won easily. Manfre had included Hoffman on an oral board that interviewed other candidates for other jobs, and interviewed existing staff about new assignments (or what, in some cases, led to firings).
Hoffman was also part of the interviewing process in Flagler Beach's search for a new police chief, an inclusion that may influence the final choice there: Steve Clair, one of the long-time, high-ranking officers Manfre fired after he took the reins at the Sheriff's Office in January, is among the three finalists for the Flagler Beach job, but Manfre is reportedly opposed to Clair as chief there. Flagler Beach City Manager Bruce Campbell's decision, expected next week, may be an indication of how far Manfre's influence stretches in the county.
Manfre said he looked forward to having Hoffman on his command staff. "I believe that his keen knowledge of law enforcement operations will be a tremendous asset to our agency as we continue to grow in the future," Manfre said.
Hoffman started his law enforcement career with the Daytona Beach Police Department in 1991. He worked in nearly every area of the police department, to include patrol, public housing, street crimes, crime suppression, narcotics, internal affairs and SWAT. He retired from the Daytona Beach Police Department in 2012 at the rank of Captain where he had served as a patrol district commander, managing all uniformed patrol operations, including the K9 unit, marine unit and a crime suppression team. He assisted in strategic planning for numerous special events within the city, including the Daytona 500, Bike Week and spring break.